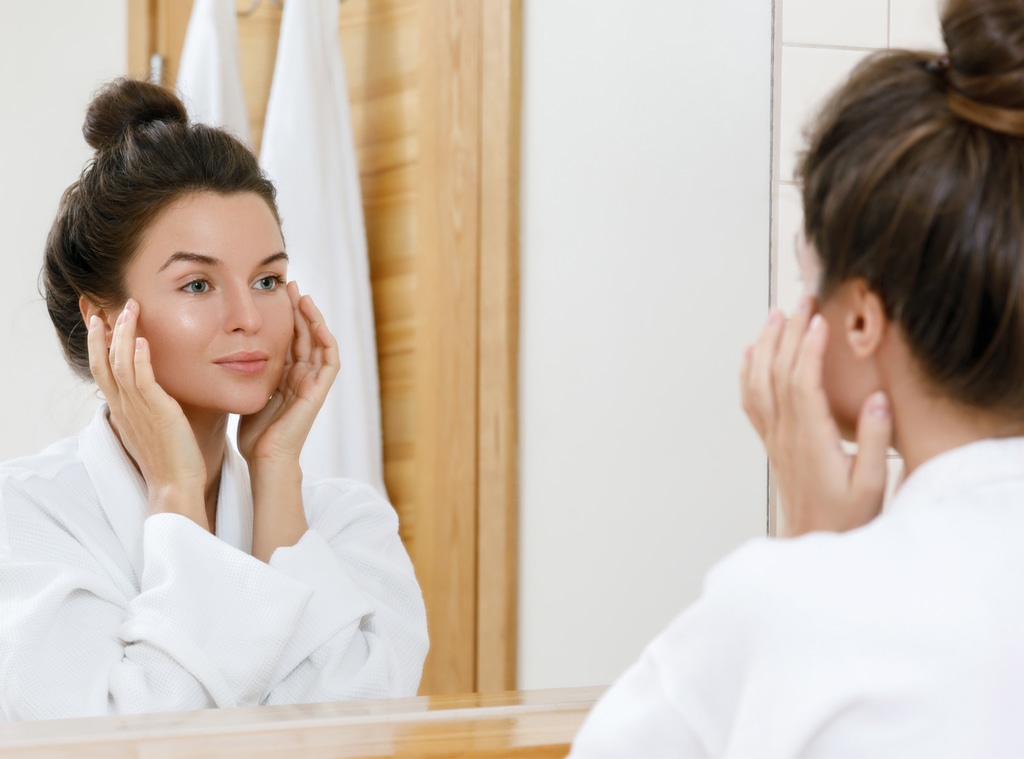 Getty Images
We love these products, and we hope you do too. E! has affiliate relationships, so we may get a small share of the revenue from your purchases. Items are sold by the retailer, not E!. Prices are accurate as of publish time.
If one of your 2023 goals is to take better care of your skin, this is the perfect time to switch up your beauty routine and actually stick to it with some great products from Ulta. Ulta's Love Your Skin Sale is here, which means you can save 50% on highly effective, top-selling skincare products. Every day of the sale has different deals for you to shop.
You can get amazing products for 50% off, but there's just one problem: these deals only last for 24 hours. If you see a product you've been dying to try or if you just want to stock up on your favorites, this is the best time to shop.
Today, you can get major deals on products from Mario Badescu, Clarins, Clinique, Foreo, and Philosophy. Check out the products that are on sale below... before they sell out! Oh, and Platinum/Diamond members get free shipping when they shop the sale items (no minimum order value needed).
Mario Badescu Drying Lotion
I swear by this drying lotion. I never run out of this. In my opinion, it's a miraculous product that gets rid of pimples so quickly. Dab a tiny bit of this on a zit and you'll see a difference in hours. This one bottle lasts me for a whole year. You can get it in a glass bottle or a plastic bottle. This drying lotion has 2,400+ 5-star Ulta reviews.
Another fan of the product said, "This lotion is like magic! You use it at night on blemishes and I wake up and the redness is gone and the blemish is almost or completely gone. I really like the results of this product." 
Mario Badescu Drying Patch
Use these nearly invisible, super thin patches to clear up pimples during the day or at night before bed. These patches calm irritation and redness while decreasing the size of your blemish.
A shopper raved, "THE BEST. I've tried a zillion brands of pimple patches... These Mario Badescu patches are a godsend. I wear them overnight as a spot treatment on my face and body. They stay on and they help my pimples go away in 1-2 uses. Sometimes I'll do 2 nights in a row. Also!!! I wear them out because they kind of work as a coverup for pimples too."
Another reviewed, "I love these patches because they really work. I buy them over and over again and always will."
Philosophy Purity Made Simple Pore Extractor Face Mask
Use this twice a week to draw out impurities and decrease the appearance of pores. Gently massage the mask onto clean, dry skin and leave it on for 5-10 minutes. Then rinse it off to reveal refreshed, glowing skin. This mask has 1,400+ 5-star Ulta reviews.
A shopper said, "I love using this product. Not only does it do wonders for my skin, it gives me a few minutes to enjoy relaxing while it does it's thing on my skin. My teenage nephew tried it and he is now a believer and requesting it. Please do not discontinue."
Another customer gushed, "This is truly a miracle product & my absolute favorite product! I'm in peri-menopause & my face has been breaking out really bad. I just ordered & received it about a week ago & after the 1st use I noticed a difference! They shrunk & started drying up immediately! 3 days later I used it again & my face is almost 100% cleared up! I tried my pore extractor & nothing is coming out my pores anymore! This stuff is absolutely AMAZING!!!"
Foreo Luna Mini 3
The Luna Mini 3 is a powerful, yet gentle cleansing device that I've been using for about a year. It really gets my skin clean without irritation or redness. It's waterproof and can be used 400 times after just one full charge. It is specially designed to care for active skin to effortlessly remove dirt, oil, and sweat to reveal, fresh, glowing skin, the brand claims.
In a 28-day study conducted by Foreo, 100% of participants reported more radiant skin, refreshed skin, and a better feeling compared to cleansing by hand. Ulta has this device in two colors.
A shopper said, "I just love it... best cleansing device ever. Gentle on skin and powerful removing strokes." Another shared, "I noticed a huge difference with my skin. I had less breakouts and face feels so much cleaner. This is my go to face cleansing tool every morning and night! I can't live without it!"
Clinique Clarifying Lotion
Use the Clinique Clarifying Lotion after cleansing and before moisturizing. It gets rid of dead skin and excess oil. This product has 1,200+ 5-star Ulta reviews.
A shopper reviewed, "It's authentic as it is original (especially for it's time) and it perfects what it sets out to accomplish. For nearly 25 years in my beauty arsenal, and will probably be in it for the next 25. For anyone who wants beautiful, fresh soft skin that glows and never flakes, use this!" 
There are four versions of this product that cater to different skin types:
Clarins Bright Plus Serum
No one likes that feeling of a serum that just sits on your skin, taking forever to absorb. If you want a product that works quickly, the Clarins Bright Plus Serum absorbs super quickly and it's just what you need to revive dull skin, diminish dark spots, and give you a radiant glow, the brand claims.
A fan of the product gushed, "Extremely satisfied! I cannot believe how this product has faded away the dark spots/areas on my arms and hands. I thought this couldn't happen."
Another shopper insisted, "Buy this product if you want beautiful skin. I have very sensitive skin and have had nothing but the best results from this product. I highly recommend it. My skin is brighter, much more smooth and balanced, as well as noticing a difference in my dark spots. You won't be disappointed! Every product I've purchased from Clarins has been awesome. This is no exception!"
Ulta Love Your Skin Sale
Week 1 Skincare Deals
January 1
January 2
January 3
January 4
January 5
January 6
January 7
Week 2 Skincare Deals
January 8
January 9
January 10
January 11
January 12
January 13
January 14
Week 3 Skincare Deals
January 15 
January 16
January 17
January 18
January 19
January 20
January 21
Still shopping? Check out this $100 deal on a beauty product bundle worth $431 with items from Sunday Riley, Oribe, Kate Somerville, Tula, Elemis, and more top brands.