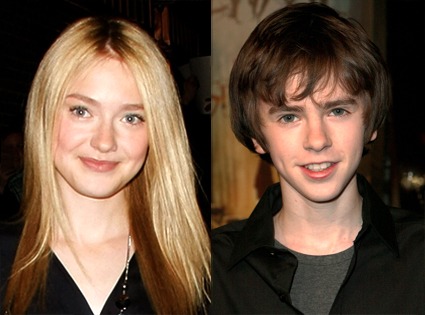 Jeffrey Ufberg/Getty Images, Rick Maiman/AP Photo
If you thought Selena Gomez and Taylor Lautner were a match made in tween heaven, think again.
Full-blown thespians Dakota Fanning and Freddie Highmore reportedly had a dinner date in Beverly Hills Saturday night. Squee!
At 15, the increasingly adorable Dakota has already gone toe-to-toe with the likes of Sean Penn, Denzel Washington, Tom Cruise and, oh yeah, Robert Pattinson(!) in the upcoming Twilight sequel. Lest you forgot, Freddie, 17, has a résumé no less impressive, serving as Johnny Depp's pint-size protégé in both Finding Neverland and Willy Wonka and the Chocolate Factory.
Seriously, can you say power couple?
________
Trying to think of other great power couples? Worry not! They populate our Celebrity Date Night gallery!