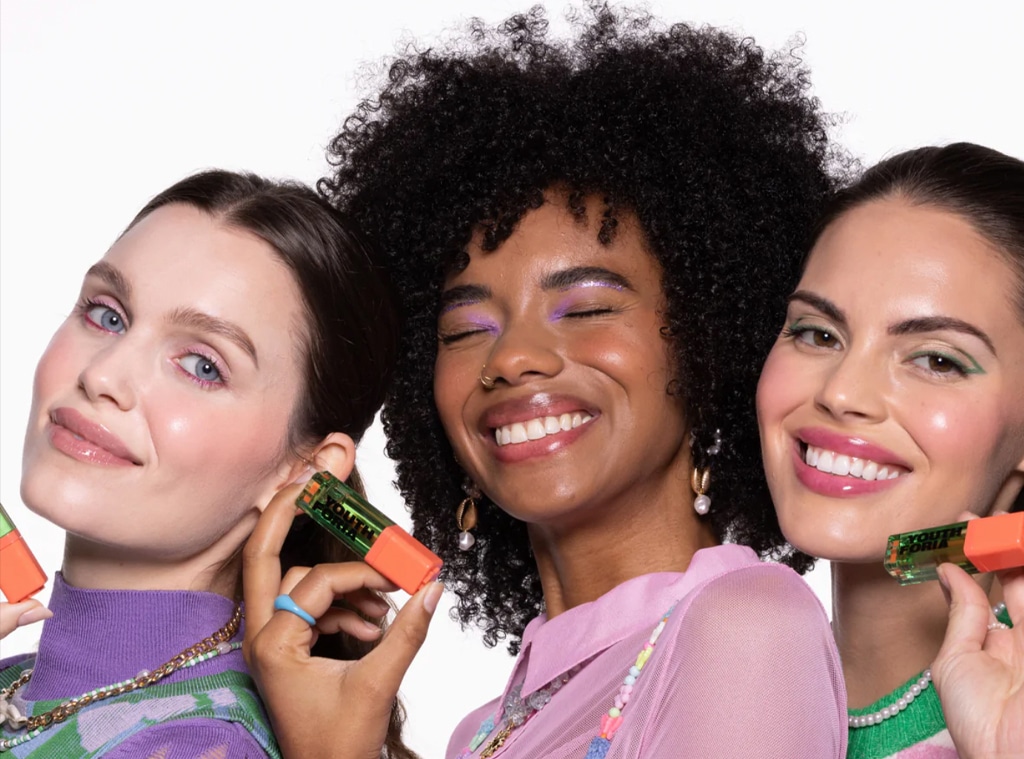 Youthforia
We love these products, and we hope you do too. E! has affiliate relationships, so we may get a small share of the revenue from your purchases. Items are sold by the retailer, not E!. Prices are accurate as of publish time.
If you're reading this, you've probably had (many) "TikTok made me buy it" makeup purchases. If so many people are raving about a beauty product, it's tough to resist the urge to shop. There are so many videos talking about the Youthforia BYO Blush, the world's first color changing blush oil. 
Youthforia's BYO Blush reacts to your skin's unique chemistry and pH levels to deliver a flattering shade of blush that's customized for you. Say goodbye to the days of color-matching and watching a million videos trying to figure out what product shades may look good on your skin tone. This is one of those products that just works for all of us. It's made from gentle ingredients with your skin's care in mind, including 20 plant-based extracts, which hydrate your skin, according to the brand.
If applying makeup intimidates you, this is a fool-proof, easy-to-use product that you will love. It's also just an enjoyable product to apply, especially if you're getting ready with friends. Seeing how great this same blush looks on different complexions is unbelievable. Have fun with your getting ready routine and make your life easier with this innovative product.
Youthforia Color Changing Blush Oil
Youthforia BYO BLUSH Color Changing Blush Oil
You can apply this color changing blush on the bare skin or over foundation. You can even put it on before foundation to get that "blush from within" glow. Use the included applicator and then you can blend and buff it out with your favorite brush, sponge, or even your fingers.
Both of these photos are beautiful, but you can see the impact of the color changing blush in the second picture.
If you need additional insights before you shop, here are some rave reviews from happy shoppers.
Youthforia BYO Blush Reviews
A shopper raved, "I LOVE this blush. I typically never wear blush because I have a hard time finding blush that matches/blends in with my skin tone, but this blush is perfect, lightweight, and just the pop of color I need on my cheeks whenever I go out. This blush literally started making me want to wear blush after years of never even considering it. AND it's good for your skin - what a bonus! Highly recommend!!"
Another explained, "I can go down the list of impulse buys I've made after seeing them on TikTok. Most of them fall way short of what I had hoped for or expected. Not this stuff. I'd give it 10 stars if I could. After turning 40 I've not been happy with my blush or tinted moisturizers. More often than not, they either pill or settle into my pores, etc. I don't wear very much makeup and I'm surely no makeup artist. I'm sure I'm doing something wrong, but to be honest, I'm not willing to put the time or effort into learning at this point in life. YOUTHFORIA to the rescue! This stuff is awesome. I can use it to create nothing more than a healthy glow, or can build it for more if I care to. It is undetectable once on the skin and it lasts all day. It's all I was hoping for and so much more. I highly recommend it."
An Amazon customer declared, "Multipurpose makeup! Works with my own PH so I get the right color for me. I use it on my lips and cheeks so I only have to carry 1 tube!!! I have bought several and have suggested it to other friends."
A shopper wrote, "I have tried over a hundred different cream/ liquid blushes and this one beats them ALL! It's crazy how this morphs into the perfect color. You need very little. Blends easily. Will reorder. Good Value!. BTW I'm the biggest sceptic ever! I've been in the beauty industry for almost 40 years. This is truly a terrific product! Hoping they never change the formula!!"
"This blush looks so flattering on my skin tone and is so easy to apply! I have sensitive acne prone skin and have a light/medium neutral complexion. A little goes a long way, and I really enjoy using it because I know the ingredients are also great for your skin so I am not in a rush to remove it at the end of the day. Based off of the times I've worn it, it pretty much lasts all day," someone shared.
A fan of the product raved, "I love this! So natural and creates the perfect pink for you. I wear it everyday or mix it with another blush / lipstick. It gives such a natural flush and glow. Might be pricey but so worth it and lasts for a long time. So worth it!"
"I love this blush. The color-changing effect is neat and flattering," a shopper said.
Youthforia Tinted Blush Oil
Youthforia BYO Blush
If you love using blush with an oil formula, but you want one that doesn't change colors, this version of the product has three versatile hues to choose from: But Tonight (terracotta rose), Turn Up the Sunshine (marigold orange), and Let's Go Party (cool toned magenta pink).