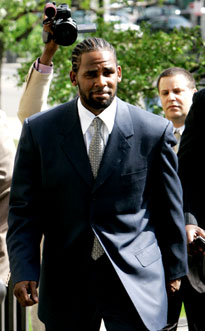 AP Photo/Charles Rex Arbogast
R. Kelly might not be the most recognizable R&B star, but so far the prosecution hasn't had any trouble identifying him as the star of a certain sex tape.
A former employee of Kelly's testified Tuesday she is "110 percent sure" that her famous boss is the guy featured in a 27-minute tape of a sexual encounter that authorities say took place between Kelly and a 13- or 14-year-old girl about 8 to 10 years ago.
Lindsey Perryman, who worked as both a producer and personal assistant for Kelly, said she initially didn't want to believe it was the singer when prosecutors first showed her the video in December, because she thought highly of him and he and his family had been "very, very good" to her.
But, Perryman said, she is now sure that Kelly is on that tape, as well as the alleged victim, whom Perryman said she recognized from the recording studio.
"She has distinct cheekbones, the way she moves her mouth and talks and smiles," Perryman, who also testified she used to drive the girl between school and the studio, said. "It's very distinctive to her."
Perryman said Kelly introduced the girl as his "goddaughter" and that she never got the feeling something inappropriate was going on.
Also on Tuesday, two more of the girl's acquaintances identified her as the one on the tape.
Family friend Tadja Burnett also said she knew the girl by her cheeks, nose and overall facial structure.
But the defense zeroed in on testimony that the so-called victim wore braces between 1997 and 1999, asking Burnett whether the girl in the tape was sporting mouth metal.
Burnett admitted the girl in the tape didn't appear to be wearing braces, but added that she must have had them put on after the tape was made. Prosecutors contend it happened between early 1998 and late 2000.
Meanwhile, the now 23-year-old object of all this horrified fascination has since denied being Kelly's costar, and the defense has argued the video could have been doctored to make it look as if the coupling took place.
At the same time, Kelly's team has also suggested to Cook County Judge Vincent Gaughan that certain people who claim they viewed or possessed a copy of the tape in the early 2000s and didn't alert authorities should face child-pornography charges.