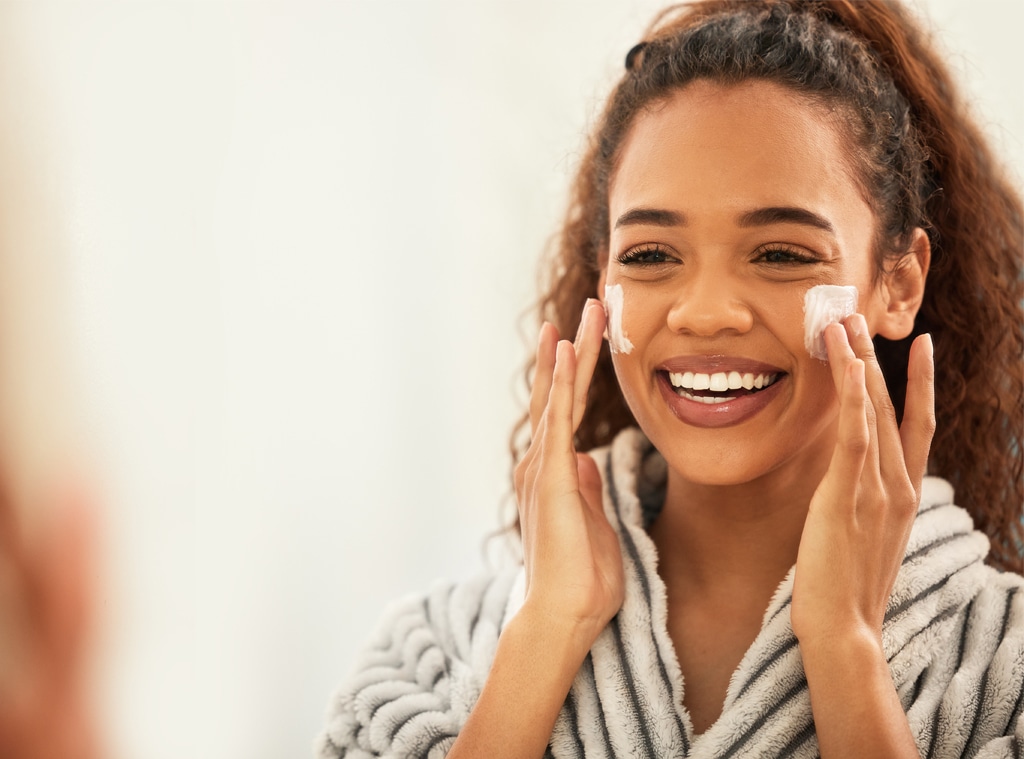 Getty Images
We love these products, and we hope you do too. E! has affiliate relationships, so we may get a small share of the revenue from your purchases. Items are sold by the retailer, not E!. Prices are accurate as of publish time.
If one of your 2023 goals is to take better care of your skin, this is the perfect time to switch up your beauty routine and actually stick to it with some great products from Ulta. Ulta's Love Your Skin Sale is here, which means you can save 50% on highly effective, top-selling skincare products. Every day of the sale has different deals for you to shop.
You can get amazing products for 50% off, but there's just one problem: these deals only last for 24 hours. If you see a product you've been dying to try or if you just want to stock up on your favorites, this is the best time to shop.
Today, you can get major deals on products from MAËLYS Cosmetics, Patchology, ZitSticka, Kinship, PÜR, and Michael Todd Beauty. Check out the products that are on sale below... before they sell out! Oh, and Platinum/Diamond members get free shipping when they shop the sale items (no minimum order value needed).
ZitSticka GOO GETTER Surface Zit Hydrocolloid Patch
As soon as a pimple emerges, reach for ZitSticka Goo Getter. Put one of the hydrocolloid patches directly on the zit to absorb fluid and impurities, which shrinks the appearance the blemish. 
An Ulta shopper said, "I've tried just about every pimple patch on the market, both medicated and non-medicated and these work the best for pulling sebum from beneath the skin, calming redness and beginning healing of the bump. They stay put all night to do the job and dramatically improve the look and feel of already breached whiteheads."
Patchology FlashPatch Rejuvenating Eye Gels
You just need five minutes to look like you get a full eight hours of sleep, Patchology claims. These eye gels combat puffiness, dryness, and the look of fatigue, per the brand. They're the perfect fast fix for tired eyes, made with caffeine and hydrolyzed collagen.
In a research study conducted by the brand with 100 participants who used the eye gels for 5 minutes, 100% said their tired eyes appeared awakened, revived and revitalized, 98% said the skin under their eyes looked and felt smoother, and 97% said their eye area looked less puffy.
"I immediately saw a difference. My puffiness went down and so did my my dark circles. These are miracle workers," an Ulta shopper revealed.
Another shared, "I've tried so many different eye patches over the years. These definitely work! They absolutely take care of the morning puffiness and leave my under eye area smoother and brighter. I leave them in the refrigerator and use them first thing in the morning.... not only do they look awake , they feel awake. I look forward to this part of my morning routine!"
PÜR 4-in-1 Cloud Cream Gel-to-Water Hydrating Essence Moisturizer
This moisturizer can replace many products in your routine. The 4-in-1 product hydrates, soothes, smooths, and primes your skin. It is made with innovative, water-breaking technology that provides a deep hydration to your skin for plump, younger-looking skin. The gel-to-water formula is antioxidant-rich, visibly reducing the appearance of fine lines and wrinkles, per the brand. The best part of this cream is that it instantly absorbs into the skin.
"I will lose my mind if PUR discontinues this," an Ulta shopper insisted, elaborating, "Ugh, if they stop making this, I will be upset. I've only been using this for about a week, HOWEVER, in this past week, I have been AMAZED at how great my skin feels in terms of hydration. I also haven't noticed any new breakouts or irritation. And let me tell you, I have tried about 30+ moisturizers from drugstore to high end!! My skin is SO dry and SO sensitive, it makes finding makeup and skincare a true pain in the rear. But this stuff so far seems to be THE ONE!"
MAËLYS Cosmetics B-Tight Lift & Firm Booty Mask
Use this mask to address lack of firmness and cellulite on the butt and thighs. Just put it on and massage into the skin until it's full absorbed— no need to rinse it off. It's that simple.
It has 3,300+ 5-star reviews. A shopper shared, "I am stocking up because this stuff is gold. I saw results after 2 applications. My thighs had so much cellulite I wish I would have taken before photos. The best product that I have ever bought. Love love love it."
A fan of the product raved, "I use it after I take a shower and wore my leggings to really feel the heat. Highly recommend for everyone. I'm confident now to wear my shorts and skirts. It's all about self care."
Kinship Supermello Hyaluronic Gel Cream Moisturizer
We all want that dewy look, but it's tough to find products that actually make your skin look dewy and not greasy. Try out this hydrating gel cream moisturizer.
A shopper said, "I'm so happy I found this face cream. I use it everyday in the am and frequently under makeup. It is hydrating and creamy without being greasy or oily because it's a gel cream. For reference, I have normal to oily skin that's dehydrated."
Another reviewed, "I use this product every night after my skin care routine and I'm obsessed! I love the smell and it keeps my face so hydrated, I used to wake up and have dry patches on my face but I haven't since I started using this product, I love it!"
PÜR Get A Lift Firming Facial Cream
If you want to tighten, lift, and restore the look of your skin, try this cream. 
A shopper said, "I really liked this moisturizer. It's a super light product and has a nice scent, but not too strong! It makes my skin feel hydrated and firm. I also loved how smoothly it goes on. I would definitely purchase this product again."
Michael Todd Beauty Soniclear Petite Patented Antimicrobial Facial Sonic Skin Cleansing Brush
Take your beauty routine to the next level with this effective, yet gentle cleansing brush. According to the brand, this brush cleans 7 times better than cleansing with hands alone. It's available in multiple colors and prints.
A shopper said, "I honestly love this device so much it makes my skin feel so much better and cleans it so well. I use it every day and really helps me remove all my makeup. Love it!"
Another reviewed, "I've always washed my hands with my face bc I thought that was what you're supposed to do and this totally changed my mind! I see a legit difference in my pores being less clogged from the deep cleaning I get from this, holds a charge for a while too."
Ulta Love Your Skin Sale
Week 1 Skincare Deals
January 1
January 2
January 3
January 4
January 5
January 6
January 7
Week 2 Skincare Deals
January 8
January 9
January 10
January 11
January 12
January 13
January 14
Week 3 Skincare Deals
January 15 
January 16
January 17
January 18
January 19
January 20
January 21
Still shopping? Check out these viral beauty products you saw everywhere this past year. 
—Originally published January 1, 2023 at 5:30 AM PT.