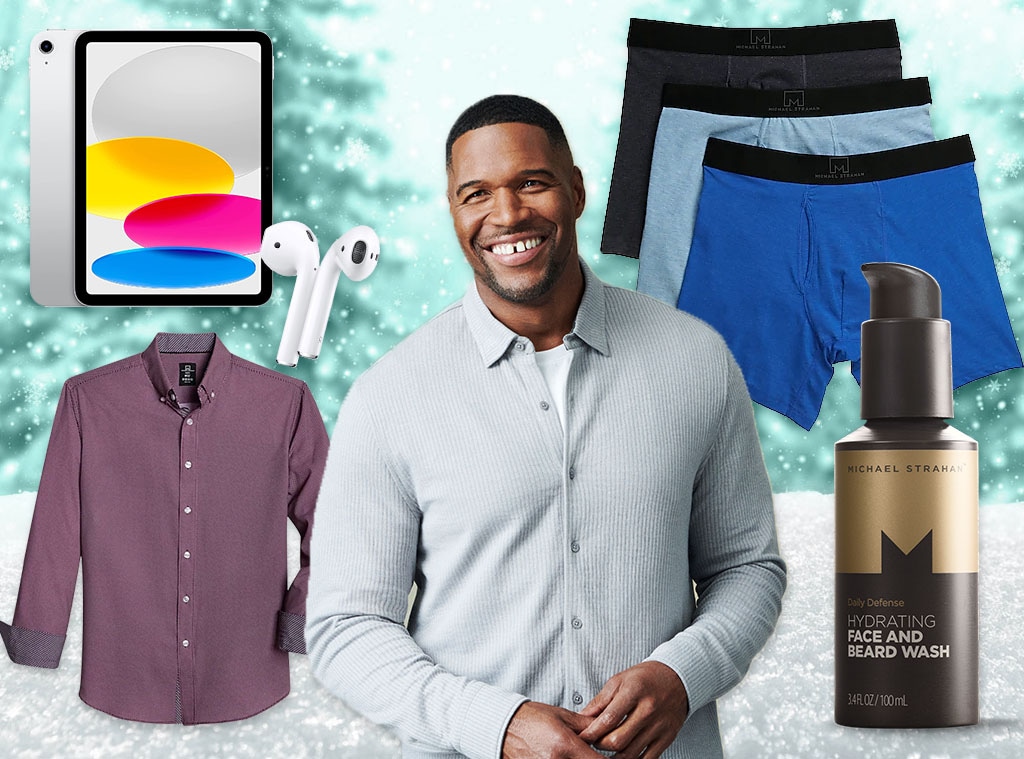 We interviewed Michael Strahan because we think you'll like his picks. Some of the products shown are from Michael's Men's Wearhouse clothing line and his skincare brand. E! has affiliate relationships, so we may get a commission if you purchase something through our links. Items are sold by the retailer, not E!. Prices are accurate as of publish time.
For Michael Strahan, this time of year is all about quality time with his favorite people. The Good Morning America host remarked, "I love the holidays because of how much time I get to spend at home with my family and my dog, Enzo. Those are the best memories." The NFL alum shared his holiday gift guide with E! shoppers, with some picks inspired by his four children.
In addition to buying gifts from skincare brand, Michael Strahan Daily Defense, or his Men's Wearhouse line, Michael advises shoppers, "Don't focus on what something costs, focus on the meaning. People like to feel like you took the time to think about them."
Here are some of Michael's thoughtful gift picks just in time for the holidays.
Michael Strahan's Holiday Gift Picks
Michael Strahan 4-Way Stretch Modern Fit Sport Shirt
E!: What's a great gift under $50 that you would recommend? 
MS: These shirts are incredible. They come in a ton of colors and prints, so you can switch it up for everyone in your life. They're also machine washable, and the best part is they won't ever wrinkle, and you'll always be ready for any occasion.
This shirt from Michael's line comes in four colors, with sizes ranging from small to XL.
Apple AirPods Wireless Earbuds with Lightning Charging Case Included. Over 24 Hours of Battery Life, Effortless Setup
E!: What's a gift you've received that you get so much use out of? 
MS: I love music. It always helps me get ready for the day in the dressing room or at the gym. I use my Apple AirPods every day and those were a great gift.
Michael's pick has 484,700+ 5-star Amazon reviews.
Michael Strahan Daily Defense Skincare Products
E!: If you only had two days to get a gift, what are you ordering from Amazon Prime? 
MS: My skincare line, Michael Strahan Daily Defense, is officially available on Amazon and will be the perfect gift for the men in your life. The perfect skin routine sets you up for success. 
Shop these products from Michael's line:
Michael Strahan Boxer Briefs 3-Pack, Blue
E!: What is your go-to stocking stuffer?
MS: My friends are always asking me about my underwear—haha! But in all seriousness, our Michael Strahan underwear, available at Men's Wearhouse is such a great product and who doesn't appreciate a little refresh?
These boxer sets from Michael's line are available in three color combinations.
Starbucks Gift Card
E!: You're going to a white elephant gift exchange and the limit is $25. What gift are you bringing?
MS: A Starbucks gift card. Who doesn't need a coffee during the holiday season?
Men's Wearhouse Suits
E!: What's a good gift suggestion for men in their 20s, like your son Michael Strahan Jr.?
MS: A good gift for men in their 20's who are starting their career and want to look sharp, is a nice suit from Men's Wearhouse along with all the accessories you need from my line. You will have the look to carry you throughout the day. 
Sneakers
E!: What's a good gift pick for teens/ young adults who are the same age as your daughters Isabella and Sophia? 
MS: A cool pair of sneakers is always a winner with my kids and Stadium Goods always hooks it up.
2022 Apple 10.9-inch iPad
E!: Do you have any gift suggestions that women the same age as your daughter Tanita would enjoy? 
MS: Tanita is such a talented artist. I don't want to spill any secrets but for her, but I'm thinking of some sort of tablet for all her graphic designing. I think it's a great gift because it can be used for creative and fun but also productive tasks.