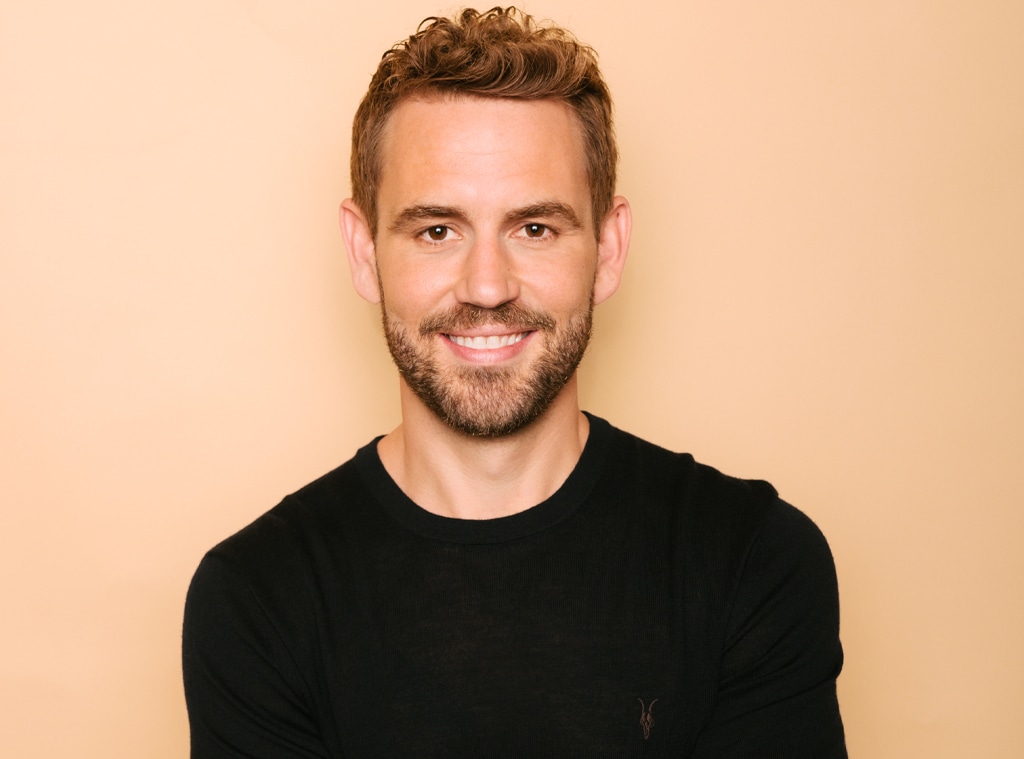 Dexter Brown
We interviewed Nick Viall because we think you'll like his picks. E! has affiliate relationships, so we may get a commission if you purchase something through our links. Items are sold by the retailer, not E!. Prices are accurate as of publish time.
If you're wondering if you should send that text, the answer is probably "no," but that can be hard to admit. That's why it's important to have some solid guidance in your life, especially after a breakup. Just turn to Nick Viall. The Bachelor alum  knows a thing or two about navigating heartbreak. He parlayed those experiences into sharing relationship advice on his podcast, The Viall Files, and he wrote a must-read read book for anyone with a broken heart, Don't Text Your Ex Happy Birthday: And Other Advice on Love, Sex, and Dating.
The reality TV alum shared, "So much of this book is about changing how we see and handle disappointment. Having a broken heart is one of the challenging ways we can experience disappointment. I struggled with it greatly and I share a lot of those experiences in the book, along with how I was able to move on from them. Plus, there is a whole chapter titled 'Getting Over Them,' which is dedicated to anyone struggling with heartbreak."
Even if you're not going through a breakup, read Nick's book. He explained, "There are so many other challenges that come with dating and relationships other than heartbreak. Don't Text Your Ex Happy Birthday covers all of them. Whether you're trying to avoid f*ck boys and players, stuck in a situationship, or struggling with dating in general, this book covers it all."
In addition to writing a helpful book, Nick put together a post-breakup guide for anyone in need of a self-care moment.
E!: Do you prefer to read physical books or do you use an electronic reading device (Kindle, iPad, tablets). If you use an electronic device, which one do you recommend?
NV: I am dyslexic so I often prefer audio books. When writing a book, I was adamant that my book would have an audio version available as well.
E!: Do you have any go-to movies, songs, or TV shows that have helped you get through heartbreak?
NV: Forgetting Sarah Marshall and Swingers for sure!
Natural Habits Center Blend and Release Blend
E!: Which product from your brand Natural Habits would be a great pick to help us get out of a post-breakup slump?
NV: Our Center Blend is great for headaches and breakups can cause a lot of those. Our Release Blend is great for relaxation and sleep.
Nick Viall's Post-Breakup Advice
Nick explained, "One of the hardest parts about a breakup is the loss heartbreak makes us feel. It's a loss of security, comfort, and stability that we once had with our partner. It's time to start treating yourself and reconnecting with people who may've taken a back seat while you were focused on your last relationship."
He elaborated, "You deserve to spend your time and resources on improving your mental, emotional, and physical health. It's time for new experiences and making new connections. Below are a few ideas to help you start your journey of self investment! Hopefully these ideas help you enjoy spending time with yourself and your loved ones post-breakup."
Don't Text Your Ex Happy Birthday: And Other Advice on Love, Sex, and Dating by Nick Viall
"Equip yourself with knowledge from someone who has been right where you are now (more than a few times), me! Pick up Don't Text Your Ex Happy Birthday: And Other Advice on Love, Sex, and Dating. I wrote this book for anyone who feels even a little bit stuck when it comes to relationships or dating. This book will take you through all the stages of a relationship and common dating struggles - identifying f*ckboys, dealing with situationships, getting over exes, navigating hook up culture, and figuring out if your current relationship is right for you. If you're going through it, this book will help you feel less alone and better equipped to find the happiness you deserve."
Away Luggage
"With this newfound free time, it's time to reinvest in your friendships. Some friendships may have taken a backseat to your romantic relationship so a great way to reconnect with those friends might be taking a trip. It could be a trip to the beach or a long weekend to an exciting city. If you're going to be traveling, you're going to need some proper luggage. Look no further than Away."
Paint the Town
"It's also time to start making new friends, which can seem daunting and scary as an adult. However, the one thing I have found is that there are a lot of lonely people looking for new friends. Sign up for classes and don't be afraid to let people know you're looking for friendship. There are a lot of people out there, we just need to start raising our hands and letting people know where they can find us."
Treat Yourself to a New Outfit
Lululemon
"Whatever your wellness goals, exercise is great for your mental, emotional, and physical health. You don't need to do any sort of extreme workouts. Something as simple as a walk can get your heart rate going, help with anxiety, and improve your mood. Make sure you're doing it while looking and feeling good. LuluLemon has the best workout sets."
Amazon Basics Neoprene Workout Dumbbell and Gaoykai Weighted Jump Rope
"If you want to up your fitness game, basic items like jump ropes, weights, etc., can be found at Target and Amazon."
This dumbbell set has 62,100+ 5-star Amazon reviews and the weighted rope has 1,200+ 5-star Amazon reviews.
Dermalogica Awaken Peptide Depuffing Eye Gel
"If you have been dealing with heartbreak, you have probably done some crying and your eyes may be a little puffy. While you're definitely entitled to those tears, we want people to see you looking fresh. Dermalogica has the best depuffing eye gel. They really get those puffy eyes back to where they belong."
This eye gel has 7.1K+ Sephora Loves.
Barefoot Dreams CozyChic Marled Stripe Blanket
"Even though you will be making new friends and reconnecting with old ones, you're still going to be spending some time alone. Make sure you get yourself some great movies that help you feel better about moving on. Forgetting Sarah Marshall is one of my all time favorite breakup movies. Barefoot Dreams also has the best blankets for cozy movie nights by yourself."