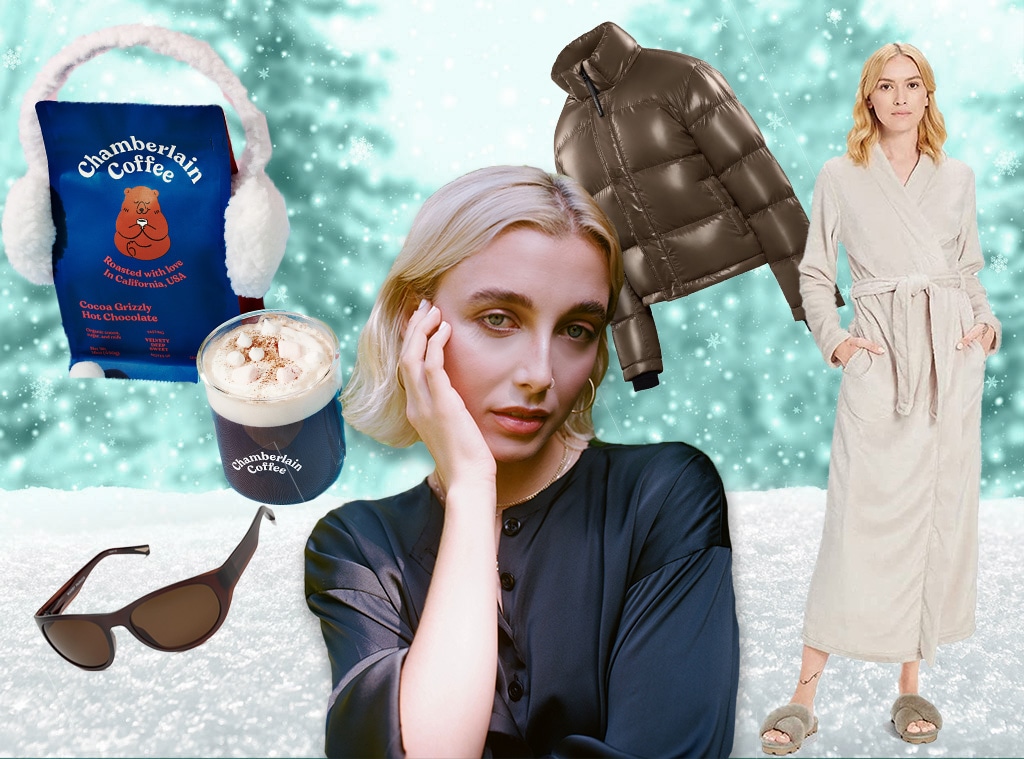 Jasper Soloff / Courtesy of Chamberlain Coffee
We interviewed Emma Chamberlain because we think you'll like her picks. Chamberlain Coffee is Emma's company. E! has affiliate relationships, so we may get a commission if you purchase something through our links. Items are sold by the retailer, not E!. Prices are accurate as of publish time.
This just in— "it girl" Emma Chamberlain is getting in the holiday spirit, and this is your formal invitation to join her.
The multi-talented internet star is adding personal shopper to her list of talents with this super chic gift guide that she curated for E!. On top of her top gift picks, she gave us some insight on her favorite things about the holidays, the winter fashion trends she's not missing out on and so much more.
"Only during the holidays, I love playing games and doing puzzles with my friends and family," Emma says. "The cold weather makes me excited to sit down and play games or do a puzzle for hours, ideally while a fire is burning and I'm sipping some sort of hot beverage." That's an obvious must for the coffee-obsessed creator of Chamberlain Coffee.
"This tradition started when I was young," Emma continues, "when every holiday season my dad and I would play games and do puzzles every night in December leading up to Christmas."
From sipping coffee and thrift shopping in her YouTube videos and making fiercely stylish red carpet appearances to her advice-centered podcast episodes, Emma maintains her down-to-earth, genuine personality no matter where life takes her, making her the perfect person to take guidance from— holiday gifting guidance included.
"I know it may sound corny, but it's truly the thought that counts," Emma shares. "It's not about how much money you or others spend, it's about the meaning and thought that went into the gift. Something thoughtful and personal will always mean most to people. I also try to make my gifts useful for someone's everyday life, so the gift won't just end up collecting dust in their closet."
From her favorite Chamberlain Coffee gifts to the must-have beauty stocking stuffers on her wish list, keep reading and get to holiday shopping, the Emma way.
Early Bird - The Gift Box Bundle
"I love gift boxes and bundles," Emma shares. "They come already assembled in beautiful packaging, ready to be wrapped and gifted. Chamberlain coffee has so many incredible gift boxes and bundles— there's something for every coffee or Matcha drinker in your life." 
One of Emma's Chamberlain Coffee gift recommendations is the Early Bird Gift Box Bundle, which comes with a mason jar, the Early Bird blend and more. If you're shopping for someone who takes Matcha over a morning cup of coffee, gift them the delicious Matcha Starter Pack.
Odell Sunglasses Mocha Matte
Who better to take fashion advice from than Emma herself?
"There are so many gifts for a fashionista," she shares, "but you can't go wrong with a timeless pair of sunglasses." This chic pair from Warby Parker has Emma written all over it.
Super World™ The Super Puff™ Shorty
Another winter fashion favorite of Emma's is "a chic, yet effective, puffer coat." Like the sunnies, it's a piece "that will be incredibly useful, while still being stylish," according to Emma. And, we have to agree with her, especially when it comes to this super trendy Aritzia puffer jacket.
Everywhere Shopping Tote
"Tote bags are the perfect gift for anyone because they are so useful and so easy to find ones that are personal to anyone's style," Emma advises. This shopping tote bag from Chamberlain Coffee is the perfect gift for your coffee-obsessed bestie, especially since their hands will always be full with an iced oat milk latte.
BAGGU Horizontal Duck Bag
Another cute tote bag suggestion from Emma is this BAGGU tote from Urban Outfitters that's perfect and spacious enough for everyday use. The fashionista in your life will know just how to rock it.
Subtle Art Studios Checkered Glass Tile Coaster
When it comes to functional gifts, Emma feels strongly about coasters. "Last year my mom gave me a coaster set for Christmas, and I have used them almost everyday since," she says. Her favorite set is this colorful checkered glass tile set from Urban Outfitters.
UGG Women's Disquette Slipper
We had to ask Emma what her favorite Amazon gift picks would be, and she delivered! One of her recommendations were the UGG Disquette Slippers.
"On Amazon, the sky is the limit, so this is tough," she starts off. "I'd probably have to choose a combination of comfy stuff. Slippers, blankets, robes, socks and more. Everybody loves cozy, fuzzy stuff!"
UGG Women's Marlow Robe
Another cozy find on Emma's list of Amazon holiday gift ideas is this UGG Marlow Robe that comes in eight different colors. It's the perfect gift for your loungewear-loving friends and family, and it's so plush, you'll definitely want to gift yourself a matching one.
UGG – Whitecap – Plush Throw Blanket for Couch or Bed
Who wouldn't love a plush blanket for the holiday season, especially one that's Emma approved? This dark green UGG throw blanket is not only super soft to get bundled up in, but would look so chic in any space.
Olivier Napa Valley Chile Infused Olive Oil
If you've ever wondered what Emma would bring to a White Elephant party, we have the answer.
"Who doesn't love fancy olive oil?" Emma asks. "Infused olive oils are a gift anyone can enjoy— even those who aren't experienced chefs. They add a little extra flavor to any dish, and look beautiful on your kitchen counter."
Advanced Génifique Hydrogel Sheet Mask
Beauty is the name of the game when it comes to stocking stuffers for Emma. She suggests gifting the Lancôme Advanced Génifique Hydrogel Sheet Mask, which is perfect for the luxe skincare lover in your life.
"Skincare and makeup products are perfect for stocking stuffing because they are small, but still an incredibly useful gift," she advises. "I'm constantly in need of more face masks, because I use them so often." 
L'Absolu Mademoiselle Tinted Lip Balm
Another beauty stocking stuffer of Emma's choice is this Lancôme L'Absolu Mademoiselle Tinted Lip Balm. "I always lose them," Emma discloses, "so I know I would be excited to get [a tinted lip balm] in my stocking."