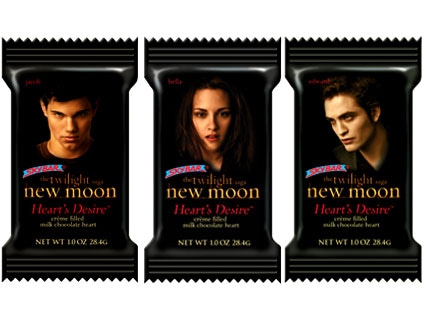 Sky Bar
If Daniel Craig has a popsicle, why couldn't Robert Pattinson have a chocolate bar?
Oh, wait! He does!
Necco and their sub-brand, Sky Bar, have unleashed New Moon bars in three varieties—Edward, Bella and Jacob, natch—in Blockbuster stores around the country.
But that's not all they have for your sweet fangs…
The folks behind the Valentine's Day-friendly treats also created special boxes of Twilight Sweethearts. Flavors include as "Orange Obsession," "Tempting Apple," "Passion Fruit" and "Secret Strawberry."
More importantly, gone are phrases such as "Fax Me" and "Will U B Mine." Stuff like "Dazzle," "Bite Me," "Live 4-Ever," "I [heart] EC" and "Forks" are so much more lip-lickingly romantic!
The hearts come in theater-sized boxes for $2.99 each, while the chocolates are 79 cents each.
Sure, they also come filled with calories, but when else are you going to get a taste of Pattz, Kristen Stewart or Taylor Lautner?
________
While you're wiping that drool, make sure you vote in our ultimate Robert Pattinson vs. Taylor Lautner smackdown!