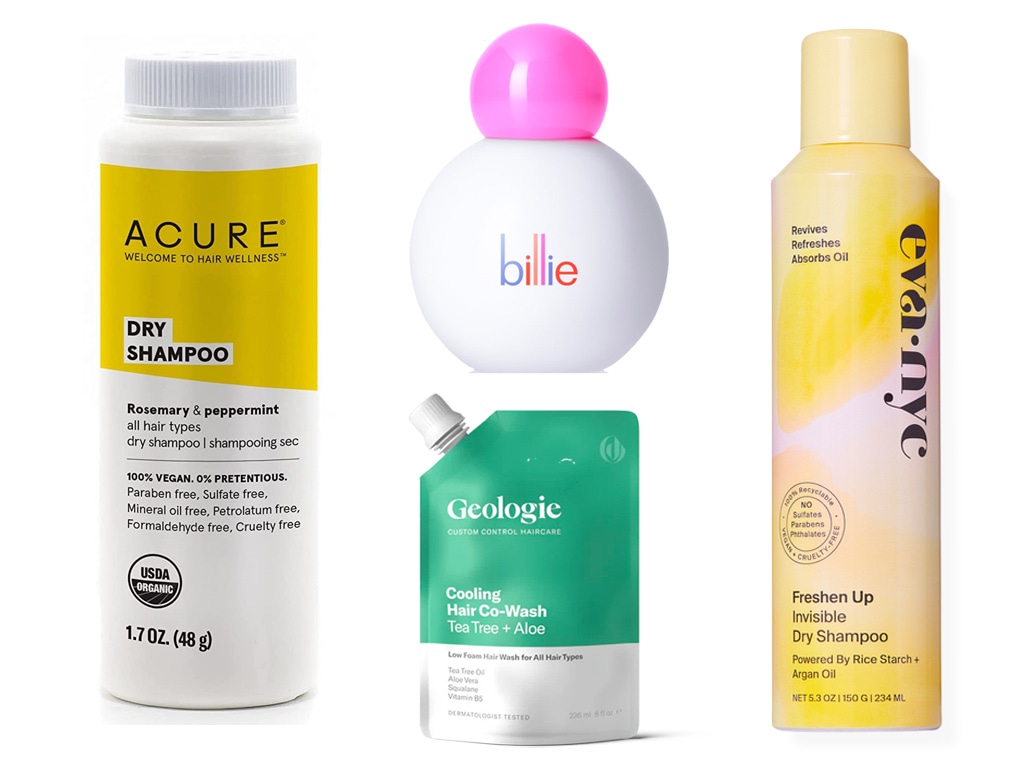 E! Illustration
We independently selected these deals and products because we love them, and we think you might like them at these prices. E! has affiliate relationships, so we may get a commission if you purchase something through our links. Items are sold by the retailer, not E!. Prices are accurate as of publish time.
If you can't imagine a life without dry shampoo, I'm right with you. While it's a holy grail product for so many, it's also important to note that tons of dry shampoos have been recalled due to the finding of heightened benzene levels.
However, there are still tons of options out there that will give you refreshed, oil-free tresses, without putting your health on the line. There are several dry shampoos and alternatives out there that you can count on. From Eva NYC, a brand that tested its aerosols for benzene and came back with no detectable levels, to Geologie's transformative co-wash that adds life to your hair while extending time between washes, you can trust these products to give you revitalized feeling and looking hair without exposing you to carcinogens.
Read on for the top dry shampoos and hair care alternatives for as low as $9. Your hair— and health— will thank you!
Hair Co-Wash
If you haven't heard about Geologie's Hair Co-Wash, consider this your formal introduction. It's a low foam hair wash that comes in two different one-step formulas that clean your hair and extend time between washes. I use the Co-Wash once or twice a week to reduce wash days for my thicker, curly hair, and the result is the same each time— gleaming curls that look and feel revitalized. The cooling tea tree, menthol, aloe, Squalane and Vitamin B5 ingredients regulate my hair's oil production all while reducing frizz. The Co-Wash is a gamechanger! 
Eva NYC Freshen Up Invisible Dry Shampoo
Can't part from dry shampoo completely? No problem. According to Eva NYC, the brand tested their aerosols for benzene, all of which came back with no detectable benzene. The Freshen Up Invisible Dry Shampoo contains argan oil and rice starch to absorb oil and dirt to keep your hair looking and feeling fresh. It also comes in 100% recyclable aluminum packaging.
GRO Dry Shampoo
The Vegamour GRO Dry Shampoo is formulated without benzene and is 100% vegan and cruelty-free. It uses organic rice starch to give you that oil-free finish, along with the fresh bergamot scent for that revitalized feel. One Vegamour user writes, "This dry shampoo works very well, is not heavy, and does not leave a residue or build up on my hair or scalp. I can use it over multiple days, so I have to wash my hair less frequently. I just wish it came in a super size!"
Floof Dry Shampoo
This Billie Floof Dry Shampoo is a non-aerosol dry shampoo powder that incorporates biotin, baking soda and rice starch to give you volume and an oil-free look. It dissolves into your hair as you work it into your roots, so you don't need to worry about any leftover powder. One user writes, "Loved that it blended to my hair. No white residue mess! I have super greasy roots and it works so well for me! I focus on about 2-3 inches of my roots, sprinkle and then massage in. Will be buying again."
ACURE Dry Shampoo - All Hair Types
A dry shampoo that actually works and is priced so affordably is a rarity, which is why you should try out this Acure dry shampoo that is currently on sale for $9. It works on all hair types, and is easy to apply either directly to your scalp or on a brush for a smoother application. One review writes, "Getting dry shampoo in anything other than an aerosol can was strange but I really like this product! Someone said don't open it all the way if you don't want a lot to pour out so that's how I did it. This product leaves little to NO build up in your hair. I'm now able to go longer between washes."
Plant Based Dry Shampoo
This plant-based dry shampoo from Act+Acre has so many positive reviews for its clean ingredients and absence of benzene. The unscented dry shampoo is perfect to extend time between wash days while cleansing and volumizing your hair. One review writes, "This is the first dry shampoo that does not make my scalp feel itchy— or turn into a scaly rash. I have very sensitive skin and this product does not irritate it whatsoever. Huge plus: the packaging is sleek and it's super easy to transport. Highly recommend!"
Prêt-à-Powder Dry Shampoo Powder
Bumble and bumble has been my go-to hair care line for years now, and their dry shampoo powder is no exception! It adds volume and texture to my hair while cleansing my roots effectively without weighing my curls down. For a mess-free application, powder the product over a brush and then apply to your roots.