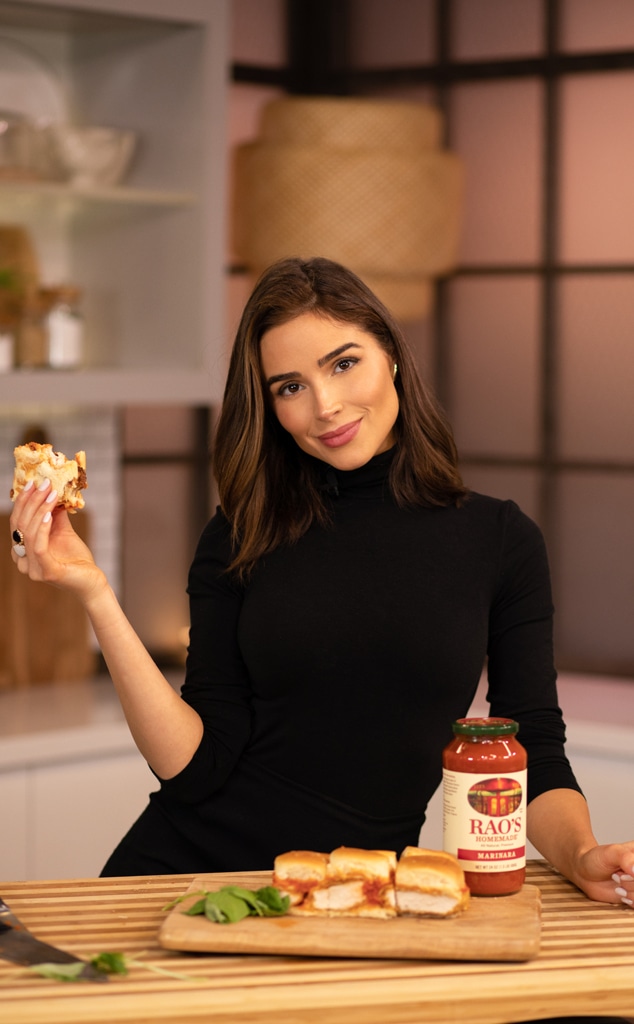 Lucio Andreozzi
We interviewed Olivia Culpo because we think you'll like her picks. Olivia is a paid spokesperson for Rao's Homemade. E! has affiliate relationships, so we may get a commission if you purchase something through our links. Items are sold by the retailer, not E!. Prices are accurate as of publish time.
Olivia Culpo is also a foodie, thanks to her Italian culture.
"Growing up in a big Italian family, the kitchen was where we all hung out," the multitalented model, influencer and former Miss Universe shares. "I have the best memories of us all in the kitchen making huge dinners together and just laughing the whole time. Even now in my house, we always find ourselves congregating in the kitchen usually cooking and definitely eating."
Naturally, E! turned to Olivia for some insight on her top kitchenware picks, and she delivered. From her go-to pasta sauce for all her favorite Italian recipes to her top kitchen product to gift friends, Olivia came through with some must-have recommendations. Not only are these picks perfect for everyday use, but they'll be especially useful during the holiday season.
Read on to upgrade your kitchen game, the Olivia way.
Rao's Homemade Marinara Sauce
"Most of my go-to dishes include pasta sauce," Olivia shares. "I love to make eggplant parm, spaghetti squash and calzones. I always keep my pantry stocked with Rao's Homemade sauces for all of these dishes."
Another food favorite of Olivia's is something you likely won't find in a grocery store. "I literally make my mom overnight ship me her homemade dough from Rhode Island packed in ice," she says. "I always keep a back up in my freezer for when I am craving her homemade pizza!" Lucky you, Olivia.
Cuisinart® AirFryer Toaster Oven with Grill in Stainless Steel
"I literally use this almost every time I am cooking a meal at home," Olivia raves about the Cuisinart AirFryers. "It's so versatile and makes every dish come out perfectly crispy yet juicy, I even gifted these to a few friends last Christmas!"
Snag one of these Olivia-favorite AirFryer toaster oven's from Bed Bath & Beyond on sale while you can.
JURA E6 Fully Automatic Espresso & Coffee Machine
Consider your coffee game forever upgraded with this one.
"Christian got me my Jura as a gift and it's totally changed my coffee game!" Olivia shares. "I love to make lattes and my sister has perfected her ice latte game using this machine."
Le Creuset Signature Enameled Cast Iron Oval Dutch Oven, 6 3/4-Qt.
This Le Creuset Signature Dutch Oven is exclusive to Williams Sonoma in so many different colors, to fit any kitchen vibe. According to Olivia, "these are a must for big soups, stews, and sauces!"
Go-To Dinners: A Barefoot Contessa Cookbook
When it comes to recipes, Olivia turns to the Barefoot Contessa. "I just love Ina and all of her dishes," she shares. Us, too, Olivia. Us, too.
VIDE Cranberry Vodka Soda
"My friends are always stocked with VIDE!" Olivia, a partner and investor with VIDE, says. "It's the best cocktail to have on hand for entertaining." If you're looking for a cocktail to add to your holiday party lineup this year, Olivia says that the drinks are "always a crowd pleaser." 
fferrone Margot Water Goblets - Set Of Two
No matter your drink of choice, these goblets from fferrone will elevate any beverage drinking experience. "These glasses are so dramatic but I love them," Olivia exclaims. "I drink coffee, wine, water, doesn't matter— out of these! They make great gifts, too."