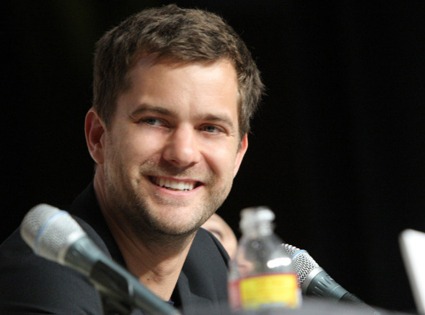 Mark Davis/PictureGroup for Fox
Fox's hit paranormal-investigation series Fringe had its moment on the stage at Comic-Con on Saturday, and when we got a chance to talk with stars Joshua Jackson and John Noble, they gave us a sneak peek at the storyline that's going to rip apart the characters in season two...
According to both Jackson and Noble, in season two the newfound relationship between the Bishops will be undermined by Walter's secret. (In case you tuned out late last season, Walter relocated an alternate-universe version of Peter to our world and "real" Peter is dead.)
Jackson told us, "Just when [Walter and Peter] get into some Fringe-y sense of a positive family dynamic, that secret is going to come out, and when it comes out, it can't help but shatter the dynamic between these two guys...That little child within Peter who's getting hurt is going to get really, really angry."
But Noble says we shouldn't expect the meltdown to happen right away. By Noble's reckoning, "There will be no answers early on. We don't want to let Peter in on that too early. I think it will be toward the second half of the season, I think it will be a massive episode and I think it will be very ugly."
On the other hand, Noble tells us that Walter and Astrid (Jasika Nicole) have a scene together early in the season, "and it's very sweet." The extremely endearing Jasika Nicole told us, "Astrid has this lovely sweet scene with Walter, and it's not just about the jokes and the one-liners. It was the chance for you to know a tiny bit more about her and their relationship and it was the greatest thing." Awww...
OTHER NEWS AND NOTES
What about supposedly fired Kirk Acevedo, who played Olivia's FBI partner Charlie Francis? Executive producer Jeff Pinkner told the audience at Comic-Con, "Rumors of Charlie's demise were premature. But I do think that Charlie's going to undergo some drastic changes, which hopefully will be surprising and entertaining. And we've already met alternate Charlie as well. He had a scar on his face. Kirk's part of our family." Huh, well, if you ask us, that's just more unconvincing hedging on this issue.
The incredibly sweet and earnest Anna Torv joked with the crowd at the panel, "I can't wait to meet the parallel Olivia. She's going to have a really thick Australian accent, and she'll get to laugh."
When asked what advice she would give her character, Olivia Dunham, Anna Torv suggested, "Sweetheart, just take a day off."
According to John Noble, acclaimed screenwriter Akiva Goldsman penned the season premiere.
Walter Bishop and William Bell will meet in the fourth episode of the second season. Noble told us, "I'm doing my first scene with Leonard [Nimoy] next Wednesday."
Oh, dear. Someone put a microchip in Walter, because as executive producer J.H. Wyman puts it, "For me the thought of Walter going out on his own is awesome, I mean, he gets lost...wouldn't he?"
Jasika also told us, "I was told Astrid's getting out of the lab this season, more than three times, to do cool things. I don't have details, but I'm thinking a gun and handcuffs." Sweet!