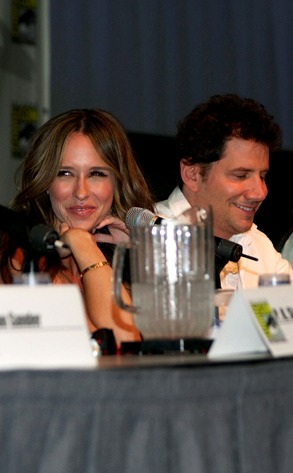 Chelsea Lauren/Getty Images
We have so much juicy goodness to share from the Ghost Whisperer panel at Comic-Con that Grandview's town square—which, coincidentally, was also used as the set for the Back to the Future film trilogy—can't contain it.
Most important, we meet the new addition to Melinda's family: baby Aiden Lucas (star Jennifer Love Hewitt confirmed to us that he will be taking his, um, stepfather's name).
But Aiden will only be a baby for a "moment," said J.Love, at least in our eyes: "Then we will jump the season five years in the future"—and see that 5-year-old Aiden (Connor Gibbs) is "more powerful" than even his preternatural mother.
Haunted Hospital? Show runner P.K. Simonds revealed: "We have a brand-new mythology, a place that becomes very central to the characters' world [and] careers that people are building." And Jim (David Conrad) is now building a new career as a physician—Dr. Sam Lucas? (This sounds like a great storyline for General Hospital. Kidding!) The idea of a haunted hospital is not such a huge leap, right? Anyway, said P.K., "You'll find out in the first episode," so if our guess is wrong, you can yell at us when the new season premieres on Sept. 25—also Melinda's due date! ("What a coincidence!" exclaimed executive producer Ian Sander during the panel.)
Romance for Everyone...Except Eli? Since the show is set five years in the future, Ned (the adorable Christoph Sanders, who told us how excited he is to finally be playing his own age) is in college...and dating: "He gets to make out with lots of hot girls," giggled J.Love. Like son, like mother: Delia (Camryn Manheim), too, will be enjoying an active love life. As for Eli, Jamie Kennedy pointed out, "I had a girlfriend in the last episode and she got killed." He was also asked whether all his girlfriends on the show would kick the bucket. "Yes," responded his real-life girlfriend. "They will all die. And then I will cross them over."
Meet the Parents: At least Eli "gets a very, very interesting family," according to Love. The third episode introduces his father ('70s cult star Barry Newman) and mother (Christine Estabrook—Desperate Housewives' nasty blackmailer Martha Huber). But Jamie alluded to daddy being a ghost in the panel (spoiler slip?), so we know at least one of his folks is dead.
Bringing Up Baby: Family is an important theme this new season—especially because of Grandview's "extra-special" new star, Aiden, said show runner Simonds: "Melinda is a character who can see and hear things that the rest of us can't. Wouldn't it be interesting if someone could [sense] things that even she can't? This child...introduces us [not only] to new characters but really to a kind of whole dimension. What happens to these spirits when they cross over? We never answered that question, really very deliberately. But now we're going to get some really big hints about where beings go. Where spirits go after they leave this plane, their earthbound existence. And what that gives to us is a lot of stories. But also some real brand-new, very intense jeopardy...This is a child [who] because of his gifts has a greater responsibility. [Those are] big shoes to fill."
If anyone can fill those shoes, it's Melinda. And we'll be there when she kicks off the fifth season of Ghost Whisperer on Friday, Sept. 25, at 8 p.m. on CBS.