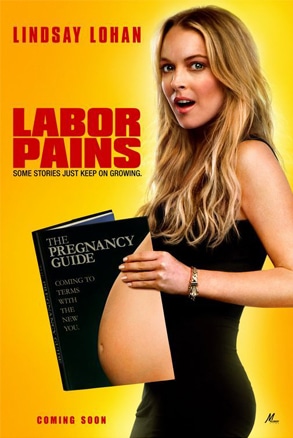 Millennium Films; Nu Image Films
Did you watch Lindsay Lohan's straight-to-cable movie? Do you know what sound Conan O'Brien hears every weeknight? And do you know why it wasn't an all-around lousy week for Burn Notice's Jeffrey Donovan?
The answers—and more questions—in the latest TV ratings quiz:
1. Who will Lindsay Lohan not soon be confused for? Harry Potter. The Lohan-led Labor Pains premiered before 2.1 million viewers, per the latest Nielsen rankings, about half of what ABC Family Channel scored the previous Sunday for an offering of Harry Potter and the Goblet of Fire.
2. Who else will Lohan not soon be confused for? Lindsay Lohan. The previous week's Disney Channel airing of 1998's The Parent Trap, featuring original-recipe Lohan, also scored twice as many viewers as Labor Pains.
3. So, did the movie bomb? Nah.
While it was by no means one of the hotter all-new cable offerings (it ranked in the 300s), Labor Pains did score a better-than-average prime-time audience for ABC Family, and per the network, was the week's top cable movie among coveted female demographic groups, meaning, yes, Lohan proved herself to be hipper than the seventysomething Angie Dickinson. (Um, Labor Pains and Dickinson's Mending Fences aside, it was a light week for new cable movies.) Still, if Lohan's chick-flick comedy had been a theatrical release, and every TV viewer had bought a multiplex ticket at the nationwide going average of $7.18, the movie would have grossed $15.1 million, which is more than any Lohan film has opened to since forever (read: post-Mean Girls).
4. If Conan O'Brien hears footsteps, is he paranoid? No, he's human. Since David Letterman started routinely outdrawing The Tonight Show, NBC has pointed to O'Brien's sway among among adults 18-49. But for the week of July 6-10, the latest weeklong, late-night stats available, Letterman trimmed O'Brien's advantage among the demographically desirable to about 38 percent, which is a lot, but a lot less than the triple-digit leads O'Brien was initially enjoying. Overall, per CBS, Letterman's Late Show beat Tonight by its widest total-viewer margin—3.7 million versus 2.8 million—in more than nine years, CBS said.
5. What's the good news for the DUI-dinged Jeffrey Donovan? Burn Notice was cable's top drama series of the week, averaging a series-record 6.7 million.
6. What's more powerful than Hannah Montana, Wizards of Waverly Place or The Suite Life on Deck? All three shows combined. The Disney Channel stunt of crafting 90 minutes' worth of crossover episodes, dubbed Wizards on Deck With Hannah Montana, resulted in cable's No. 1 program, with 9.3 million viewers. Per the network, the event massed TV's biggest kids and tween audience since the Super Bowl.
7. Has President Barack Obama lost velocity off his fastball? Not judging by his performance at the MLB All-Star Game. Fox suggested that its improved numbers for the contest were the result of families gathering to watch the commander in chief throw out the first pitch. Overall, the game averaged 14.6 million, TV's single biggest audience of the week, and the most for a baseball all-star game since 2002. The home-run derby, as aired on ESPN, was pretty big, too—its 8.3 million viewers was the second-most for any cable show.
8. Is there such thing as an Emmy bounce in rerun-riddled summer? Sometimes, but it's just not very bouncy. Consider 30 Rock, which notched an Emmy-leading 22 nominations, posted its best 18-49 rating of beach season—and still wound up with only 3.3 million viewers for its "most-watched" repeat.