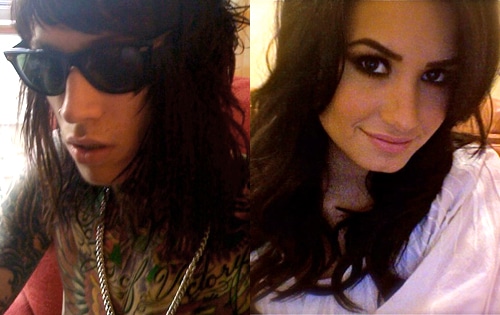 twitter.com/tracecyrus; twitter.com/ddlovato
On Friday we mentioned how 20-year-old Trace Cyrus has been watching movies with 16-year-old Demi Lovato after the two spent months twittermancing each other. Well, you know how it goes when you meet people IRL after hitting it off online—it's just so hard to recapture the magic that distance, various twittering devices and 140 character limits all create.
Anyway, so now they're saying it's over and acting like 13-year-olds on Twitter. Even Miley got in on this nonsense. Oh, and Demi's new CD comes out tomorrow. What perfect timing.
Now let's all gather in the junior high hallway and sort through this thing like we care:
So Demi started it when she was all: "Now listen I think you and me have come to the end of our time.. What'd ya want some kind of reaction? Well, okay that's fine. :)"
And then Trace was all, look at my cute ex-girlfriend Hanna Beth, she has a dog: "It's crazy how this picture has stayed the background on my phone since before I left for japan. some things will never change. I guess I always stay the same...Trip to Malibu"
Then Demi was all whatever!: "I'm sorry, was that supposed to hurt? Hm.. Oh well :)"
Meanwhile, Miley was giving out her sage advice: "@tracecyrus 'That's why they call them crushes. If they were easy, they'd call them something else' - 16 candles" And: "To girls everywhere : expectation without communication equals frustration."
Then Trace was all eff this: "I just got really confused... Is it possible to breakup when you were never together with someone and only friends? Hmm this is new to me"
Finally, Demi concluded the whole thing with a plug for her album. Aaaand, scene! Well done, everyone. Thank you for joining us to watch this twitterfauxmance play out. We'll see you next show!