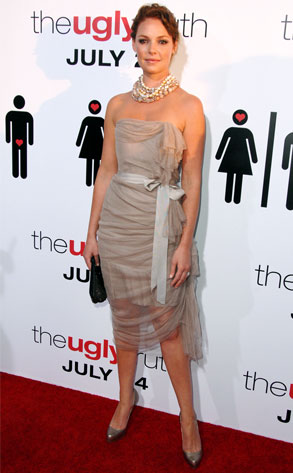 Steve Granitz/Getty Images
Katherine Heigl looked delish, and way toned down, in her darker new 'do she debuted at the premiere of rom-com The Ugly Truth at the Arclight in H'wood. Unfortunately her punctuality could use some work, 'cause the babe was 20 minutes late. Someone trying to sneak out of talking about the Emmy noms?
'Course we asked her all about that, but first we tried to get some Grey's goss for the upcoming season. But Kath wasn't spilling.
"T.R. [Knight]'s no longer there, which is just depressing," was all Heigl would offer. "And Ellen [Pompeo] now has a basketball under her shirt instead of a tiny thing!"
We get it, you can't talk about any plot details. Or maybe you just despise every storyline the writers have conjured up for ya?
As far as the Emmy noms go, Heigl kept mum on her lack of a nomination but, predictably, couldn't keep her opinions to herself about everyone else in the cast: