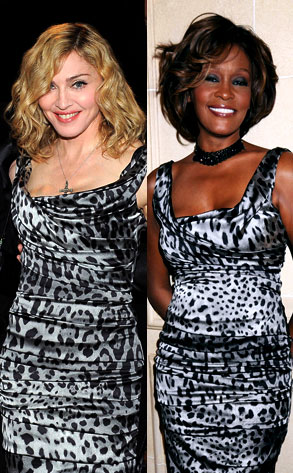 Courtesy Dolce&Gabbana, Richard Young/startraksphoto.com
Rumble in the jungle! Divas Madonna and Whitney Houston just both happened to wear the same Dolce & Gabbana leopard-print dress on the very same night.
At least they weren't attending the same event, or we're betting a serious catfight would have ensued.
Madonna wore the silver sheath to a dinner with the designers in Milan, where she also brought along much-younger boy-toy Jesus Luz, while Whitney picked the dress for her comeback album debut event in London.
Both musical icons look fab in the animal-print number, but who looked the fiercest?
Sound off on more star style in our Fashion Police gallery!