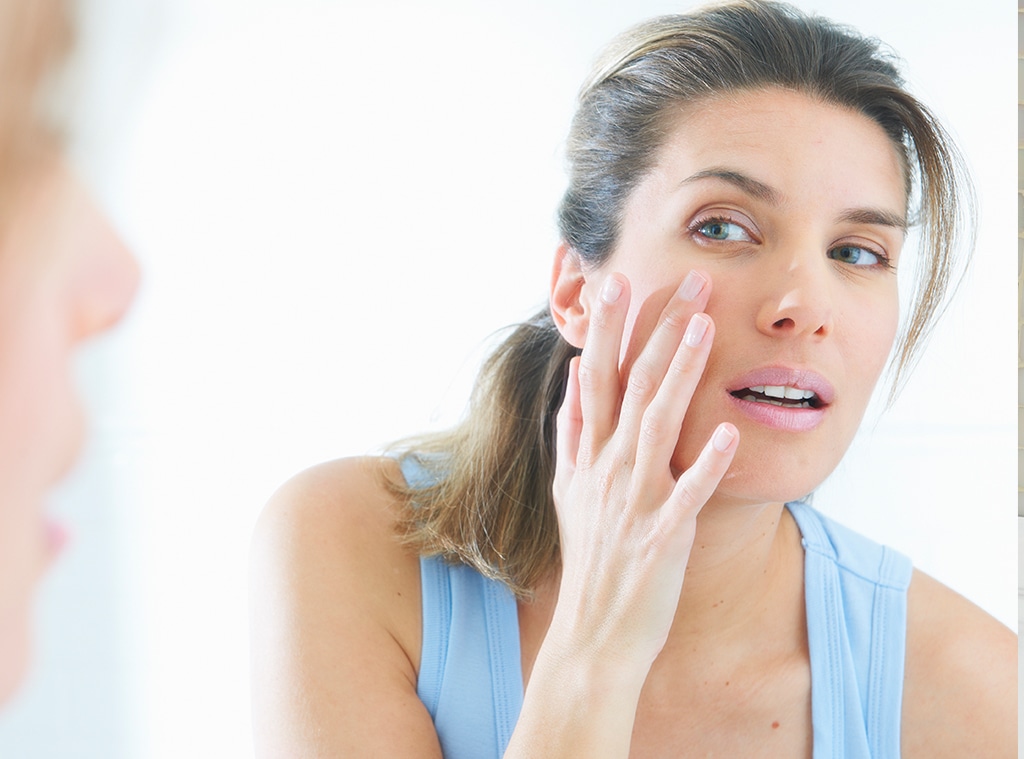 Getty Images
We independently selected these products because we love them, and we think you might like them at these prices. E! has affiliate relationships, so we may get a commission if you purchase something through our links. Items are sold by the retailer, not E!. Prices are accurate as of publish time.
Even if you do stick to a skincare regimen, that doesn't necessarily mean that you can prevent blackheads and whiteheads from popping up forever. Even the most diligent beauty product enthusiasts do get clogged pores from time to time. If you're looking for an effective way to clear out those pores, you need to check out the TONYMOLY Tako Pore Blackhead Scrub Stick, which has 6,600+ 5-star Amazon reviews.
This product is so easy to use. After washing your face, massage the stick over damp skin in circular motions, targeting those areas where you tend to have clogged pores; i.e. the T-zone and the nose. Then rinse it off with warm water. If you really want to take the experience up a notch, open up the pores with a steam towel or use this stick right after you shower.
According to the brand, the TONYMOLY Tako Pore Blackhead Scrub Stick extracts "blackheads, whiteheads, and other skin impurities." If your current skincare routine isn't coming through, add this internet-famous blackhead stick to the mix.
TONYMOLY Tako Pore Blackhead Scrub Stick
This exfoliating pore stick is just as effective as it is adorable. It has 6,600+ 5-star Amazon reviews. The brand recommends using this 3-4 times a week, but do what feels right for your skin.
If you need a little more convincing before you shop, check out these rave reviews.
TONYMOLY Tako Pore Black Head Scrub Stick
A shopper gushed, "I have never reviewed anything on Amazon before. The minute I used this product I ran to write a review. My entire life, I have had perfect skin. I didn't use any products, masks, moisturizer, nothing. It was a blessing.I had a baby ten months and and ever since my skin has been horrible, especially my nose. Pores so filled even estheticians couldn't help me. One use of this scrubber and I see a NOTICEABLE difference. It's honestly incredible. I'm finally feeling like myself again. HIGHLY recommend!"
Another declared, "This product works miracles! Not only did it immediately remove blackheads, but it also helped making my face less greasy. My T-zone has never been so smooth!"
Someone explained, "First, it is super cute. Second, it is the best blackhead pore reducing product I have ever purchased, hands down. I am super oily and always struggle with build-up, and large pores. This little magic octopus is the only thing that has ever helped."
A fan of the product raved, "What magic is in this thing? I have no idea how this gimmicky looking little dude works it's magic the way it does. I've already ordered more to make sure I don't run out. The whitehead and blackheads that have plagued my terrible skin for my whole life somehow are GONE! Skin feels super smooth with surprisingly little irritation. This little dude is magic!!!"
Someone else said, "I love love love this product! It works great on my skin I have a more oily skin so I get build up quickly even after washing my face twice a day. I mainly get blackheads on my nose, I've used it 3x and definitely could see a difference after the first use! I'd say it's safe for sensitive skin."
"Holy cow this stuff really works. Plus it's a really cute package. I have sensitive, middle-aged, very dry skin, and have been developing larger pores as I've gotten older. Since I've begun using this and a pore reducing toner, I have seen a BIG improvement," a fan wrote.
An Amazon customer shared, "My pores are always terrible and this little guy really helped clear them out without breaking me out. I love the little octopus!"
If you're looking for more great beauty buys, get $151 worth of Peter Thomas Roth anti-aging skincare products for just $40.
—Originally published Sept. 14, 2022, at 3:00 a.m. PT