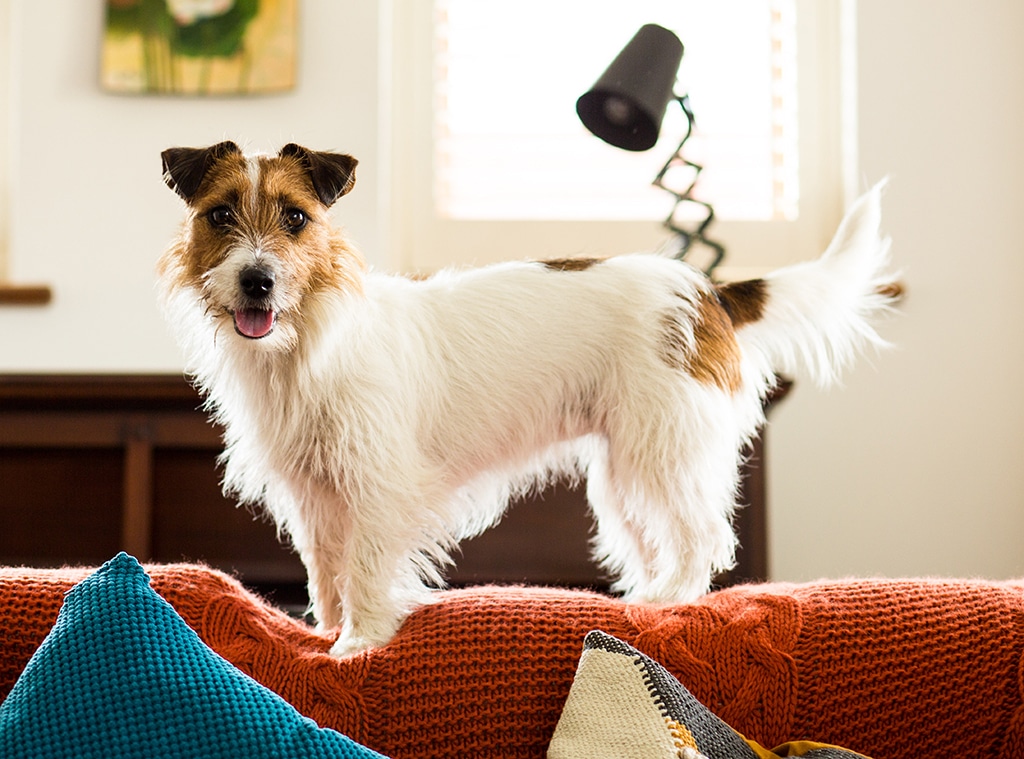 Getty Images
We independently selected these products because we love them, and we think you might like them at these prices. If you buy something through our links, E! makes a commission on your purchase. Prices are accurate as of publish time. Items are sold by retailer, not E!.
It's time for a celebration! In case you didn't already know, August 26 is National Dog Day. It's a day where we celebrate our furry friends and all the joy they've brought and continue to bring to our lives.
While there are so many ways to honor your dog today like treating them to something extra tasty or spending an afternoon doing an activity they love, one thing that's super easy to do is to shop for products that both you and your pup could enjoy. Since you can pretty much find anything and everything on Amazon, we turned to their trending section to see what your fellow shoppers can't get enough of right now. 
From playful interactive feeders and tasty treats to super cute water bottles and a best-selling stain and odor eliminator all pet owners should have, we've rounded up budget-friendly dog products with over 20,000 five-star reviews. Check those out below.
Dexas MudBuster Portable Dog Paw Cleaner
This simple yet effective portable paw cleaner was made to help you remove dirt and mud from your dog's paws without the mess. All you have to do is add some water into the MudBuster, insert the muddy paw, and twist it around a bit to let the silicone bristles work its magic. It's as simple as that. There are three sizes available and you have multiple colors to choose from. 
It has over 35,400 five-star reviews and shoppers say it's well worth it. As one wrote, "This is a good product! We have a wet and muddy backyard and my puppy loves to put his feet in the muddy spots. This product definitely cleans my puppy's paws way quicker than with a wet towel. I can clean all four paws easily with one load of soapy water. When I dry it off with a towel, there's not much mud on the towel as the product has brushed most of it off."
Earth Rated Dog Poop Bags - 270 Count
These top-rated poop bags are extra thick and have a 100% leak-proof guarantee. They're odor blocking, lavender scented and were designed to make your walks stress-free. It has over 99,100 five-star reviews and numerous shoppers say these truly are the best poop bags out there due to its unrivaled durability and thickness. Right now, you can get a 270-count box on sale for $14. 
Good'N'Fun Triple Flavored Rawhide Kabobs for Dogs
Treat your furry friend to these best-selling snacks from Good'N'Fun. These treats have over 40,000 five-star reviews with numerous shoppers saying their dogs are absolutely obsessed with these.
Outward Hound Fun Feeder Slo Bowl, Slow Feeder Dog Bowl
These uniquely shaped dog bowls feature "meal-lengthening" ridges to slow down your dog's eating time by 10 times in order to help with proper digestion. It has over 80,000 five-star reviews and shoppers say these bowls are very effective for pets that are fast eaters. Best part is, it's originally $16, but you can get it for as low as $4. There are also other colors and shapes to choose from.
Rocco & Roxie Stain & Odor Eliminator
Rocco & Roxie's best-selling Stain & Odor Eliminator has over 65,000 five-star reviews with numerous shoppers calling it a true "miracle" product. It's "certified gentle and safe" to use on all carpets, and is also safe to use around children and pets. In addition to carpets, this will also clean hard floors, furniture, clothing, litter boxes, kennels, carriers and pretty much "anywhere stains happen." The brand offers promises 100% satisfaction, so if you aren't happy with the results, you'll get a full refund.
MalsiPree Dog Water Bottle
This adorable and practical dog water bottle will keep your dog hydrated while you're walking, hiking or traveling. It was designed to be durable, leak proof and easy to use. It has over 25,000 five-star reviews and shoppers say it's an absolute must-have for long walks, especially during summer.
Coolaroo The Original Cooling Elevated Pet Bed
Keep your dog cool with the original cooling elevated pet bed by Coolaroo. It's portable, lightweight and made for indoor and outdoor use. It has over 45,800 five-star reviews with many shoppers saying how much their dogs love being on it. Right now, it's even on sale for $30.
ChuckIt! Ultra Ball, Medium - 2 Pack
We've got your dog's new favorite toy right here! The ChuckIt! Ultra Ball has over 96,900 five-star reviews. Shoppers say these are way better than most balls, and for some reason, their dogs just can't get enough. One reviewer wrote, "I bought these balls to play fetch with my puppy in the backyard, and immediately I could tell that these balls were favored over the others we had for him. He is obsessed. When it was time to come inside, he refused unless he could bring in his new ball. It is now his favorite inside toy as well. This dog does not lack for toys, but this ball, for whatever reason, is on the top of his list. As I am not a dog I do not understand what makes a ball so appealing, but apparently this ball has it."
Outward Hound Nina Ottosson Dog Brick Interactive Treat Puzzle Dog Toy
Make snack time a fun and interactive experience for your pup with this puzzle feeder. It has over 71,000 five-star reviews and numerous shoppers can't stop raving over how impressive these are. There's a variety of puzzles to choose from and you can find some on sale for less than $15.
Chuckit! Classic Ball Launcher, Medium
According to one recent reviewer, you can't go wrong with this classic ball launcher. "I'm able to throw my dog's ball much farther and I don't have to pick it up with all the slobber and dirt," they wrote. "I love this thing! I feel like we will use it for many years." It has over 41,000 five-star reviews and it's on sale for $9.
—Originally published Aug. 26, 2022 at 3:00 a.m. PT