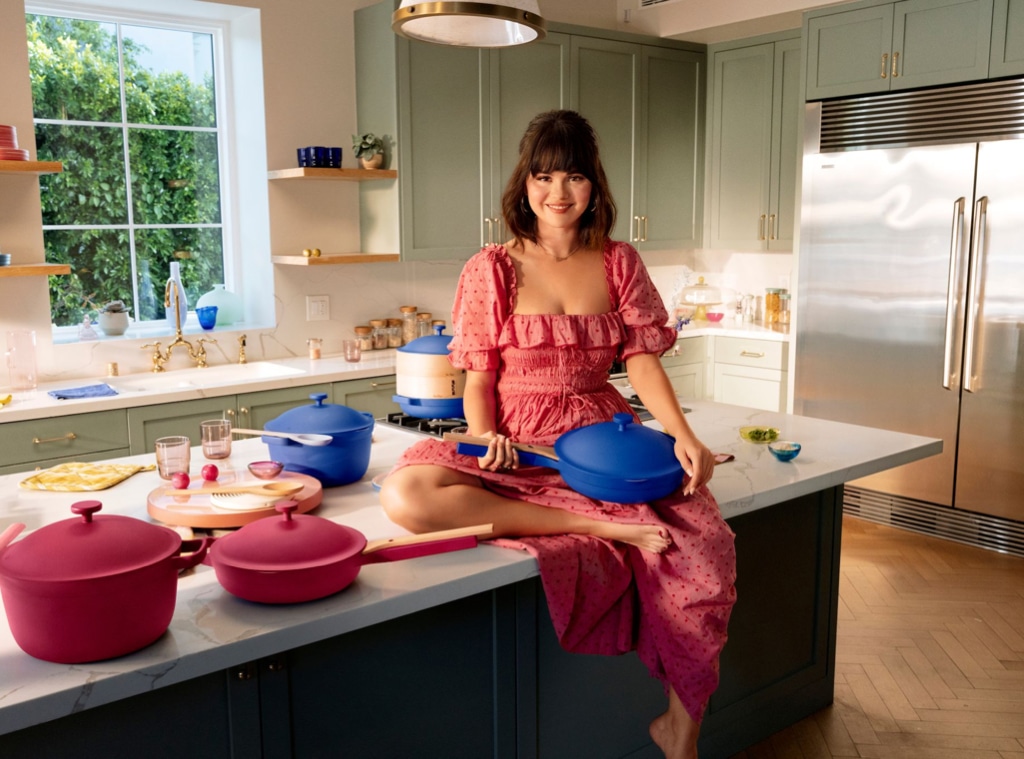 Courtesy of Our Place
The brands featured in this article are partners of NBCUniversal Checkout. E! make a commission on your purchase. Prices are accurate as of publish time. Items are sold by retailer, not E!.
The Our Place x Selena Gomez collection launched in May, and wouldn't you know? We're still obsessed with it. So obsessed, in fact, that we keep inventing reasons to add her limited edition colors to our cart. This time, we're thinking that the gorgeous Rosa and Azul shades would look right at home in a bestie's new place. After all, fall is the busy season for new dorms and new apartments, so why shouldn't new kitchens get some of the attention? Show us someone getting settled into a new home that doesn't need space-saving, aesthetically pleasing cookware and serveware, and we'll show you someone who never even realized it was an option.
To learn more about the Our Place x Selena Gomez collab, read below! And if you decide to do a little shopping for yourself while looking for gifts for hosts and hostesses with the mostess-es? Well, as a certain actor, singer, and designer once sang: The heart wants what it wants. She may not have been directly referring to cute kitchen goods when she said that, but it we think it still applies.
Our Place x Selena Gomez Always Pan
The Always Pan is perfectly named: Whomever is lucky enough to receive this as a housewarming gift will always thank you for it. Sturdy and versatile, it's designed to replace up to eight separate pieces of cookware. If you know someone settling into a smaller space that still wants the option of frying, steaming, sautéing, and more without cluttering her cabinets, this is truly the ultimate present. Plus, you can say Selena Gomez picked out the colors herself, since it's available in her limited-edition Rosa and Azul shades.   
Our Place x Selena Gomez Side Plates
Nobody puts the Our Place x Selena Gomez Side Plates to the side. Or, actually, they can, but they don't have to. This set of four is stackable and scratch-resistant, and features a raised lip that adds an artful touch if your host is the type to photograph their meals. Plus, even though they're petite, they make a great main plate option for dishes with smaller portions. 
Our Place x Selena Gomez Drinking Glasses
The Our Place x Selena Gomez Drinking Glasses are too cute, since they're so much more than just drinking glasses. Sure, the hostess can serve craft cocktails in them, but she could also use them to sip coffee in the morning or indulge in ice cream after her guests hit the road. Colorful and versatile glassware? We'd like an invite to this party, please.
Our Place x Selena Gomez Knife Trio
The Our Place x Selena Gomez Knife Trio includes the Everyday Chef's Knife, a Serrated Slicing Knife, and a Precise Paring Knife. In other words. it includes the basics your bestie need to cook, prep, and garnish a delicious meal. Best of all? Right now, the set is on sale for $30 less than the usual price. Maybe grab one for yourself, while you're already shopping. 
Our Place x Selena Gomez Dinner at Selena's Bundle
We all wish we could have dinner with Selena, but the Dinner at Selena's bundle from Our Place is the next best thing. This gift set includes their 8-in-1 Always Pan, a set of plates, and a set a of glasses, all of which are available in Selena's exclusive colors. It's also $30 off — why not pick up some wine on the way and make that housewarming party one to remember?