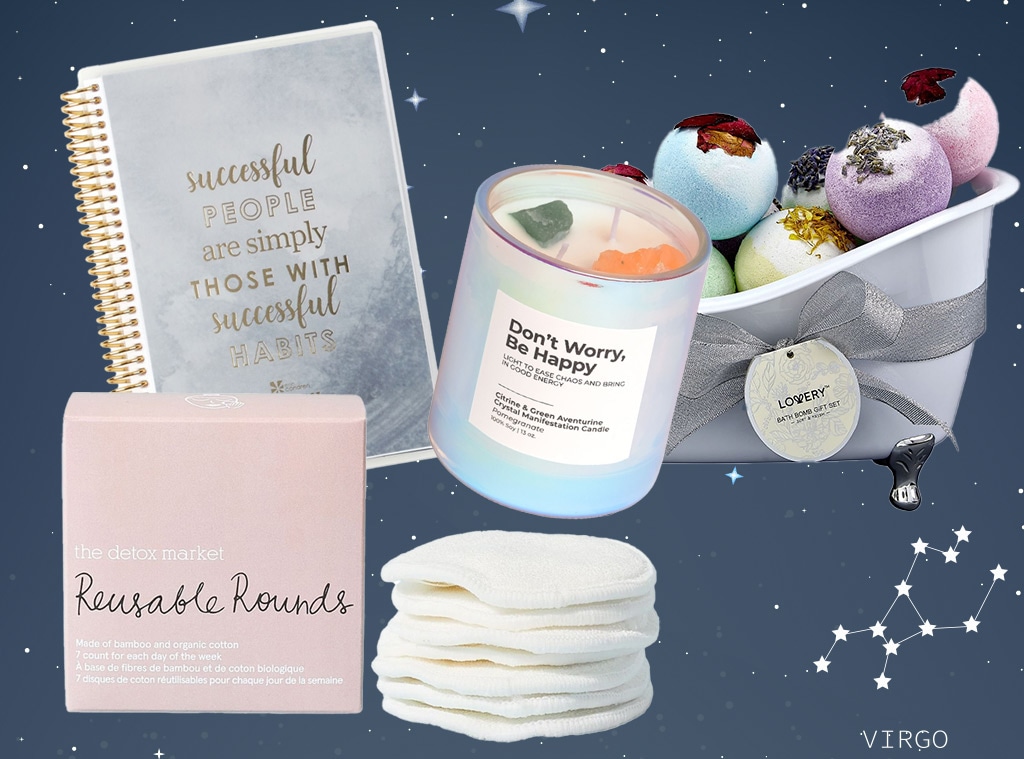 The brands featured in this article are partners of NBCUniversal Checkout. E! make a commission on your purchase. Prices are accurate as of publish time. Items are sold by retailer, not E!.
If someone you know was born between August 23 and September 22, it means they're a Virgo. any Virgo in your life is probably announcing on social media, via text chain, or from a balcony overlooking the adoring public: It's officially Virgo season. Also known as the sign of the Maiden, Virgo folks are dedicated friends, never met a puzzle they didn't want to solve, and they get stuff done. Don't let that description fool, you, though. Efficient in almost every way, Virgos really know how to have a good time. It's just a matter of encouraging them to let their hair down occasionally. 
While these hardworking, reliable, and grounded folks are kind of known for doing everything themselves, the one thing they can't do is surprise themselves with their favorite gifts. So whether you're looking for ideas on what to get your fave Virgo or, more likely, have been sent this list directly by one, here are the 8 things we recommend getting a Virgo in your life this season. 
The Detox Market Reusable Rounds
If there's one thing we know about our favorite Virgos, it's that they're practical AF. They'll love these Reusable Rounds from The Detox Market, which offer an eco-friendly way to remove makeup day after day. No, really: They're even labeled with the days of the week, since Virgos love their organization, too. 
Moon & Jai Love Ritual Kit
Another classic Virgo trait? They're noted fans of ritual and routine. So they'll adore this Love Ritual Kit from Moon & Jai, which includes everything Virgos need to bring even more magic into their lives. 
Lovery Bath Bombs Shea & Cocoa Butter Gift Set
Now, Virgos may not always want to hear this, but the truth is: They need to relax. We, uh, they, work so hard! A little time spent luxuriating with the Lovery Bath Bombs Gift Set should probably do the trick. For a little while, at least.
Erin Condren A5 Checklist Notebook
Erin Condren says that the A5 Checklist Notebook is ideal for "list-makers, habit-trackers, and bullet journalists of all kinds," which we all know is Virgo AF. Organization with a dash of personal style all the way. 
Jill & Ally Don't Worry, Be Happy Manifestation Candle
This 100% soy candle includes two real crystals — Citrine and Green Aventurine — that your Virgo bestie can include in her manifestation rituals once she's finished with the candle. It's the good-vibes-only gift that keeps on giving!
Bala Bars 3 lb. Weight Set
Practical Virgos favor a minimalist aesthetic, which makes these sleek ergonomic weights the perfect addition to their regular workout.  
Colony Co. Crossbody Sling Bag
Look, some Virgos just can't help but feel the weight of the world on their shoulders. (Group projects, anyone?) Make that burden a little lighter on them with this easygoing carryall from Colony Co.
Eleven by Venus Williams Flutter Skirt
Lightweight and versatile, this too-cute skirt from Venus Williams' line will be an automatic Ace of a gift.