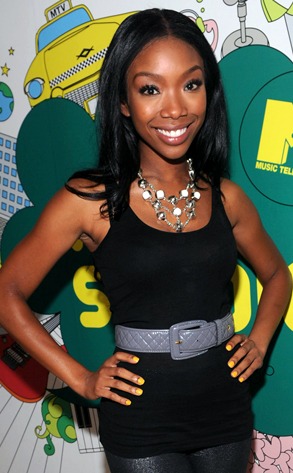 Brad Barket/Getty Images
UPDATE: On Nov. 13, 2009, Brandy reached a settlement with Marouane Hdidou, the last remaining plaintiff and husband of Awatef Aboudihaj, the mother of two who was killed in the December 2006 crash.
The terms of the settlement were not disclosed.
________
Brandy is putting the past behind her one payout at a time.
The Moesha star has settled a civil suit filed by another victim of her 2006 smashup that resulted in the death of a Los Angeles woman.
Mallory Ham, who was driving one of the other vehicles involved in the fatal accident and ended up sustaining lacerations to her face and a severely broken nose, won an undisclosed sum from Brandy's insurance company, according to RadarOnline.
The R&B star, real name Brandy Norwood, was driving along the 405 freeway on Dec. 30, 2006, when she lost control of her Land Rover and struck a Toyota Corolla driven by Awatef Aboudihaj, a 38-year-old wife and mother of two, who later died. Aboudihaj's two boys, Mrwan and Kareem Mohamed, then 15 and 11 respectively, suffered minor injuries but made a full recovery.
After an investigation, the California Highway Patrol recommended that a misdemeanor manslaughter charge be brought against Brandy, but prosecutors opted not to bring a criminal case, citing insufficient evidence.
Aboudihaj's widowed husband, Maroune Hdidou, subsequently sued the "Brokenhearted" singer for wrongful death on the children's behalf, for which she settled out of court by agreeing to pay each minor $300,000 (view court docs here).
Additional legal action followed including a $50 million complaint filed by Aboudihaj's parents, a claim brought by Donald Lite (another motorist caught in the collision who allegedly suffered "serious and permanent injuries") and the suit brought by the 52-year-old Ham.
Brandy has since countersued Ham, accusing her of negligence and blaming her for causing the chain-reaction pileup because she broadsided Aboudihaj's car while trying to evade the other vehicle that entered her lane.
Lawyers for the 30-year-old Grammy winner and the plaintiff were not available for comment.