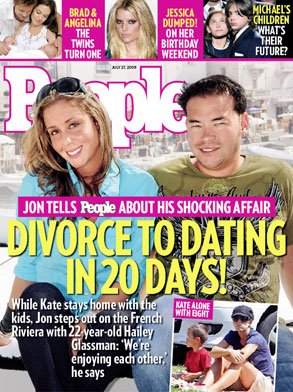 People
A couple of weeks ago Jon and Kate announced: "During this very difficult time we will be working to focus solely on the needs of our family. This includes no longer commenting publicly or reacting to media stories and speculation."
But then the magazine covers stopped and the couple began to slip into irrelevancy, so guess who's now commenting to People on his relationship with his 22-year-old party girl Hailey Glassman?
"Hailey and I have been family friends for several years and only very recently began dating," Jon Gosselin explains. "What began as friendship has grown into something more."
He goes on: