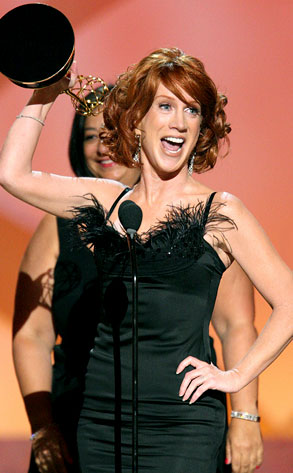 Matthew Imaging/ Getty Images
The haters can suck it. Well, them and, if history is any indication, Ryan Seacrest.
None other than Kathy Griffin herself has been lined up to host the 2009 Primetime Creative Arts Emmy Awards, a ceremony she's lovingly christened the "Schmemmys," this fall.
No stranger to the show, the My Life on the D-List star has not only taken home the award for Outstanding Reality Program for the past two years (take that, Cesar Millan), she's walked away with the night's biggest headlines, as well—first, for an acceptance speech in which she saw fit to tell Jesus in no uncertain terms to "suck it," and secondly for both cussing out her peers and opining on the merits of making love to her statue.
(If that's how she feels about her Emmys, what will she say about her Tater Top?)
"We're thrilled, as Kathy's the first Emmy winner to host the Creative Arts show," ceremony producer Spike Jones Jr. said. "She stole the show the last two years, so now, we're giving her the opportunity to officially hijack it. We're all very, very excited. And just a little bit scared."
Pity the poor network in charge of manning the delay button on that ceremony. Oh, wait...while the ceremony takes place Sept. 12, the show will be edited down and aired as a two-hour special on E! later that month.