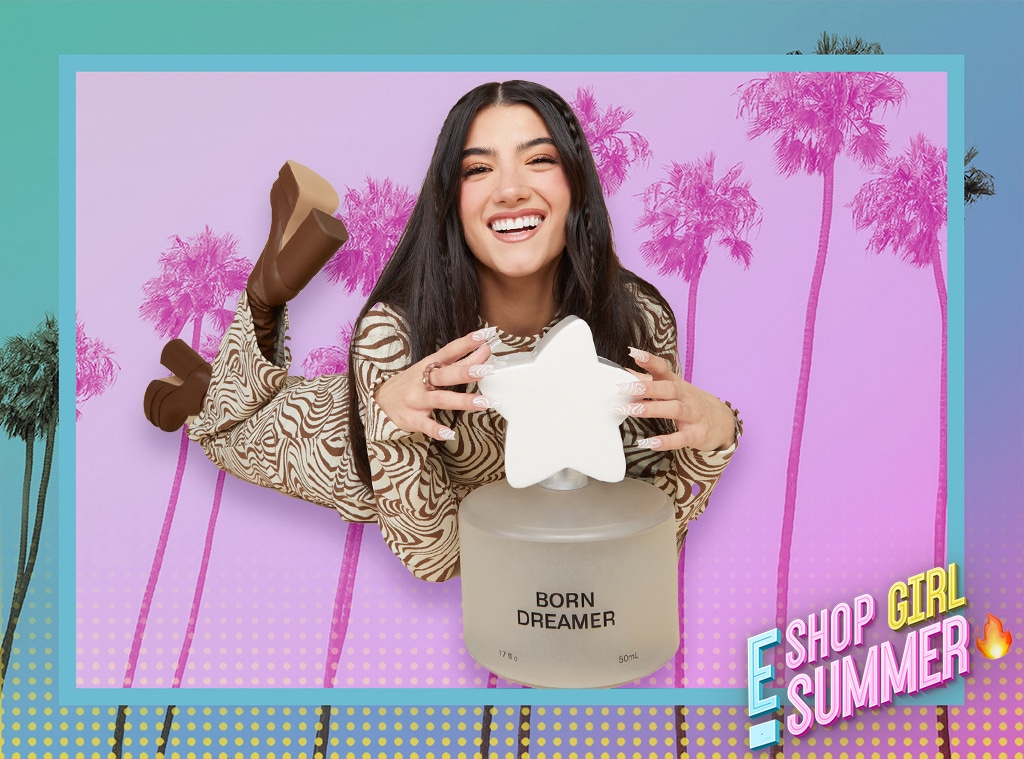 Born Dreamer
We interviewed Charli D'Amelio because we think you'll like her picks at these prices. Charli is creator of Born Dreamer sold exclusively at Ulta Beauty. E! has affiliate relationships, so we may get a commission if you purchase something through our links. Items are sold by the retailer, not E!. Prices are accurate as of publish time.
Charli D'Amelio's dream has come true! 
At 18 years old, the content creator has been able to launch her own fragrance titled Born Dreamer. And if that wasn't sweet enough, the perfume is sold exclusively at Ulta Beauty. 
"I've been shopping at Ulta Beauty my whole life," Charli told E! News. "I love how Ulta Beauty is so accessible to everyone and that's really what Born Dreamer is about because I want everyone to experience and enjoy it as much as I do!"
So what is Charli shopping for when she visits one of the stores or shops online? We're so glad you asked! As part of Shop Girl Summer, E! News got a look inside her shopping bag. Get ready to add some items to your cart below.
Born Dreamer Eau de Toilette by Charli D'Amelio
"One of my most loved products is of course my recently-launched perfume Born Dreamer. It's a fruity floral fragrance and it's recyclable, vegan, and clean. My favorite keynotes would have to be the top and middle notes which are Anjou pear and jasmine petals. I created this product to help others feel more confident and to relate to a scent that feels unique and I absolutely love the finished product and wear it every day." 
ULTA Juice Infused Lip Oil
"Another one of my fav lip products. I like this oil for when I want a glossy finish and hydration. My favorite shade is the cranberry + pomegranate shade because it's perfect for all seasons."
NARS Radiant Creamy Concealer
"I like this concealer because it's perfect for when I don't want to wear a full face of foundation yet still want good coverage for a result of an even skin tone and hidden blemishes. It leaves my face looking flawless and it has a thicker application than most concealers do without looking like I have much makeup on. It's super long-lasting and I recommend others to try it."
bareMinerals Mineralist Lip Gloss-Balm
"One of my favorite colors in this balm is the 'sincerity' shade. It's always essential for me to have a glossy lip gloss with me wherever I go. This specific product pairs easily with most lip liners that I own so I like to throw together a combination of a shade in the gloss-balm and a matching lip liner."
Banila Co Clean It Zero 3-in-1 Cleansing Balm
"This cleansing balm removes my makeup with ease—even waterproof mascara and eyeliner. I recommend this product for anyone who has sensitive skin like me and wants an easy cleanse to melt away all makeup products, or, just a new product to switch up your skincare routine. The balm turns into a smooth oil during application and it's so easy to use and leaves my face feeling fully refreshed and soft." 
Anastasia Beverly Hills DIPBROW Waterproof, Smudge Proof Brow Pomade
"This is one of my go-to products because I think eyebrows are a major focal point on the face, so I never forget to do my eyebrows whether I'm doing a fast-paced or slow-paced makeup routine. There are a variety of pigmented color options to satisfy everyone's brow shade and the texture is ideal for easy application. It has a matte finish so it blends well with my natural brow, making it seem as though my eyebrows are naturally always put together. Even on light-makeup days, I prefer to have my brows done."
Tarte Maracuja Juicy Lip Balm
"The juicy lip balm is the best. Unlike most 'juicy' balms, the Tarte maracuja balm isn't sticky and it's super moisturizing. It's nice for a quick refresh moment while adding a shade of color."
MAC Studio Radiance Face And Body Radiant Sheer Foundation
"My skin is super sensitive so I have to be careful when it comes to selecting which products go on my face, especially foundation. I have had a great time using this product because it works for me and my skin. I can achieve several makeup looks from a natural look to a bold look with this foundation. It feels lightweight but can be built up easily. One of my favorites for summer."
MAC Lipstick Matte
"The perfect nude-toned and red lipsticks! I enjoy the range of shade options that there are to choose from with this product. I keep a stash of these lipsticks in different shades in my purse when I'm on the go so I can easily switch a nude day-time look to a night-out look with a red shade."
Essence Lash Princess False Lash Effect Mascara
"I love this mascara because it brightens my eyes by adding volume and length to my eyelashes. It has a pretty finish yet it's affordable."
Morphe X Ariel Signature Look 12-Piece Face & Eye Brush Set
"My go-to makeup brushes! The quality is amazing and this product helps to make the application process so smooth for everything from foundation to eyeshadow. The packaging is super sleek, they're soft brushes, and they're worth investing in because they last."