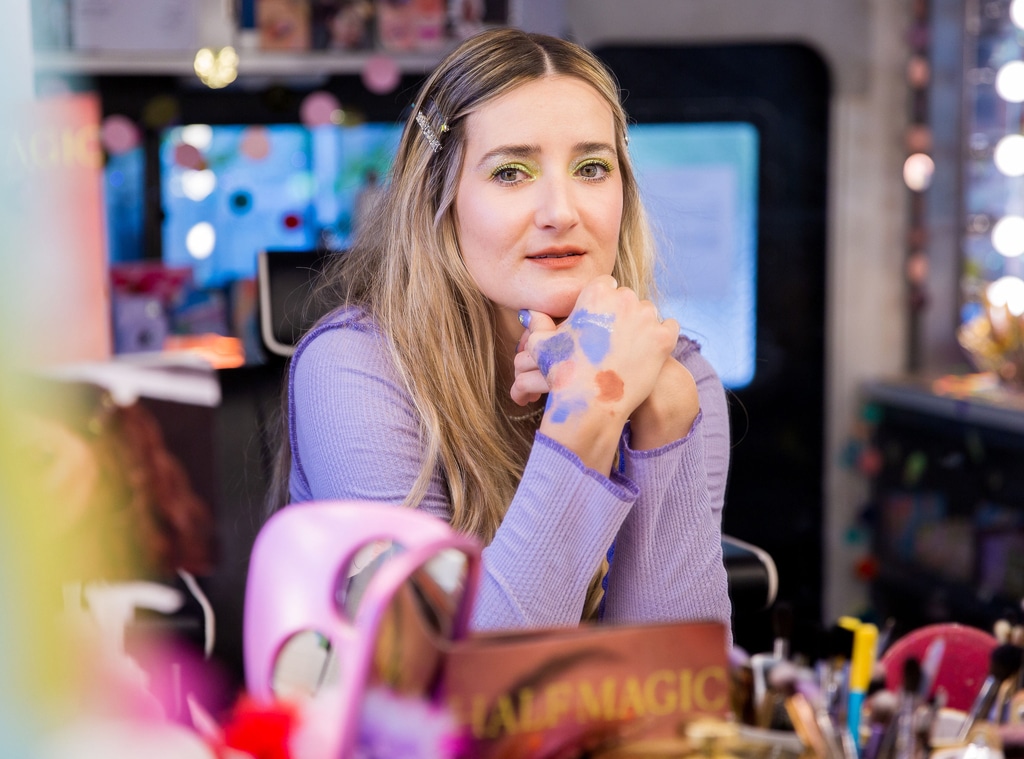 Half Magic Beauty
We independently selected these products because we love them, and we hope you do too at these prices. Shop with E! has affiliate relationships, so we may get a commission if you purchase something through our links. Prices are accurate as of publish time. Items are sold by the retailer, not E!.
Donni Davy, Euphoria's head makeup artist, is putting us under her spell once again.
There's no denying Donni's work on the HBO teen drama ignited people's burning desire to showcase their self-expression with a little bit of lipstick and rouge. In the past few years, the minimalist no-makeup trend has taken over, with celebrities and influencers opting for the less is more approach. However, that all changed with Euphoria. 
From purple iridescent glitter tears to dramatically overlined lips and whimsical nail art, Donni proved that makeup can be a powerful tool for storytelling, while also reminding fans that the beauty space can (and should) be fun.
Now, Donni is giving people all the necessary tools to create their own face art with the recent launch of Half Magic Beauty.
The Emmy-winning makeup artist partnered with A24 and the creators behind Euphoria to offer a variety of products that cater to "both your wildest dreams and your daily routine."
Half Magic Beauty was designed with fantasy and functionality in mind, as it features a collection of daring matte shadows, dazzling glitter paints and dreamy lip creams. But don't let its offerings deter you if you're into a more natural finish. Donni wanted the brand to be accessible to everyone.
"I'm thinking about people who want to wear makeup who might be intimidated by bright colors, but who want to dabble," the makeup artist told Stylecaster. "I was also thinking about pro makeup artists like myself and really wanting to make formulas that they would hold up and that pro makeup artists would be excited to have in their kit."
I'm personally not super audacious with my makeup routine. Sure, I'll add drama to my eyes with thick coats of mascara and bronzy shimmer shadows. But beyond that, I keep things pretty simple.
However, when I got my hands on Half Magic Beauty, I was immediately inspired to get out of my comfort zone. Whether I applied a purple-colored eye paint or threw on a hot pink lip, these were small enough changes that made me feel excited about getting dressed up. 
If you're ready to experiment with your own routine and want an honest review on Half Magic Beauty, keep on reading!
Half Magic Beauty Mouth Cloud Soft Matte Lip Cream
I'm going to preface this by saying I'm not daring at all when it comes to lip color. I have a drawer full of peachy pinks and pinky-nudes. It doesn't get more basic than that. However, Donni's electrifying lip creams, available in nine vibrant shades of purple, blue, red, and more, have changed my outlook completely. The main reason I feel confident to get out of my comfort zone lies in the formula. The Mouth Cloud Soft Matte Lip Creams glide on like a silk glove, coating the lips in a velvety texture that feels both nourishing and soothing. It's as if your lips are wrapped in a cashmere sweater. The lipstick is so comfortable that it reminds me of a lip balm, but its pigment packs a major punch.
My personal favorite is Edward's Fantasy, a red wine. And every time I wear this shade, I get so many compliments. Several co-workers even Slacked me after a meeting to share that they needed to know what lipstick I was wearing or that they adored the hue. The coolest thing about this product is that it creates a blurring effect, almost as if your lips have an Instagram filter. While it slightly wears off after a few hours, it slowly transforms into a lip stain. I don't mind the fade because even though the whipped texture is no longer there, my lips are still drenched in color. I was also impressed that it barely transferred onto my coffee mug and it never once smeared or smudged. All in all, I'd call this the star product of the line.
Half Magic Beauty Sculptitude 2-in-1 Lip Liner
The cool thing about this double-ended product is that it works as a lip liner and contour stick. The Scultptitude 2-in-1 Liner comes in two complementary shades (a warm and a cool tone) that were designed to either match the Mouth Cloud Soft Matte Lip Creams or add definition to them. For example, Fancy Cherry is a bright red that can be used to highlight the lips when using the lipstick shade Edward's Fantasy, while the other end of the liner, Sugar Plum Bitch, looks identical to the lipstick and acts as the perfect liner for seamless application.
Since the lip liners come in the same color family as the lip creams, they can also be used as a contour to create the illusion of fuller lips. Place the deeper tone in the areas you want to plump up and the lighter shade to highlight the center of your mouth. Overall, you can use either shade as you please or even mix and match them with the lip creams! I lined my lips with Give 'Em Hell, a highlighter orange, while I used the lip cream Invoiced Attached, a Barbie pink. It was a fun combo Donni shared on Instagram that was cute but not too crazy to wear outside of the house. Along with being versatile, I love that the liners have lasting power. They don't smear, smudge or fade after all-day wear.
Half Magic Beauty Chromeaddiction Shimmer Eyeshadow
It pains me to have to write this, but the Chromeaddiction Shimmer Eyeshadows didn't work out for me. But before I dive into the negatives, let me share the highlights (no pun intended). For one, I was amazed by how vibrant and sparkly the shadows were. The smallest dab of A.S.M.R., an iridescent champagne color with hints of lime green, glazed over my eyelids with the prettiest glimmer. My eyes shined as bright as a disco ball and dazzled even in the dark. The shadow stick, which features a triangular wand applicator similar to the lip creams, makes for a mess-free application. And that's a huge perk when dealing with a glitter product. I also appreciated its long-wearing formula. Some glitter shadows will either create a clunky mess in the crease or lose their luster, but that wasn't the case with Half Magic Beauty's offering.
Now for the cons: The biggest issue I had was the texture of the glitter, which felt like I was scraping my lids with sandpaper. The graininess irritated my eyes and left me with a rug burn sensation (insert crying emojis). It was also hard to scrub off the product. After using micellar water, on top of double-cleansing, the product was still dusted all over. While this is to be expected with glitter shadows, I had hoped for an easier wipe-off, especially since the brand encourages you to layer them over products and experiment with your looks.
Half Magic Beauty Wing Magician Reusable Silicone Guide
I typically apply winged eyeliner like a child learning how to color inside the lines. Nine times out of 10, it's messy and mostly uneven, but since I can't finish up a look without eyeliner, I keep calm and carry on. Thankfully, Half Magic Beauty's tool has helped me achieve a cat-eye with ease. The coolest feature is that the diamond-shaped guide is a multipurpose product, so you're getting more bang for your buck (even though it's affordable already!). The sharp, pointed edges are perfect for those moments when you desire a dramatic wing or feel like creating graphic lines. In contrast, the shorter edges will help you draw a subtle wing. You can also use the curves between the points to place lip liner on precisely, especially if you want to overline your lips but don't want to go overboard.
One thing to note: Since the tool is made with silicone, the soft, flexible material can be tricky to use as a guide. It took a couple of tries for me to hold it in the right position so it wouldn't move around with my liner. And fret not if the tool gets messy. You can throw it in the dishwasher or clean it up with some soap and water. All in all, once you figure out the kinks, it's...well, pure magic!
Half Magic Beauty Glitterpill Eye Paint + Liner
Similar to the Chromeaddiction Shimmer Eyeshadows, I didn't have the best experience with the Glitterpill Eye Paint + Liner. The main reason being is that they are slightly challenging to work with. The first time I applied the product, I was let down by how faint it swiped on. At first, I was mesmerized by the shade Money PLZ, a copper color with hints of orange that reflect like a fish's scale, and eager to dress up my eyes. However, after I placed it onto my lash line, my excitement faded as the shade was barely noticeable, even when I extended it out to draw a wing. Within a few hours of wear, the liner disappeared and looked as if I had sprinkled specks of glitter around my eyes.
On another occasion, I applied the product to my lids as an eyeshadow, but it slowly separated and got patchy in my crease area by the end of the day. I was crushed, to say the least. While the eye paints are buildable and give off the prettiest glaze (eventually), it ultimately takes a lot of effort to see the glitter shine through. One interesting feature is that the product has a cool, gel-like texture that feels nice and airy around the delicate eye area. It's also encased in mess-free packaging, which is adorned with magical Pegasuses and comes out of a fine-point wand applicator. Another positive? The paint and liner duos are formulated with eye-safe glitters and developed to have minimal fall-out. In my opinion, this works best as a topper—the glitter really popped over a black liner and dark shadow.
Half Magic Beauty Chromeaddiction Matte Eye Paint
Nothing screams makeup experimentation quite like these shadows, which come in four bold colors like a lime green, periwinkle, coral and red-orange. Here's the main thing to keep in mind: The Chromeaddiction Matte Eye Paints are attention-grabbers and not for the faint of heart. Whether you're placing it all over the lids, wanting to play with geometric shapes or using it as an eyeliner, these offer intense pigmentation. Plus, a little goes a long way as one small dab will cover your entire lid.
As its name suggests, the formula truly feels like matte paint but it's a lot more comfortable than real paint. What I love most is that it stays "wet" long enough to give you time to brush it out to your desired effect—but once it's dry, it's tough as nails. (Through the angled wand applicator makes it easy to apply all over, I noticed that my fingers were the best tools.) Unlike some eye paints that I've tried in the past, these lasted through an eight-hour day of running errands, doing a cardio work out and moving around with my active 6-month-old. Not once did the eye paints budge, and since my lids looked as bright as a neon sign, I appreciated that they stayed put. The last thing I wanted to look like was a clown whose face painting is melting. Overall, these inspired me to have fun with my makeup. I applied Sky Juice, a periwinkle shade, in the center of my lids and drew dots onto my brow bone in Burn It Down, a red-orange. I tend to wear warm neutrals or a basic bronze shimmer for everyday wear, but these forced me to be artistic. A lovely change in my routine.