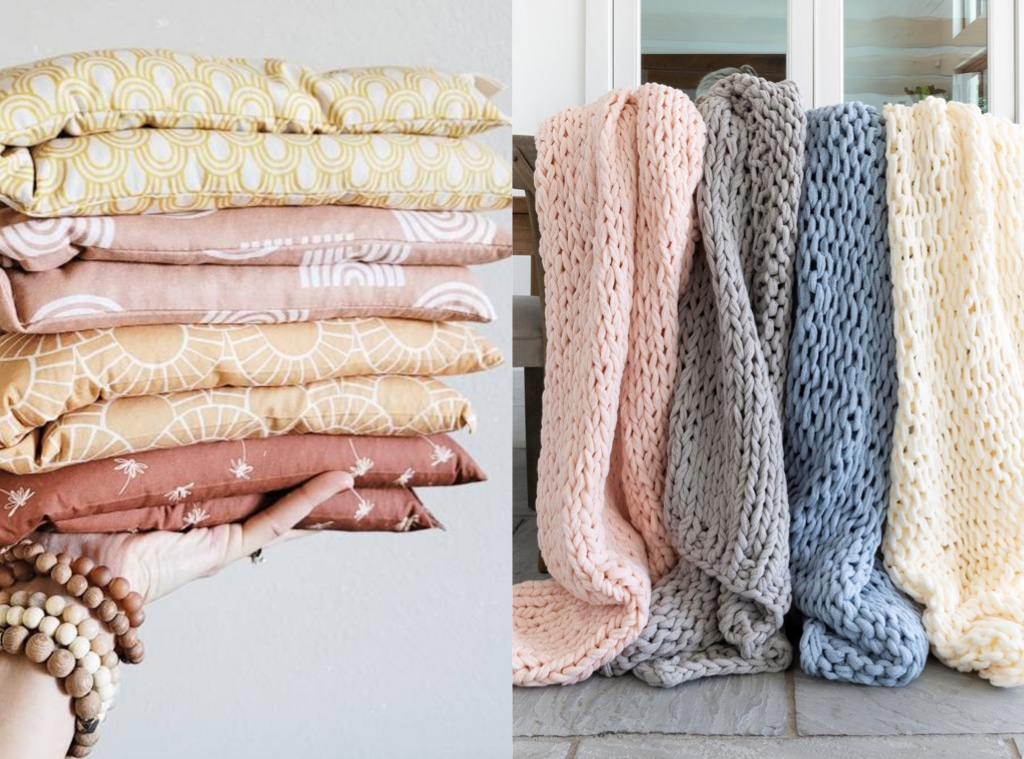 Etsy
We independently selected these products because we love them, and we hope you do too at these prices. Shop with E! has affiliate relationships, so we may get a commission if you purchase something through our links. Prices are accurate as of publish time. Items are sold by the retailer, not E!. 
Although we're still in the middle of summer, back to school season will be here before you know it. If you'll be moving into the dorms or your first apartment in the upcoming months, we've got a roundup of cute and practical things from Etsy you'll want to snag before move-in day. 
Moving to a new place, especially if it's your first time away from home, can make anyone feel anxious. Finding products that make your home feel warm and cozy can help you adjust to your new living space, and Etsy has all kinds of unique products you can get to make that happen. For instance, you can't go wrong with candles! We came across some playful cereal candles that'll take you back to your childhood days, as well as best-selling luxury aromatherapy candles which have over 9,000 five star reviews. Both of these candles will do wonders at making your dorm or apartment feel more homey.
From cozy blankets to practical storage baskets, we've rounded up a few other Etsy finds that can make your dorm room or apartment feel like home. Check those out below. 
Cloud Knot Pillow
This uniquely knotted Cloud Knot Pillow from Juju and Jake on Etsy is such a stunner. There's a wide variety of colors to choose from, and reviewers say the pillows are beautiful, soft, and can be used for neck or lumbar support. Juju and Jake on Etsy has other amazing cloud knot items including floor cushions, door barriers and other pillows. Be sure to check those out as well.
Rustic Floating Shelves - Set of 2
These chic floating shelves from Avadir and Co. are perfect for photos, books, small plants and more. Avadir and Co. on Etsy actually specialize in personalized home pieces that can help create an inviting home. So be sure to check out their other offerings as well. 
Original Macrame Fruit Hammock
Keep fruits and other items in this cute hammock by Avadir and Co., the same shop that did the floating shelves above. 
Boho Style Aromatherapy Lavender Weighted Neck Wrap
This boho-style aromatherapy neck wrap weighs approximately two pounds and is stuffed with a blend of organic flax seed, rice and dry lavender buds. Whenever you're feeling stressed, anxious or overwhelmed, just warm this up in the microwave for a couple of minutes and wrap it around your neck. There are six cute patterns to choose from. 
Personalized Photo Printed Basswood
Cereal Bowl Candle with Metal Spoon
SouthLake Gifts on Etsy creates wild candles that don't exactly look like candles. Their best-selling cereal bowl candles look just like the real thing, your guests will be shocked that they aren't. The shop recommends lighting these each morning to jumpstart your morning routine.
Aromatherapy Candles
You can't go wrong with aromatherapy candles, especially during days when're feeling stressed, overwhelmed or lonely. These beautiful luxury scented candles from Kindred Fires on Etsy offer scents for happiness, sleep and energy, among others. Over 70,000 of these candles have been ordered, and they have over 9,000 five-star reviews. 
Macrame Leaves Hanging Wall Art
Decorate your wall with this gorgeous wall hanging. You can choose the amount of leaves you get, as well as whether you want solid colors or mixed. Etsy shoppers who have this in their home can't stop raving over how well-made and beautifully packaged these were. 
Coat Rack with Shelf and Magnetic Key Holders
You'll know exactly where you keys and bag are with this cute and practical coat rack with shelf. A must-have for any home!
Crochet Hanging Storage Baskets - Small
Handmade Chunky Knit Throw Blanket
Place these handmade extra chunky throw blankets on your bed or couch to give your space a warm and cozy feel. There are five colors to choose from and Etsy shoppers say these blankets are just as soft and comfy as they look.  
—Originally published July 7, 2022, at 3:28 p.m. PT