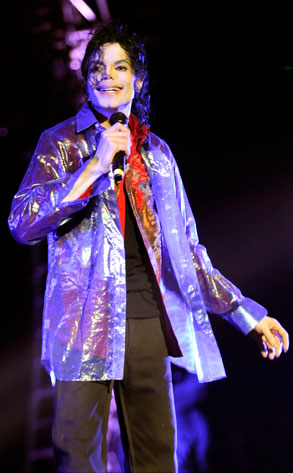 Kevin Mazur/AEG via Getty Images
One of the dreamers who tried to reboot Michael Jackson's career says the late King of Pop wasn't fit enough to hit the stage for the "greatest comeback show ever" two years ago, let alone this summer.
"It would have happened had I assessed that Michael was capable mentally, emotionally, vocally to do it. At the end of it, we decided no, he wasn't," Jack Wishna, president of consultancy CPAmerica and the orchestrator of Jackson's return to the U.S. after a year spent living abroad, exclusively tells E! News.
The idea that they danced around from mid-2006 to mid-2007, and again earlier this year, was to have Jackson in residence at a Las Vegas hotel, where he'd star in a concert spectacular called Michael Jackson Presents that would also feature guest appearances by the latest R&B hitmakers.
"Michael says, 'I have this huge statue of me in full regalia, moon boots,'" Wishna recalled. "I want the hotel to encase it in the wall and the nights I'm in performance the statue comes out to the center of the strip so the world knows that I'm here," Jackson said, according to Wishna. "It would come out on a conveyor belt."
But though concert promoter AEG Live said that Jackson passed a physical with flying colors earlier this year, Wishna maintains that the 50-year-old artist had been in a "weakened state" and wasn't able to do three shows a month in 2007, much less maintain a more rigorous schedule now.