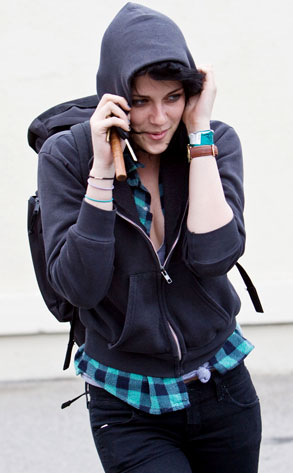 GVK/LAURENT/bauergriffinonline.com
Dear Ted:
I don't know if your latest post (Addictionary) did more good or harm to Kristen Stewart. Bless her heart. That is one tough cookie, and I for one am glad she knows how to use her middle finger. Mine would have calluses by now. This is a lady who will go far in life. She has just the right amount of femininity and kick ass. Rob is one lucky boy!
—Jennifer
Dear Spunky Stewart:
Oh, I know Kristen can handle all the unnecessary crap that's coming her way. I just needed a good word to describe it. She can take everything we can throw, fer sure.
Dear Ted:
What do you think of Sarah Palin's latest shenanigans? Do you think she really has a shot at becoming president in 2012 or later, like some of the GOP pundits are saying? Or is she fated to become a female Rush Limbaugh? Also any news on why she quit?
—Ellen
Dear Chanceless:
Sarah stands as good of a chance at being president in 2012 as Robsten do of becoming prez and vice prez. Not a bad idea, actually. Should Kristen be president while she lets Rob Pattinson have the easier, cushier time of it? By the way, Palin quit because she's deranged and because she knows the knives are out for her big time, she wanted to head them off at the scandal-laden pass, as it were.
Dear Ted:
My daughter's roommate mentioned today that she gets all of her gossip from Perez Hilton, especially the Twilight stuff. After I calmed myself down and after laughing hysterically, I informed her that his gossip comes exclusively from my main man, Ted, and she needs to get the goods from the A.T. and not some second-hand source. They are only 19, just college kids, but they need to learn gossip the correct way, right?
—Annie
Dear One Way:
I'll let it slide, just this once.
Dear Ted:
Not that she's obligated to the public or anything, and also, I am aware that Farrah Fawcett also died that day, but I haven't heard or read anything from Tatum O'Neal about Michael Jackson's death. If someone writes a song about you, a comment might be in order. Whaddya think?
—Jules