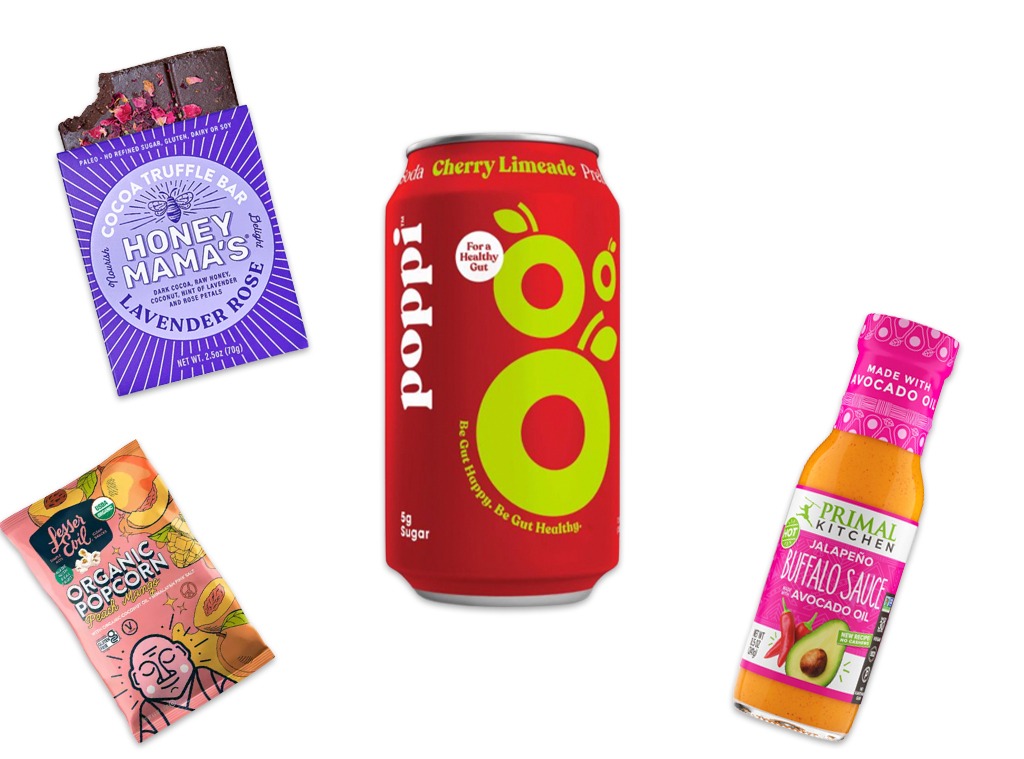 We love these products, and we hope you do too. E! has affiliate relationships, so we may get a small share of the revenue from your purchases. Items are sold by the retailer, not E!
Summertime and the snackin' is easy.
Happy official first day of summer, may we offer you a delicious assortment of seasonal treats to celebrate? That is exactly what we are serving up with this round-up of healthy and delicious products that will keep you satisfied, whether you are spending the day at the beach or binge-watching your favorite show with the A.C. blasting. 
Included in our picks are breakfast options like overnight oats and cereal, as well as desserts like truffle bars and cookie dough. And there are plenty of on-the-go offerings if you are traveling, including protein bars and meat sticks. Of course, we added in a fun new spiked drink for our 21-and-over crowd, too, because it's summer, baby, and that's worth a toast!
Here are 16 products we highly recommend adding to your shopping cart ASAP. Happy snacking!
Poppi Cherry Limeade
Yes, you can actually drink soda and be kind to your gut, thanks to Poppi's prebiotic offerings. And their latest may just be their tastiest, with the cherry limeade striking that perfect balance of sweet and tart thanks to the inclusion of apple cider vinegar and organic fruit juices. Also, feel free to love yourself enough to pour it in a wine glass.
Siete Sea Salt & Vinegar Kettle Chips
We're not sure why, but as soon as June hits we just want to douse every carb in vinegar. Fortunately, Siete is doing the lord's work for us with their dangerously delicious take, which also has a hint og serrano and is grain-free. Pro-tip: Crush them up and sprinkle them on your salads because chips > croutons. We said what we said and we said it with our chest!
Purely Elizabeth Vanilla Pecan Superfood Oatmeal
There are many things to love about this cup of oats—it has crunchy pecans, it's organic and contains no artificial shit!—but number one on that list is the addition of bovina collagen, which means you are benefitting your skin, hair and nails while also enjoying a delicious snack. Look at you go, over-achiever!
DEUX Best Sellers Mini Pack
Be the grown-up you needed when you were a kid. And by that we mean make a cookie dough flight and have it for dinner. The three flavors in DEUX's to-go bundle—brownie batter, birthday cake and chocolate chip—are enhanced with fancy ingredients like elderberry, aloe vera and Ashwagandha, so your adult self can also be proud. 
Mush Coffee Coconut (12-Pack)
We were going to make a joke here about how we wish we knew how to quit you, Mush, but that would be a lie and friends don't lie! The Shark Tank-backed brand's overnight oats are just that good, made with minimal ingredients and a just-riiight creamy texture. While all their flavors have been known to pay a visit to our fridge, we're partial to the coffee coconut flavor when the temps get warm. 
Lesser Evil Peach Mango Popcorn
Trying to pick our favorite seasonal flavor from Lesser Evil is like being forced to name our top Taylor Swift song. Cruel, unjust and we will not stand for it! However, we have to give a shout-out to the summer slate's newest member Peach Mango, which joins returning favorites Lemonade and Watermelon Hibiscus. Who knew popcorn could ever taste so fresh?!
BelliWelli Snack Bars (8-Pack)
BelliWell's mission is to take the BS out of IBS and they are doing it through their decadent low-FODMAP oatmeal bars. Their variety pack includes flavors like birthday cake, blueberry muffin and cinnamon swirl, which all have gut-soothing ingredients like vanilla and almond butter. Bloat is sooo last summer.
Sunboy Spiked Sparkling Coconut Water (6-Pack)
Sure, sure, sure, coconut water is good for you, but a spiked sparkling coconut water just means good times for you. This variety pack includes flavors like passionfruit, pineapple and tangerine, which have the perfect amount of sweetness and has no fake syrups in it. And, because of the coconut, you are warding off a hangover and your future self loves that decision for you. 
Goodles Vegan Mac and Cheese (4-Pack)
Is it truly a snack roundup without an ode to the ooey gooey deliciousness that is mac and cheese? Goodles' four flavors—Cheddy Mac, Shella Good, Twist My Parm and Mover & Shaker—just so happen to also deliver 14 grams of protein, six grams of fiber and no artificial flavors or preservatives. 
And to our dairy-free peeps, we are delighted to tell you Goodles is dropping a vegan white cheddar flavor on June 28. Dreams really do come true!