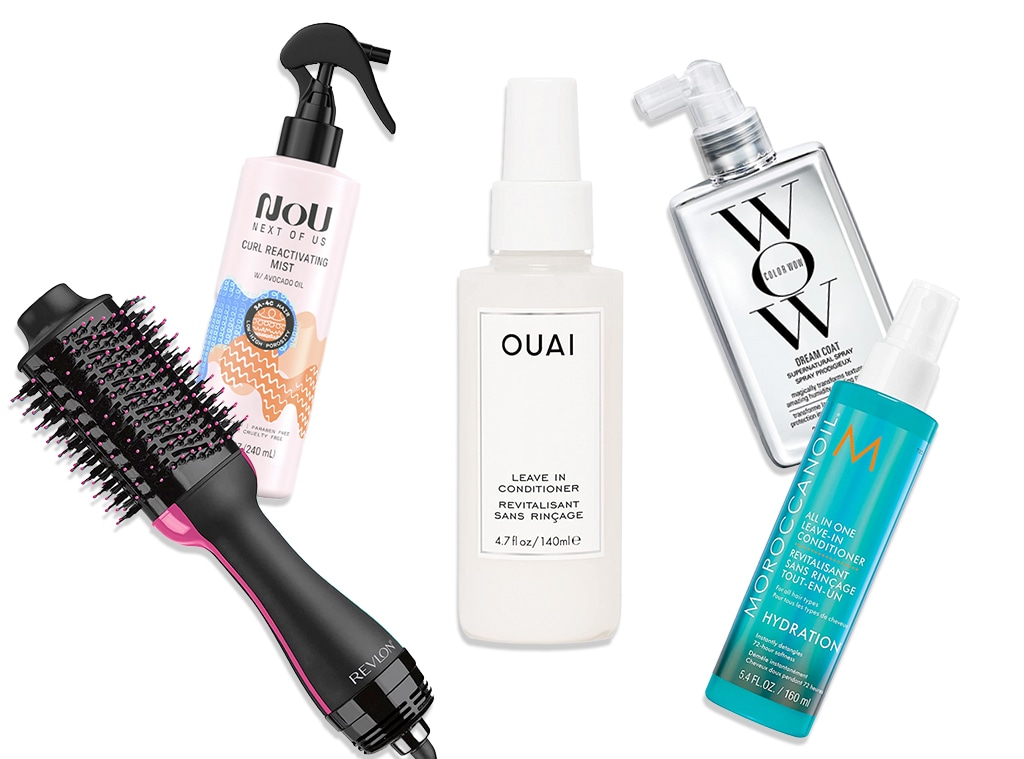 We independently selected these products because we love them, and we hope you do too at these prices. Shop with E! has affiliate relationships, so we may get a commission if you purchase something through our links. Prices are accurate as of publish time. Items are sold by the retailer, not E!. 
Doing your hair each day can take up a big part of your morning routine. Thankfully, Amazon and Walmart have no shortage of hair care products that can make your life so much easier and save you a lot of time. If you're wondering which hair products will actually live up to the hype, let your fellow shoppers be your guide. 
One time-saving product Amazon reviewers seem to love is the YoulerTex Microfiber Hair Towel Wrap. It was created for all hair types, is soft and lightweight, and promises to dry your hair in the fraction of a time it would take with a normal towel. According to the numerous rave reviews, the hair towel wrap really delivers on that promise. In fact, it has thousands of reviews, with many saying this is a game changer for your morning routine. One shopper with thick hair said it cut their drying time from 12 minutes to five.
There are tons of shopper-loved hair care product that'll make your morning routine much simpler. Check out our other top finds below.
NOU Curl Reactivating Mist
Refresh your morning curls with NOU's Curl Reactivating Mist. The formula consists of avocado oil and a sulfate, paraben and dye-free formula. You can spray all over your hair and scrunch to reactivate your voluminous curls.
YoulerTex Microfiber Hair Towel Wrap - 2 Pack
These microfiber towel wraps were made to dry your hair in a fraction of the time as a regular towel. It was over 53,000 five-star reviews and Amazon shoppers are seriously impressed. 
One reviewer wrote, "This seems like such a simple purchase but it really made a difference with my morning routine! This definitely has more drying power and absorbency than a towel. After I shower, I brush my hair and wrap my hair up. I go about my normal routine and by the time I finish (half an hour) my hair is about 50% dry which makes drying it with my diffuser a lot faster and easier. It's easy to use and I love that comes in a pack of two so that I can wash one and still have access to another one. Definitely recommended!"
Color Wow Dream Coat Supernatural Spray
Color Wow's award-winning spray is an anti-humidity treatment made to provide anti-frizz protection while giving your hair a nice shine. It is heat-activated, so you spray this one right after you wash your hair and before you blow dry. 
It has over 55,000 five-star reviews. As one reviewer wrote, "This product is a godsend. It's lightweight, and keeps my hair straight until I wash it again. I've never used anything comparable. Totally worth the money because you can shampoo less frequently, saving you time. It's also kinder to your hair, because you don't need to dry it out as often with blow dryers, flatirons, and hot rollers. Leaves hair shiny and soft." 
BestLand Hair Finishing Stick
Thanks to blend of nourishing and hydrating plant extracts, this best-selling finishing stick will quickly help tame flyaways so you can run out the door. According to the thousands of perfect reviews, this "magic" product really is a time saver and game changer. 
As one reviewer wrote, "This product has enabled me to achieve a polished pulled back look in minutes. Very handy when you've got minimal downtime but want to feel put together. I can't help but think about how much time this simple product would have saved me in my all my years of trying to tame my hair!"
Boldify Hair Thickening Spray
Boldify's Hair Thickening Spray has over 19,000 five-star reviews. It was made to give you thicker, more voluminous hair in less than 60 seconds, and numerous shoppers say this "miracle" spray works as advertised. 
As one shopper wrote, "In a couple of minutes with the blow dryer, I was able to achieve the look that usually takes a curling iron to achieve. This saves me time in the morning."
Revlon One-Step Volumizer Original 1.0 Hair Dryer and Hot Air Brush
You really can't talk time-saving hair care products without giving a shout out to Revlon's super popular One-Step Volumizer. After all, it is an Amazon best-seller with over 328,000 five-star reviews! 
It's a product that will style, dry and volumize your hair in just one step and hundreds of Amazon shoppers call it the ultimate time saver. One wrote, "My hair drying time went from three hours down to about 30 minutes. It dries so well, especially if you pair it with a blow drying cream or spray. This thing has literally changed my life and saved me hours of time. I cannot say enough good things, seriously I could go on and on." 
Alure Three Barrel Curling Iron Wand
Want cute beachy waves for summer? This best-selling three barrel curling iron from Amazon can help you achieve that in no time, especially if you have longer hair. 
One shopper wrote, "This wand is simple to use and makes styling your hair almost effortless. The time you save with a triple barrel wand is worth the investment." We couldn't agree with that last statement more. This wand has over 26,000 five-star reviews.
Moroccanoil All-in-One Leave-In Conditioner
Moroccanoil's All-in-One Leave-In Conditioner was made to help detangle, provide up to 72 hours of softness, and protect against heat-related damage and breakage. It's a leave-in conditioner that we're obsessed with, and you will be too, especially if your hair is constantly tangled. It just makes your hair so smooth and easy to work with. Plus, it gives it a really nice shine without having to use any styling tools. 
Apparently we're not the only ones who think so! As one reviewer wrote, "What's not to love! Worth every penny. My hair looks like a Brazilian blow out every time I use it and dry it — without a straightener. Love it."
OUAI Leave-In Conditioner
OUAI's Leave-In Conditioner is a multipurpose product that protects against heat damage, smooths frizz, detangles hair and conditions it as well. It's the kind of product that leaves your hair in such good shape, you just have to do the bare minimum to make your hair look good in the morning. In fact, several reviewers say this detangles so well it makes brushing hair super easy. Plus, it smells absolutely divine!
Tangle Teezer The Ultimate Detangler Hairbrush for Wet & Dry Hair
The type of brush you use can make all the difference. The Tangle Teezer detangles brush has over 71,000 five-star reviews, and Amazon shoppers are obsessed. 
One reviewer wrote, "I have tried many detangling brushes over the years and none have come close to this one. What used to take forever to do in the shower is now so easy, so I now find myself washing my hair more often. I'm saving tons of time since it only takes minutes to comb through wet hair with a bit of conditioner. I cannot recommend this product enough." 
Not Your Mother's Beach Babe Dry Shampoo - 3 Pack
This texturizing dry shampoo for Not Your Mother's is perfect for days when you just don't have enough time to hop in the shower. Numerous shoppers said this dry shampoo works much better than other popular brands. One reviewer said it worked so well, they went from washing their hair daily to every three to four days, and they no longer have to deal with greasy hair. 
Color Wow One-Minute Transformation
This instant frizz fix from Color Wow has over 9,000 five-star reviews. It was made to give you an "instant, on-the-spot frizz fix." According to reviewers, the product does what it claims. 
As one wrote, "Love, love, love this product! Best one I've found so far for frizz, which leaves hair soft and touchable. I just apply a small dime sized amount to damp hair after shower and comb through. Then air dry overnight or blow dry if I have immediate plans, and then the magic is done. No frizz, no yucky smell, and I can style straight or with curls and the style holds all day. Will def buy again, this will be my new 'go to' product."
—Originally published Jun 17, 2022 at 3:00 AM PT.