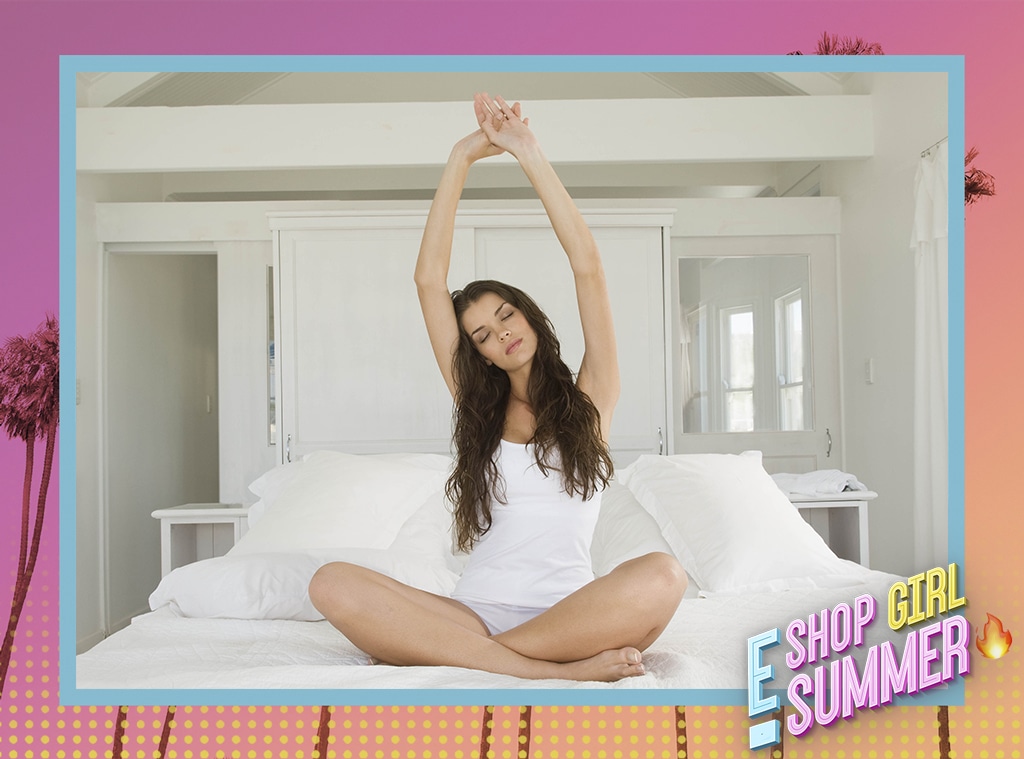 Getty Images
We independently selected these products because we love them, and we think you might like them at these prices. E! has affiliate relationships, so we may get a commission if you purchase something through our links. Items are sold by the retailer, not E!. Prices are accurate as of publish time.
Many of us have been looking forward to the warm summer weather, but it's not so enjoyable at night. If you find yourself tossing and turning because you can fall asleep in the heat, you're not the only one. Of course you can turn up the air conditioning, but that's not the only game-changer for your routine. You need some cooling pajamas in your life.
All pajamas aren't created equal. If you're a smart shopper, your bedtime ritual will be much more relaxing and you'll probably fall asleep sooner. Here are some affordable cooling sleepwear options to bring you some comfort this summer.
Cooling Pajamas for Summer
Ekouaer Sleepwear Cami Shorts Set
These luxurious pajamas are perfect for summer sleep. You can get this cute set in 48 colors. It has 20,100+ 5-star Amazon reviews.
An Amazon shopper raved, "This pajamas fabric is very comfortable, it keeps the skin cool, it doesn't matter if you sweat a lot, it doesn't stick to the skin, like excellent quality and reasonable price."
Latuza Women's V-neck Sleepwear Short Sleeve Pajama Set
If you're looking for super soft, lightweight sleepwear, this set fits the bill. The sizes range from small to 4X.
This set comes in 12 colors and has 7,300+ 5-star Amazon reviews, with one customer sharing, "I love this pajama set its super comfy, cozy and super cooling. I'm a very hot sleeper and this pajama set keeps me comfortable."
Avidlove Women's Shorts Pajama Set
Wear these breathable, comfy sets whether you're lounging around or going to sleep. This set comes in 32 colorways with solids, prints, tie-dye patterns, and more.
This sleep set has 6,300+ 5-star Amazon reviews, with one customer sharing, "I love these PJs; they keep me cool at night and whisk moisture away from my body. Would recommend for anyone who runs hot at night."
Ekouaer Womens Pajama Set
Feel cozy and look polished in these adorable PJ's, which would be super cute for bridesmaids' gifts. There are 19 adorable colorways to choose from. Amazon shoppers left 2,800+ 5-star Amazon reviews.
"These fit perfectly to size and are so comfortable and cool, especially nice for these 90 degrees days and nights we've had lately. I especially love that they have pockets, may seem silly for pj's but my hands always seem to be looking for the pockets," a fan of the sleepwear wrote.
Hue Women's SleepWell with TempTech Pajama Sleep Pant
Pants may be the last thing on your mind during a summer night, but give this pair a chance. These are made with TempTech technology, which the brand says "helps you maintain the perfect temperature, keeping you cool when you're hot and warm when you're not." You'll want to wear these all year long. Amazon has these pants in four colors, with sizes ranging from small to 3X.
"Perfect PJ pants for summer," an Amazon shopper wrote, elaborating, "And, it's odd, but this 'cooling fabric' thing is some sort of wizardry. The pants are therefore nice to put on and nice to keep wearing in this 'temptouch' fabric. I will be bookmarking this to buy another pair in the future."
Sleepy Time Women's Bamboo Pajamas, Night Sweat Moisture Wicking Sleepwear
Premium bamboo material is moisture-wicking to keep you cool and comfortable throughout the night, according to the brand. This breathable fabric is incredible soft and it's just what you need for a great night's sleep. The set comes in nine cute colors.
A shopper raved, "Yessss!! COOL sleepwear for hot flashes! These pajamas are ACTUALLY cool!! Just putting them on, the fabric is cool and SOFT! I am super sensitive to what touches my skin, and have the infamous hot flashes on top of being heat sensitive already...so to find comfortable clothing I can actually sleep in, YESSSSSS!!! I slept better than I have in a while the first night I wore them. They are worth every penny to me. Ordering a second pair now...so comfy!!"
Ekouaer Tie Dye Pajamas Set
These are so cute that you'll want to wear them outside of the house too. Bring your comfort to another level with this ultra-soft pajamas set made from non-irritating, breathable fabric that keeps you cool and comfy during a hot summer night. There are 59 colorways to shop and the set has 3,900+ 5-star Amazon reviews.
A fan of this set shared, "I bought these for myself to wear here in Florida. It has been in the 90s lately, so they have been great! (Yes, I have air conditioning, but my 101-year-old Mom lives with me, and she is always cold, so my thermostat is set at 77!)."
Ekouaer Satin Pajamas
A pajama set has never been so fashionable and cozy at the same time. How chic are these? You'll want to live in this set. Get one in every color. There are 20, by the way.
A shopper reviewed, "These PJ's are so nice! Not hot, not cold. Soft, and wonderful against my skin. If you like to feel pampered, these are for you. Enjoy!"
Avidlove Women's Nightshirt
Ditch the pants, skip the shorts, and go for a cooling nightshirt instead. This nightie comes in 9 colors. 
"I live in FL and staying cool at night is paramount, this fabric didn't cause overheating at all," a shopper said. Another reviewed, "I love this material it's soft and comfortable, I thought the thickness of the material would be hot but it's cool."
SweatyRocks Women's Short Sleeve Sleepwear
It doesn't get more classic than a button-down pajamas set. These are just as comfortable as they are cute with 37 colorways to choose from. This set has 3,900+ 5-star Amazon reviews.
"Super cute & comfy for sleeping. Pretty as pictured. Sizing is just as expected. Breathable and cool for warm weather nights," a fan of the set wrote.
Ekouaer Pajamas Women Short Sleeve Sleepwear
Here's another great breezy, button-down set with more colors to choose from. This one has 40 colorways. The set has 5,000+ 5-star Amazon reviews, with one shopper sharing, "Very soft, very cool, I'm super pleased and will be ordering another color soon. I sleep HOT. HOT. These have been a big help with my night sweat issues. And they are super cute!"
—Originally published June 14, 2022 at 3:42 PM PT.