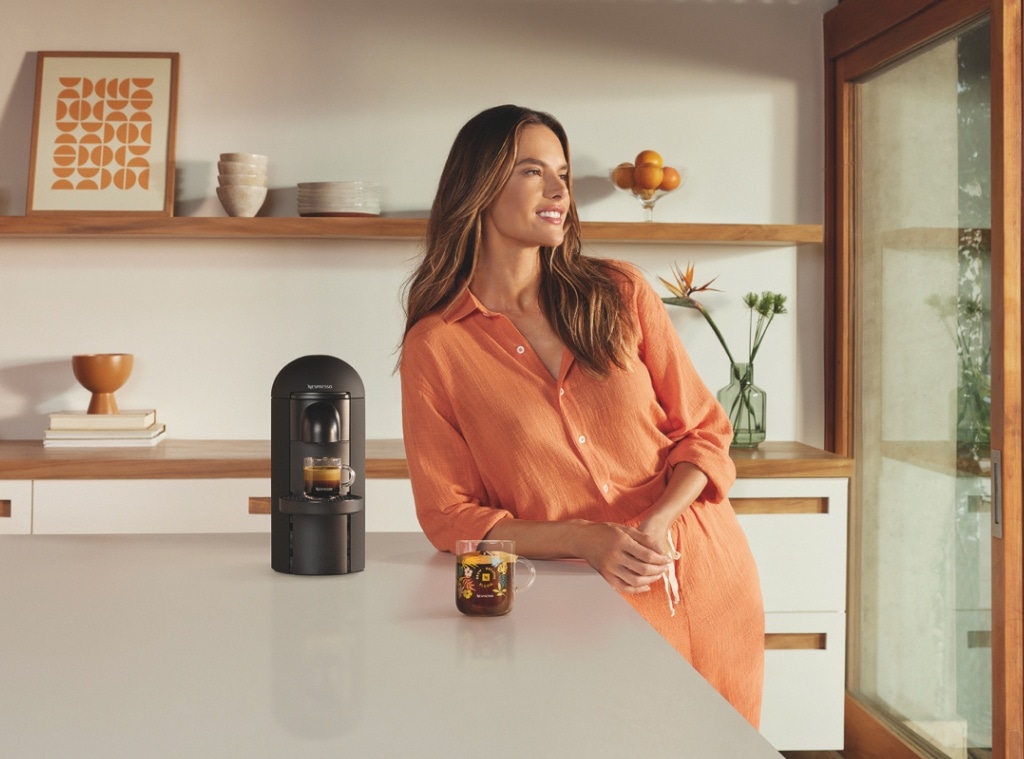 Nespresso
We interviewed Alessandra Ambrosio because we think you'll like her picks at these prices. Alessandra is a paid spokesperson for Nespresso. E! has affiliate relationships, so we may get a commission if you purchase something through our links. Items are sold by the retailer, not E!. Prices are accurate as of publish time.
Alessandra Ambrosio is starting her days with a cup of sunshine.
Just in time for vacation season, the supermodel is partnering with Nespresso for an exciting summer inspired by her homeland of Brazil. In fact, Brazilian vibes are encapsulated in the new limited edition Liminha, which will transport you to the beaches of Rio with one sip.
"I'm so excited to be a part of such an uplifting campaign and to work with Nespresso to bring to life these delicious recipes, summery accessories and quality coffee," she told E! News. "And the Liminha Over Ice really is Brazilian summer in a cup!"
You'll likely find many items from the summer 2022 collection in Alessandra's kitchen. After all, it's one of her favorite places to spend time with family and friends.
"It was important to me to bring Brazilian culture here," she said. "In my kitchen, you can always find Brazilian produce, fresh fruits and vegetables and my favorite Brazilian chocolate." Keep reading to see even more of Alessandra's kitchen must-haves.
VertuoPlus & Aeroccino3 Milk Frother Bundle
"I absolutely love the VertuoPlus and the Aeroccino3 milk frother is such a nice addition to my kitchen. It is super versatile, and I can make a variety of coffee, from short espresso to a longer cup. The milk frother makes for easy preparation of my lattes every morning."
Our Place Always Pan
"I love dishes that are multipurpose and with Our Place Always Pan you can do so many different things. What I love the most is that they come in so many different colors so you can match them to the esthetic of your kitchen."
Limited Edition Exotic Liminha Over Ice
"I love that Nespresso has brought the tropical taste of lime into their latest coffee launch. Lime is such a big flavor in Brazil—our national drink, the Caipirinha is all about lime and citrus flavors, so this has to be my favorite. It's so refreshing in the heat and has that delicious zesty kick to it—a summer in a cup!"
Brazilian Lacta Bis Chocolate Wafer Candy
"I always love to have Brazilian candy in the kitchen as it reminds of growing up in Brazil and it tastes delicious."
Limited Edition Tropical Coconut Flavor Over Ice
"Other than this year's new lime flavored coffee, Liminhia, which really plays homage to my Brazilian upbringing, my favorite blend for my Vertuo machine would have to be the Tropical Coconut over Ice. I love the creamy coconut flavor and these notes of vanilla that I can't get enough of. It feels like such an indulgent treat. "
OXO SteeL Muddler
"I love to have people over for dinner or game night and I love to make Caipirinha's for everyone and a great muddler is a must. I love that you can also use it when making your ice coffee in the morning."
Limited Edition Brew & Enjoy Coffee Mugs
"The limited-edition coffee mugs are, without a doubt, my favorite! Not only are the designs really striking and colorful with their nature-inspired artwork, but each mug has a different positive mantra associated with it. So, when you're making your coffee, you get this boost of positivity. The mantras are a really uplifting addition. I'll definitely be drinking my morning coffee from these."