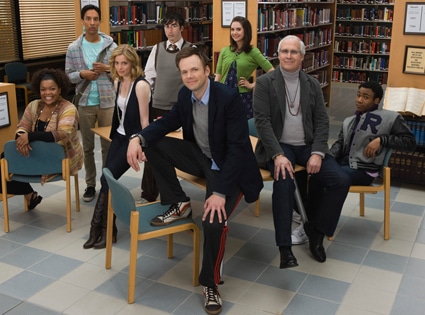 NBC Photo: Paul Drinkwater
As lovable TV jerks go, the men of NBC definitely take the cake.
Over the past few TV seasons, the programmers at the Peacock net have given us the adorably inept and hopelessly offensive Michael Scott (Steve Carell), conservative blowhard Jack Donaghy (Alec Baldwin) and now...Jeff. (Wait, who?)
OK, if you haven't heard yet, Joel McHale heads up NBC's new fall hit Community. Yes, we just called it a hit even though it hasn't premiered yet. But if you combine the show's laugh-out-loud quality with a 9:30 p.m. Thursday-night time slot and The Office as a lead-in, that's got to be a winner, right?
Community is fun and funny with supersmart writing (you'll love the Breakfast Club scene), a gorgeous cast with loads of chemistry, and it really is the perfect addition to your existing plans to spend Thursday nights with P-Rex, Dunder Mifflin and TJS.
Want to know why you should give Community a fair shot? Stick around and see what this city-college comedy has to offer...
Joel plays antihero Jeff, a somewhat sleazy lawyer who used a fake degree to practice law and now has to go back through school, using whatever means necessary to achieve success. Bribing college deans for test answers? Check. Lying about his Spanish skill level and starting a fake study group to get close to a girl? Check, again.
But somehow, Joel makes you love Jeff and cross your fingers for his success. The entire pilot finds Jeff trying to impress the standoffish Britta (Gillian Jacobs), and even though he is lying through his teeth at every turn, the audience is able to see that everything he does is really just because he likes her and doesn't seem to have any honest or straightforward courtship habits to fall back on.
One of the most real moments in the pilot finds Jeff explaining: "I discovered at a very early age that if I talked long enough, I could make anything right or wrong. So either I'm God, or truth is relative, and in either case, boo-yah!"
And who joins McHale's Jeff on his community college adventures? Look for Danny Pudi as scene-stealing, geeky sidekick Abed. His initial meeting with Jeff, and everything that follows, involves Danny speaking at warp speeds, completely oblivious to the way he comes across to others.
Best scene of the show? During the "real" fake study group, Abed notes their group's similarities to The Breakfast Club, followed shortly after by an impromptu reenactment of Judd Nelson's famed Christmas-morning monologue from the '80s flick.
Gillian's Britta is a sassy Elisabeth Shue look-alike (a fact pointed out many-a-time by the men she meets) who refuses to give Jeff the time of day, especially after the group catches on to his scam. Still, you'll be rooting for a J & B hookup almost immediately, just one more reason to stay tuned.
And of course, we can't forget Chevy Chase. Fresh off his evil turn on Chuck, Chevy plays Pierce, the older, wiser member of the group, who is really not very wise at all. In fact, he's borderline racist and lacks any self-awareness, which makes for hilarious interactions with the rest of the cast, particularly his "crush," Yvette Nicole Brown (Shirley).
The cast is rounded out by a slew of other funny folk like Mad Men's Alison Brie, The Daily Show's John Oliver and Donald Glover, each with a distinct character you're bound to love.
Community is clever and creative and a fun time for the whole family. It's different than anything else on television right now, and in a time where a good half-hour sitcom is a rare gem, Community shines.
Not already a geeky Joel McHale fanboy—or girl? We can change that. Grab a peek at our delicious take on The Soup and get your fill of Community sneaks at NBC's show site, or just enroll in Greendale C.C. for yourself.
Either way, we promise you'll love the show. Only 49 days and counting until Community premieres (and the return of those other faves)...
We'll be hitting NBC press tour next week, too, so be sure and check back for new Community scoop from the show runner and stars themselves.
Community premieres Sept. 17 at 9:30 p.m. on NBC.
Click one of the thumbnails above to get our gallery of the new fall TV shows!