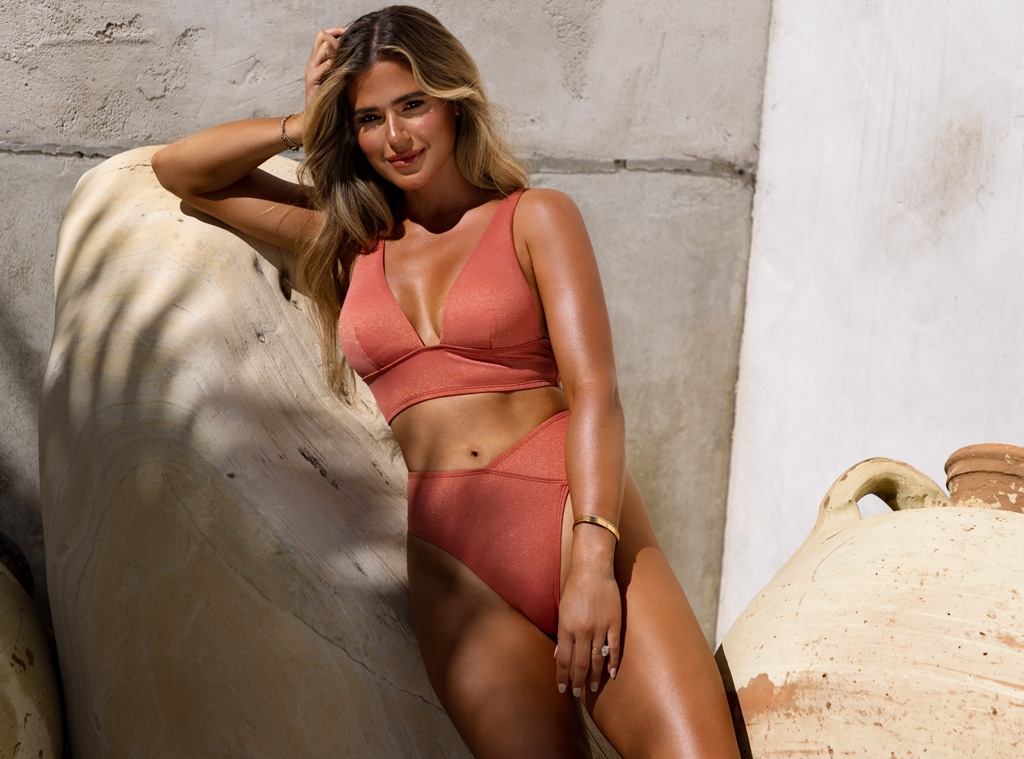 Cupshe
We interviewed JoJo Fletcher because we think you'll like her picks at these prices. The products featured are from JoJo's Cupshe collection. E! has affiliate relationships, so we may get a commission if you purchase something through our links. Items are sold by the retailer, not E!. Prices are accurate as of publish time.
JoJo Fletcher became a Bachelor Nation style icon ever since she stepped out of the limo in the mansion driveway. And, don't even get me started on the hair. JoJo's signature, perfectly imperfect waves are nothing short of iconic. That's why it's easy for fans to shop JoJo's recommendations for beauty and fashion picks. That trust from JoJo's fans in combination with her impeccable fashion sense led to her partnership with Cupshe for the brand's first swimsuit collaboration.
In an exclusive E! interview, JoJo explained, "Cupshe's quality of fabrics and accessible price points made this collaboration a no-brainer. This is something that everybody can get their hands on. The line that we made is so elevated, fun, and the quality is amazing." 
She elaborated, "I have felt these fabrics, the quality is amazing, and the prices range from $17 to $38. It doesn't get better than that. I hope people are excited about that too." There are 19 styles in the collection, with sizes ranging from XS to XL. 
JoJo shared her favorite pieces, styling suggestions, and her husband Jordan Rodgers' surprising feedback on the styles. 
E!: Tell me about the design process and what you envisioned for the collection going into this project.
JF: It was a super fun process. I think like the starting point was agreeing on the mindset that we wanted to make a very versatile collection, instead of just honing in on one specific style, mood, or aesthetic. We have a range of different styles and moods. I use the word "mood" because I feel like depending on your mood for that day or even just that moment, there's a swimsuit that works for you. There are playful and girly ones. There's sexy and chic.
We tried to think of different scenarios, moods, prints, and fabrics to appeal to a wide range of women. A collection doesn't have to be all one color or style. I gravitated to a variety of ideas and I am excited to see how everyone responds to the selection.
E!: I know there's a lot of variety in the collection, but how would you describe the overall aesthetic? 
JF: I would say it's playful, chic, and confident. I just want girls to feel super confident in these suits. There's something for everyone in there, I hope. I wanted to find a perfect balance where you can be sexy, but also chic and very tasteful.
E!: Do you have a favorite piece from your collection?
JF:  Any time I do a collab, that's always a question. I love all the pieces and we worked really hard on the details and the fit for each one. Even so, I have to admit that I keep getting drawn to this deep plunging, black one-piece.
Cupshe x JoJo Fletcher Mindful Solids Deep Onyx Plunge One Piece
"I love the way that it fits and how I felt wearing it. I felt bold. I felt confident. I felt beautiful. I felt sexy. I feel like you can't go wrong with a black one-piece. I really love the plunge neckline too. The plunge was done very tastefully, and I'm somebody that has a little bit of a bigger chest. It can be hard for me to find a plunging neckline that makes me feel sexy and confident without feeling overly exposed. I feel very secure in this suit."
E!: Does Jordan have a favorite suit from the collection? Or were there any styles that got more feedback than the rest?
JF: It's so funny you say this because, yes, he did share his opinions, and it's not the one that I was even thinking he would pick. I mean, he loved all of them. It's really funny that the two he liked the most were at the total opposite ends of the spectrum—the most covered-up style and the one that showcases my body the most, the white floral one-piece with ruffles and a leopard bikini.  
Cupshe x JoJo Fletcher Eden Floral Ruffled Plunge One Piece
"I was surprised Jordan loved the printed one-piece. It's white with ruffles. It's so beautiful. When I put it on he commented that it was his favorite one, which is funny because I thought it would have been his least favorite since it's the most full-coverage option, but, it's so beautiful with a romantic fit and quality."
Cupshe x JoJo Fletcher Love Struck 4-Way Top & Ultra Cheeky Bikini Set
"Jordan's other favorite was a the cheetah two-piece."
E!: I was really into the puff sleeves. I don't see that a lot with swimsuits. What made you put some of those pieces in there?
JF: I just love that statement sleeve. I feel like swimwear these days is so versatile. There are a lot of times when you have to dress for these in-between events and you're not just going to the beach or the pool. You're at a beach-inspired event or you're near water.
Cupshe x JoJo Fletcher Eden Floral Puff Sleeve & Extra Cheeky High Waist Set
"The puff sleeves are really cool, girly, and they're great if you want to look fashionable for an event. You can easily style those suits with a skirt and you're ready to go."
E!: You have a few suits with that glittery, lurex fabric on the line sheet. Tell me about choosing that fabric and why you included those two.
JF: The funny thing about that is that I'm a very simple girl. I don't normally gravitate toward glitter.
E!: You like your neutrals.
JF: Yes, I totally love my neutrals, but when I saw this dusty mauve fabric with a brown undertone, I loved how the light hit the fabric.
Cupshe x JoJo Fletcher Dusty Cedar Belted Plunge One Piece
"It's just so beautiful for a swimsuit. The way it captures the light and glows, you're going to love it. In a photo, it's very striking too. It's just such a beautiful piece and I think that sometimes people think that glitter means the fabric feels scratchy, but it's actually so comfortable."
Cupshe x JoJo Fletcher Dusty Cedar Tall Tri & V Front High Waist Bikini Set
"This fabric is great because you get that beautiful look that photographs so nicely and it's very comfortable to wear."
E!: The long-sleeve suits really stood out to me because I can see so many different women going for those looks. I picture a sporty girl wearing those for beach volleyball, but there are also these distinct style elements, where I can see a fashionista styling those in some trendy ways.
JF: We have spent the last few years in Puerto Rico and it's a very big place for kitesurfing and surfing. It kind of was just that take on this sporty girl that wants to be cute, sexy, and cool at the same time.
Cupshe x JoJo Fletcher Love Struck Long Sleeve Top & V Front High Waist Bikini Set
"It plays into that sporty vibe, but it's also a very sexy suit. It has a nice tie waist. You get a great neckline and some coverage on the bottom half. The long sleeves were fun to include. I don't think we see a ton of that with suits that aren't specifically catering to surfers. This is a take on that look, which you can wear anywhere and style as an outfit."
E! It looks like a lot of the pieces are adjustable in some way from the bra straps, to the ties, to the removable straps. Why were those features important to include? 
JF: When I shop swimwear, it's so important for me to find pieces that I can make my own. Adjustability provides customization.
Cupshe x JoJo Fletcher Playa Isabela Crochet Kimono & Amethyst Waves Bandeau & Cheeky Hipster Set
Cupshe x JoJo Fletcher Darling Ditsy Underwire Bralette & Hipster Bottom Set
"Another combo that would look super sweet with the kimono would be with either of the Darling Ditsy Sets—the floral pattern of purples, pinks and greens will pop under the stark white."
Cupshe x JoJo Fletcher Island Escape Puff Sleeve Mini Dress
"You know that feeling when you're running late and don't have time to plan your outfit? Or you know there's going to be plans after your beach day but can't go back for a full outfit change? This mini dress will my go-to. You can wear it as an everyday dress with a white sneaker or strappy sandal or wear it over a suit with the top a little open so the suit peaks through. Subtly sexy and sweet all at the same time."