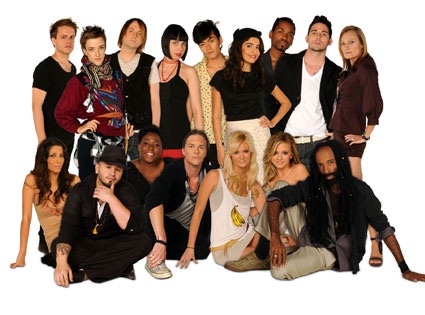 Mike Yarish/ Lifetime
Though most of them will eventually be out, the list of Project Runway contestants is finally in.
The long-gestating sixth season of Project Runway, postponed nearly nine months while Bravo owner NBC Universal battled the Weinstein Co., is finally gearing up to premiere Aug. 20 on Lifetime.
And though the Peabody Award-winning competition show already ate up and spit out 12 fashion designers, took a trio to New York Fashion Week and crowned one of those three canny visionaries the winner, here's our first look at all 16 contestants who are in it to win it this season:
• Shirin Askari, 25, Garland, Texas
• Louise Black, 32, Dallas
• Ra'Mon-Lawrence Coleman, 31, Milwaukee
• Rodney Epperson, 50, New York
• Ari Fish, 26, Kansas City, Mo
• Qristyl Frazier, 42, New York
• Gordana Gehlhausen, 45, San Diego
• Mitchell Hall, 26, Savannah, Ga.
• Althea Harper, 25, New York
• Logan Neitzel, 25, Seattle
• Nicolas Putvinksi, 27, New York
• Johnny Sakalis, 30, Los Angeles
• Irina Shabeyeva, 27, New York
• Christopher Straub, 30, Shakopee, Minn.
• Malvin Vein, 24, New York
• Carol Hannah Whitfield, 24, New York
With the contestants' ages ranging from 24 to 50 and Gordana, Nicolas and Irina hailing originally from Bosnia, Russia and the Republic of Georgia, respectively, Project Runway appears to have rounded up a pretty culturally diverse group of competitors.
Mentor extraordinaire Tim Gunn told the Miami Herald in April that the upcoming season, largely shot in Los Angeles, features "a big-time shocker, some purported cheating...The blogs will be clogged," he added.
We can't wait to see how they make it work.