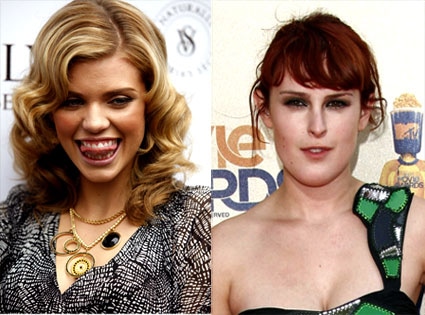 Jean Baptiste Lacroix/ Getty Images, George Pimentel/ Getty Images
Rumer Willis is going to be playing a lesbian next season on 90210, and guess who wants to be her lucky lady at West Beverly?
AnnaLynne McCord!
That's what Ms. McCord told us last night at the launch of OP's new celebrity ad campaign.
Read on for her Willis lovefest...
McCord said she doesn't know what Willis' storyline entails but wouldn't mind being a part of it.
"This is what I foresee," she said. "Naomi gets drunk, and she gets a little crazy. Liam's watching. Naomi wants to experiment. And then a little lip-on-lip action with Rumer Willis can't hurt anybody, right?
"How fabulous would that be," she continued. "They totally need to make it happen!"
The CW announced earlier this week that Willis will be appearing on one episode as Gia, a student who works on the school newspaper.
Willis will next be seen in Sorority Row, a thriller about a college prank that takes a deadly turn. It hits theaters Sept. 11.
—Reporting by Dahvi Shira
________
Get More Marc on Twitter @marcmalkin