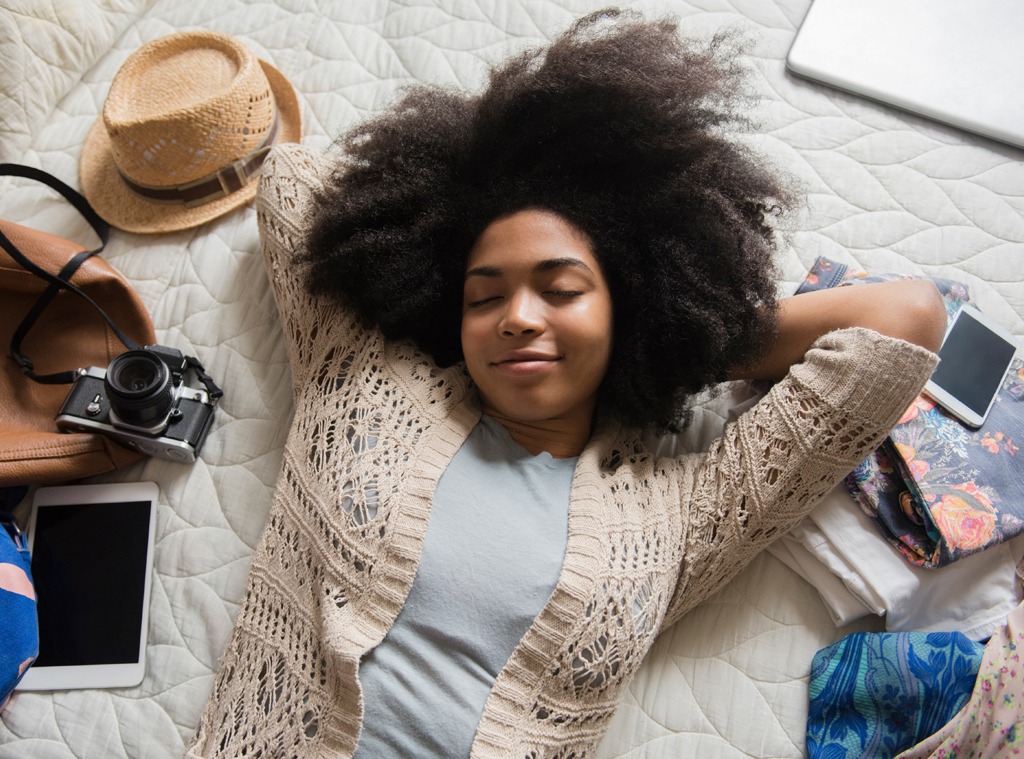 Getty Images
We independently selected these products because we love them, and we hope you do too at these prices. Shop with E! has affiliate relationships, so we may get a commission if you purchase something through our links. Prices are accurate as of publish time. Items are sold by the retailer, not E!. 
Memorial Day is right around the corner, which means summer is finally here. If you've got plans to travel in the upcoming months, we've got all the things you need to make your trip (hopefully!) a lot less stressful. Because as much as we'd love for everything to run smoothly, that isn't always the case. 
For instance, packing in itself can be pretty stressful. This is especially true when you feel like you have a lot to bring, but very limited space. That's where a set of packing cubes can be handy. It saves a ton of space, can keep your clothes wrinkle-free and it'll keep your luggage neat and organized. Best part is, you can find a set of premium packing cubes for an affordable price on Amazon. 
In fact, you can find pretty much find anything and everything you need for travel on Amazon. Whether you're looking for practical products to help reduce stress on your trip or things that can help you stay cool, calm and collected through your travels, we've rounded up some must-have products from Amazon that can help fight travel anxiety. Check those out below. 
Etekcity Handheld Digital Luggage Scale
There's nothing more stressful than having to pay an extra $200 in overweight baggage fees. This handheld digital luggage scale features a "high-accuracy sensor" that can weigh bags up to 110 pounds. It was made to be super easy to use — all you have to do is hook it onto your suitcase, lift it up and the scale will read it and automatically lock onto the weight. You can get this in red, blue or green for just $11, or you can get a two pack for $20. 
Downy Wrinkle Releaser Fabric Spray - 2 Pack
Whether you're traveling for work, a wedding or another special occasion that requires you to dress your best, Downy's Wrinkle Releaser Fabric Spray is a must-pack. It's an all-in-one product that helps to remove wrinkles, static and odor. It has over 15,000 five-star reviews and numerous shoppers say they never travel with it. 
Hanging Travel Toiletry Bag Cosmetic Make up Organizer
This sleek cosmetic bag features a built-in metal hook so you can hang this anywhere for easy access and to save on counter space. There are a ton of compartments to keep things nice and organized. There are several colors and patterns to choose from, and these have over 5,900 five-star reviews. According to shoppers, is toiletry bag can hold a ton without being bulky, plus 
ZAXOP Heat Resistant Silicone Mat Pouch for Styling Tools - 2 Pack
This handy silicone mat and pouch was designed to safely store your curling iron or flat iron while traveling. No longer will you have to worry about accidentally burning the counter, and it makes it easier to store your styling tools if you're in a rush. 
Valourgo TSA Approved Travel Bottles for Toiletries
Bring your go-to products with you in these leak-proof containers. According to Amazon reviews, these are flight attendant-approved! In fact, one wrote, "I am a flight attendant and have used these in my toiletry bag for nearly a year and have had ZERO leak issues. The caps look slightly crooked when screwed on but it does not cause leaking. I love having the different colors so I know what I'm grabbing."
Tide To Go Instant Stain Remover
Tide To Go is a must-have for your purse whether you're traveling or not. It can work on ketchup, BBQ sauce, coffee, wine, tea and so on. You may not always need it, but it's handy to have with you just in case an accidental spill happens. 
BAGAIL Packing Cubes Luggage Packing Organizers for Travel Accessories - 8 Pack
These premium packing cubes from Amazon will help you keep everything in your suitcase organized so you know exactly where everything is. There are over 10 colors to choose from, and you get a set of eight for just over $20. It's practical and affordable! 
Travel Cosmetic Bucket Bag
This bucket-shaped bag has over 3,500 five-star reviews and shoppers love how you can keep products standing upright to avoid any spills. It's also easy to clean, comes in several colors and it's affordable. 
BCOZZY Neck Pillow for Travel Provides Double Support to The Head, Neck, and Chin in Any Sleeping Position
This neck pillow is a bestseller on Amazon, and it's no surprise why. It provides double support to your head, neck, and chin. You can sleep soundly on your flight so you'll feel ready to tackle your busy trip ahead. Plus, it's on sale now. 
Elvira 32oz Large Water Bottle with Motivational Time Marker & Removable Strainer
Dehydration and lack of sleep are two big contributors that make us feel more prone to anxiety. Throw this water bottle that's on sale now in your carry on and fill it up after you go through security. Challenge yourself to finishing the whole bottle before you land. It has over 15,000 5-star reviews on Amazon. 
think! Protein Bars
Pack these protein bars in your carry on so you don't have to rely on airport food, and you can beat the hangry feelings that creep in between meals. 
Mighty Patch Original from Hero Cosmetics - Hydrocolloid Acne Pimple Patch for Covering Zits and Blemishes
Travel can increase feelings of anxiety, and stress can make you more prone to breakouts. You won't have to worry about your blemishes showing up in your vacation photos if you pack these pimple patches. The brand says they will improve the look of your pimples overnight, and they have over 68,000 5-star reviews on Amazon. 
sephia SP3060 Earbuds Wired in-Ear Headphones with Tangle-Free Cord, Noise Isolating, Bass Driven Sound, Metal Earphones, Carry Case, Ear Bud Tips, 3.5mm
If you're ever unable to watch movies or television on the screen in front of your seat because your Airpods won't connect, these headphones with a cord are for you. Settle into your seat and relax on your flight by unwinding to your favorite movie or show.