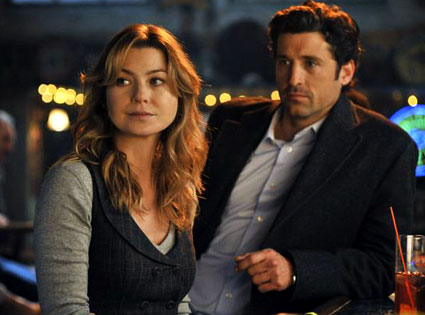 ABC/ERIC MCCANDLESS
Which Grey's Anatomy castmember might be appearing less than usual on season six of the hit ABC drama? Is an original Gossip Girl pairing over for good? And when will the Stackhouse siblings finally reconnect on True Blood? We've got that scoop and much more in this week's all-new Spoiler Chat:
Lou in Scottsdale, Ariz.: What are you hearing about ABC's V?
Forget about hearing. We've seen the pilot, and on a scale of 1 to 10, we give it an 11. V is the best pilot we've seen in, well, forever. Elizabeth Mitchell (Lost) is amazing. Scott Wolf (Party of Five) is adorable and charming. And you simply won't be able to take your eyes off Morena Baccarin (Firefly). It goes above and beyond expectations!
Virginia in Miami: Have you heard anything about the new sci-fi show that's supposed to come out in the fall, Flash Forward?
Don't be so quick to judge the show as being sci-fi. Flash Forward executive producer David Goyer says, "It's been interesting to see this show classified as a sci-fi show, and we keep saying, 'Is it? Really?' At one point I read someone's blog who said, 'Well, obviously aliens are the ones that caused the flash forward.' And I said, 'Really?' It's not necessarily even a sci-fi show."
Tina in Trenton, N.J.: What other guest stars are coming up on Weeds?
Justin Kirk (Andy Botwin) tells us that some pretty big names are huge Weeds fans, so you never know who might be joining previously announced guest stars Alanis Morissette, Jennifer Jason Leigh and Kate de Castillo. "It's so crazy," he says. "You start hearing about famous people that watch the show. Benicio del Toro says he TiVos Weeds. And I went to the SAG Awards and Kiefer Sutherland said, 'I don't have time to watch movies, but I watch your show, and it's great.' It's fun to realize that people you know watch your show." BTW, in case you missed them, don't forget to check out our extensive Q&A's with Weeds stars Mary-Louise Parker (here and here) and with Justin Kirk (here and here).
Jamie H. in Orange County, Calif.: Are we going to see any big-name gymnasts do cameos on Make It or Break It?
When we caught up with Make It or Break It stars Josie Loren (Kaylie Cruz) and Cassie Scerbo (Lauren Tanner) the other day, they both dropped hints about having special guests on the show. "We hope to have some cameos on the last episode when we actually get to nationals. But nothing has been said and done yet," said Josie. Then Cassie spilled even more: "Actually, [2008 Olympic gold-medal-winning gymnast] Nastia Liukin did stop by the set, so I think she wants to do a cameo or something in our show in one of the upcoming episodes. She was a big sweetheart. Hopefully we can see more of her in the future and on the show," she said. Yay! (BTW, is it just us or is Erik Palladino great on this show?)
Amanda in Miami: Since Grey's Anatomy is dropping castmembers like flies, any chance Melissa George could return as Sadie Harris?
"I don't think so," Melissa tells us of a possible return engagement for Sadie on Grey's Anatomy. "I think she did so much damage that she needs to go." If Sadie's a no-go, hit the comments with who else you would want to see return in her place.
Lisa in New Orleans: How much money do the American Idol top 10 make on tour? Do any of them go back to their day jobs after the show ends and before the tour starts?
The American Idol top 10 get paid handsomely for the summer tour, and none of them have gone back to their day jobs. To give you an idea of how much money they might make, we caught up with Michael Sarver, who came in at No. 10 this season, and he told us that upon leaving the show he treated himself to two special purchases: "I always wanted a real recording studio, so I bought ProTools HD. And I always wanted to get my wife a better vehicle because we have two kids and it's tough in a sedan. So I got her a Lincoln MKX SUV. It has every bell and whistle." ProTools costs about $10,000, and a Lincoln MKX runs between $35,000 and $40,000. Not too shabby, right?
Liz in Orange, Calif.: Any Friday Night Lights guest stars you can tease for season four?
While no guest stars for Friday Night Lights season four have been set yet, Connie Britton tells us she's already campaigning for a visit by her friend Ron Perlman, whom you may know from FX's Sons of Anarchy. "It would be so fun if he came in and was some awful coach, a really hardass coach," she tells us. "Of course, Ron is busy doing Sons of Anarchy." (Speaking of SOA, check out the new season-two promo featuring Ron Perlman if you haven't seen it yet!)
Adam in San Francisco: Thanks for the Friday Night Lights stories! Any chance Connie Britton may pop up on any other TV shows?
Connie tells us she'd love to show up on FNL executive producer Jason Katims' new NBC show Parenthood, but scheduling conflicts won't allow it. Speaking of, her busy schedule actually kept her from a role on a Showtime hit series. Says Connie, "At some point they were talking to me about doing some stuff on Californication, which I would really love to do. It couldn't work out, scheduling-wise, but if it ever did, it would be fun."
Abelard in Chicago: Is the new Dylan McDermott drama Dark Blue any good?
Dark Blue, like most TNT shows, is very...traditional. But if that's OK with you, there's no reason not to enjoy the good-looking cast (including Supernatural's Nicki Aycox) fight crime. However, while we're on the topic of TNT shows, can someone tell us why Michael Vartan always looks so darn miserable on Hawthorne? It seems unfair to ruin such a pretty face with so much frowning.
Grace: Has Grey's Anatomy figured out how they're going to work around Ellen Pompeo's maternity leave yet?
Erm. Grey's is such a hairy show to report on. We'll tell you this, and maybe you'll forgive us for taking the long way around. A source tells us that ABC didn't want Rachel Griffiths (who gave birth to her third child on June 21) to skip any episodes of Brothers & Sisters and that production was pushed back a week to accommodate her maternity leave. What does that mean for Grey's? Well, if ABC doesn't want a Griffiths-less B&S, you could assume (just assume) that they really wouldn't want a Pompeo-less Grey's Anatomy. Pompeo's due this fall though, so there would be no real way to push back production. Solution? Well, we're just spit-balling ideas here, because no one's confirming anything, but you could do what our source tells us is a possible scenario for dealing with Ellen Pompeo's maternity leave: When E.P. gets back from her baby break, shoot a bunch of Meredith Grey scenes in succession, and then have your editors work overtime to slot her scenes into the episodes that were shot/produced before her return, therefore giving the audience the full Meredith Grey experience with no gaps.
Cal in Orlando, Fla.: Is it true that Chandra Wilson will be directing an episode of Grey's Anatomy this season?
Yep, sources confirm that Chandra Wilson will be directing an episode of Grey's Anatomy this season, although we've actually heard that another actor was negotiating to direct an episode of Grey's Anatomy this season, as well as make a couple of other tweaks to his/her contract to allow him/her more creative and personal freedom.
Jamie McCarthy/Getty Images
Amy in Pittsburgh: So excited Gossip Girl is back in production! What can you tell us?!
Sorry, Hilary Duff haters, but Duff joins the Gossip Girl cast as movie star Olivia, and she'll be getting her movie-star cooties on the entire cast, not just Vanessa and Dan. Also on Gossip Girl this season, Chuck and Blair are totally getting married and having a million babies. (OK, not that, but they are staying tight. Yay!) And believe it or not, the show really is trending away from "Dan and Serena are the one true pairing of Gossip Girl." Certainly, that arc might turn back sometime in the future, but for now the show is trying to establish their separate identities, apart from their on-again, off-again shenanigans. Is that great news or the worst thing you've ever heard? Post in the comments!
Gervase in Montreal, Quebec: Thanks for the interview with Blake Lively about Papa van der Woodsen. Are we actually going to see Serena's dad this season on Gossip Girl?
TV Diva's Magic 8-ball says: It is decidedly so. We will finally meet Serena's dad this season on Gossip Girl.
Lorraine in the United Kingdom: Any chance of some Chloe-Oliver action on Smallville next season? I just love those two characters!
Sorry, no Chloe-Oliver gettin' together on Smallville this season, but they will continue to be awesome separately. We're hearing the big romance arc this season is Lois and Clark.
Eileen in Menlo Park, Calif.: Spill me some news on True Blood, especially about that gorgeous Jason Stackhouse.
True Blood star Ryan Kwanten tells us that Jason and his sister, Sookie, won't be separated forever: "There will be [a reunion between the Stackhouse siblings] and quite an electric one, too, where we gang up for the greater good."
Tim in Sarasota Springs, Fla.: When do we finally get to see this badass vampire Godric on True Blood?
We've been waiting patiently for this mysterious vampire-of-all-vampires too, and the wait is almost over. Godric (Allan Hyde) pops up in the July 19 episode, along with his lieutenants Stan (Eureka's Ed Quinn) and Isabel (Valerie Cruz). Valerie tells us, "Isabel runs with the Dallas vampires, but she kind of becomes friends with both Bill and Eric. And she likes Sookie. [Isabel] has a penchant for humans, and she's sensitive to this love story they have."
Lee in Terre Haute, Ind.: I need some True Blood info!
Carrie Preston, who plays Arlene, says, "The second-season finale is only two weeks after the end of the first season. Things get crazy in Bon Temps, Louisiana, I'll tell you that." Wait, Arlene doesn't die, does she? "Not so far!"
Andy in Austin, Texas: The idea that Vince would be in a Martin Scorsese film on Entourage is laughable. It's going to fail right?
Apparently not. Rex Lee, who plays Ari Gold's (Jeremy Piven) assistant, tells us, "I won't say it's going to be a hit, because I don't think it is a hit, but it's not a flop." As far as Lloyd being Ari's bitch for another season, it looks like that isn't changing much. "Lloyd definitely wants a promotion and wants to move ahead. [He] asks for a promotion, but it doesn't happen, not by any definition of promotion I've ever heard of." BTW, if you have Q's for the Entourage cast, email us at tvdiva@eonline.com or tweet @kristinalert; we're hitting the premiere party later this week, and we'll try to get you answers!
Cristina in Teaneck, N.J.: Will Adrianna and Naomi reconcile with Annie on 90210?
As far as Naomi (AnnaLynne McCord), Adrianna (Jessica Lowndes) and Annie (Shenae Grimes) being best buds in the second season (something some of you would like to see), AnnaLynne says, "Never. Not going to happen. I'm sorry. I wish."
Marianne in Toluca Lake, Calif.: Any scoop on 90210? I'm in for the long haul.
Michael Steger tells us, "They're talking about renovating the Blaze newsroom, so it's going to be where everything happens and everybody meets up. They're going to make it very loungey, very comfortable." (The Blaze newsroom is where we'll meet Rumer Willis' character when she guests in a season-two episode.)
Samantha in Denver: I'm on the fence about HBO's new show Hung. It just seems like they're taking the easy way out to make money. Hmmm, if I stand on a street corner, everything will be fine. How is that a story with morals?
Actually, it's quite the opposite of how executive producers Colette Burson and Dmitry Lipkin see it. Dmitry explains, "[Jane Adams' character Tanya] really thinks they're doing something new and groundbreaking. They're bringing happiness into the world. Maybe it's misguided, maybe it's not, but we embrace that idea. She's not seeing it just as a moneymaking venture. She's seeing it as a way to change her life and change other people's lives." Does that make you feel any better about it?
Jen in Wellsburg, W.V.: What's going on with Nate and Sophie on the upcoming season of Leverage?
We went directly to Nate himself, Timothy Hutton, for the scoop on this "office" romance. "Season two starts out with Nate and Sophie running into each other in kind of an interesting way that's been orchestrated by one of the five," the Oscar-winning actor told us. "And Nate learned something about Sophie's current life that he wasn't expecting, as it certainly impacts whether or not they're going to get together or not. By the seventh show of the second season, a lot gets determined about Sophie and Nate. It tracks in a rather interesting way." Fans of Nate and Maggie, however, shouldn't give up hope. The great Kari Matchett "is definitely going to be back," Tim said, and "we're going to be happy about that." So are we!
Tina in Australia: Anything new on Heroes?
We're increasingly certain that a beloved, original castmember is leaving Heroes for good before the end of the coming season. Care to guess who in the comments? As for the rest of the gang, Hayden Panettiere told MTV: "There's something called the Carnival, which is kind of the opposite of what the Company was." Oooh, so the Carnival is a place where freaks are welcome, à la that horrifying novel Geek Love? That could be interesting, but will a mainstream network show really be able to get all Flannery O'Connor grotesque? Would you want that if they dared? Our Pitch a Fix item is still open for your comments.
Jessica in Peshtigo, Wisc.: Will Lucifer on Supernatural swap out bodies like the rest of the demons, or will he be Pellegrino-shaped for most of the season?
We're told Lucifer will be entirely Pellegrino-shaped and that he'll recur throughout Supernatural season five. We're also hearing that Castiel has a major individual arc that coincides with the major arc for the season, and that's all we can share for now, but it sounds juicy, don't you think?
Fiona in Seattle: The Closer is my favorite TNT show—any scoop?
The July 13 episode of The Closer is the most hilarious episode in ages. There is a delusional would-be cop (if they actually gave guest star Emmys to noncelebrities, this guy would be a contender) and a cheesy cable-TV show about a "pickup artist," and Pope (J.K. Simmons) is in big trouble and only Brenda (Kyra Sedgwick) can save him, and, oh, it's just laugh-out-loud hilarious. You guys must TiVo! (P.S. Follow Kyra's Twitter, if you don't yet—it's supercute and informative.)
Maria in Baltimore: What's up for Kenny and Candy's romance on Rescue Me?
Those three little words are said, and there's a proposal, but it doesn't exactly go down how you would think. We don't want to spoil it for you, so that's all we'll say. In other romance news, Tommy Gavin (Denis Leary) continues to juggle sex with both Janet and Sheila well into the season. But in next week's episode, you do see a softer side of Tommy that leads us to believe he's starting to want more than just a roll in the hay.
And that's the chat for today folks. Thanks for all of your great Q's!
Have a burning question about your favorite TV series? Email tvdiva@eonline.com for answers!
Want the latest updates ASAP? Get Kristin's RSS feed and follow Kristin on Twitter. For more photo and videos, visit Kristin on Flickr and YouTube. And don't forget to visit Kristin daily at kristin.eonline.com.
—Reporting by Natalie Abrams, Kirstin Benson, Carrie Borzillo-Vrenna, Jennifer Godwin and Drusilla Moorhouse