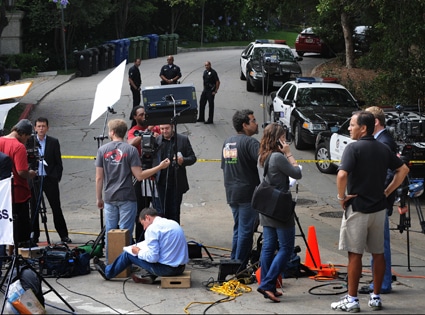 MARK RALSTON/AFP/Getty Images
Law enforcement sources have reportedly recovered a potent anesthetic from inside Michael Jackson's Holmby Hills home.
Propofol, which is generally used for surgeries and clinical procedures, was one of many drugs uncovered at the home, according to the Los Angeles Times. It is commonly referred to as Diprivan and is administered by IV for anesthesia. In as little as 40 seconds, the drug can cause the patient to experience hypnosis, the publication noted.
Officials have confirmed to E! News that prescription drugs were found in the home, but declined to specify exactly what they were. The DEA has joined the investigation.
Earlier this week, former Jackson nutritionist Cherilyn Lee claimed that she warned the entertainer about taking certain drugs, just five days before his death. She claimed Jackson said he was struggling with insomnia and virtually begged her to give him Diprivan.
"'Find me an anesthesiologist—I don't care how much money they want—find me an anesthesiologist to be with me here overnight and give me this IV,' " Lee quoted Jackson as saying during an ABC News interview.
The nutritionist said that she told Jackson the medicine could have lethal effects, including cardiac arrest—which Jackson apparently died from on June 25.
"I said, 'This is not a safe medicine, please don't take this,' " Lee told the network.
As the investigation continues into the death of music's biggest icon, the city of Los Angeles is preparing for Jackson's memorial service on Tuesday at the Staples Center.
________________
Be there as the world says good-bye to the King of Pop. Watch the Michael Jackson memorial on Tuesday at 1 p.m. ET/10 a.m. PT live on E! and E! Online