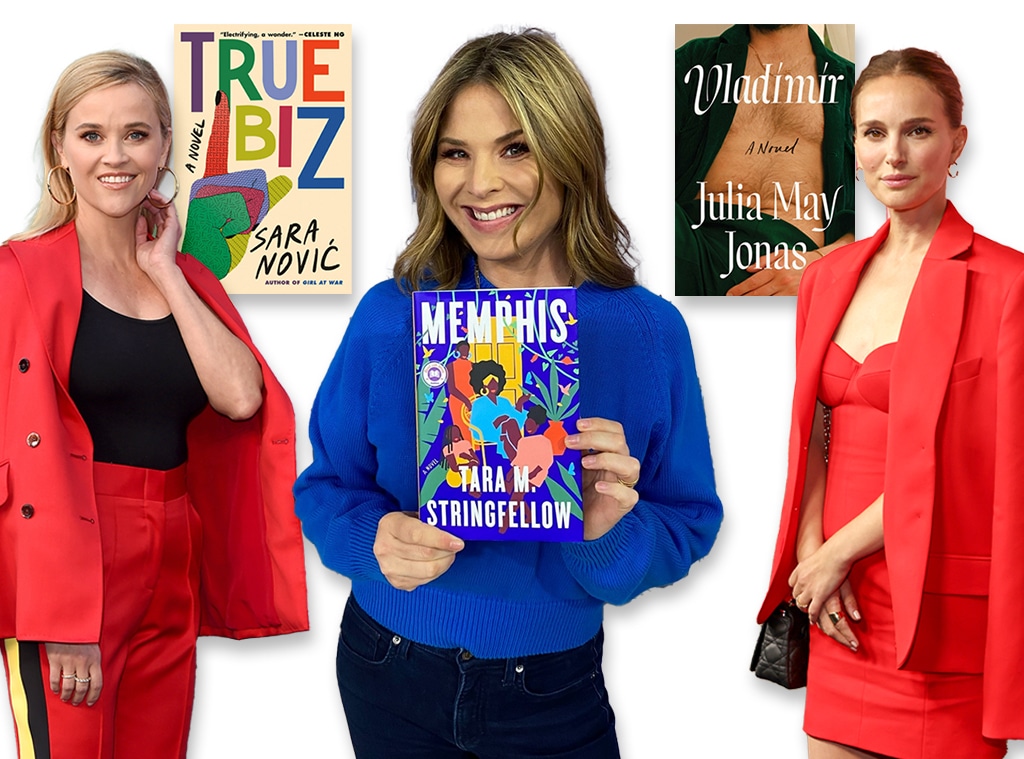 Getty Images
We included these products t shared by these celebrities because we think you'll like it at these prices. E! has affiliate relationships, so we may get a commission if you purchase something through our links. Items are sold by the retailer, not E!. Prices are accurate as of publish time. 
April is here, which means it's time for some new book picks. If you have a goal to read more this year, we are right there with you. And, if you're not sure where to start, you are not alone. You can take the guess work out of researching your next read and just take a recommendation from your favorite celebs instead.
This month, we are reading some great books that have been chosen by Reese Witherspoon, Natalie Portman, Emma Roberts, Jenna Bush Hager, Chloé Lukasiak, Megan Rapinoe, Tinx, Steph Curry, Raegan Revord, and Gwyneth Paltrow's goop.
True Biz by Sara Novic
Reese Witherspoon shared, "Goodness, I can't even begin to put into words all the feelings this book provoked! This month's book pick #TrueBiz by Sara Nović is an eye opening and heartfelt story about human connection and the beauty and adversity woven into the deaf community and culture. It not only pulled at my heartstrings, but is both an educational and electrifying peek into a family that fights for connections even as the outside world threatens to close the door on them. It is not one to miss."
Memphis by Tara M. Stringfellow
Jenna Bush Hager said, "Memphis is the incredible debut novel by Tara M. Stringfellow. It is the story of how love, trauma, joy and sacrifice is passed down through three generations of strong women. Bouncing back and forth between time, Memphis unveils the power and importance that legacy and love play in our lives. Stringfellow showcases her home with perfect imagery— transporting the reader to a city rich with culture. I can't wait for you to meet the incredible North women who will fill you with joy and hope. Come read with us!"
Cherish Farrah by Bethany C. Morrow
Emma Roberts and Karah Preiss' Belletrist book club selected Cherish Farrah by Bethany C. Morrow for the April 2022 pick, encouraging readers to "pick up your copy and dive in."
Cult Classic by Sloane Crosley
Sarah Jessica Parker wrote, "Loved! So excited for all you @sloane_crosley readers of The Clasp or her 3 books of essays. As well for whom this book might be an introduction! The author is at her best and that is a treat for all readers!"
The Book of Living Secrets by Madeleine Roux
Young Sheldon star Raegan Revord shared, "The April book club pick is The Book of Living Secrets by Madeleine Roux. As a huge book lover I've always wanted the chance to go into one of my favorite books. Hello, Harry Potter! That's exactly what happens to best friends Connie and Adelle. The girls are obsessed with gothic-romance novel Moira and when a bookshop owner performs dark magic to transport them into their favorite book they find themselves living among characters they love. Connie & Adelle wind up separated and are going on their own adventures trying to find each other while navigating this spooky, monster-infested, 19th-century Boston. Can the friends find each other and gather everything they need to reverse the spell before they find themselves dead? You guys, the ending of this book will SHOCK you!! Ah, it was so good!"
The Man Who Lived Underground by Richard Wright
Steph Curry told Literati subscribers, "In his lifetime, author Richard Wright's work was often expurgated before publishing. From the 1930s to the 1950s, he wrote about the suffering of African Americans. He wrote about enduring discrimination and cruelty. These were his own experiences. The experiences of his family and friends. Wright wrote an entire novel—the one we're about to read—that was deemed unsuitable to publish because it spoke hard truths about race and police violence. Underrated in his time, Wright was a game-changer trying to share some awareness and create a better world. The Man Who Lived Underground is as timely now as ever. It is powerful and beautifully written. And this is the first time that we as readers get to experience the book in its entirety. Uncensored."
Brown Girls By Daphne Palasi Andreades
Megan Rapino told Literati readers, "Daphne Palasi Andreades gives a refreshing and beautiful spin on the coming-of-age story. There is a choral feel that draws you in immediately and immerses you in the collective 'we,' which we follow through the ups and downs of life. This choir of voices is tough, smart, brash, and tender all at once. This book felt like poetry and I found myself wanting more when I reached the end."
The Poppy War by R.F. Kuang
Chloé Lukasiak picked The Poppy War by R.F. Kuang for her April 2022 Literati book pick. She said, "I have been waiting to read this series for months after I stumbled upon it in the bookstore. Countless people have said that it is a breathtaking series and plenty have said it's their favorite book series EVER. The Poppy War follows the story of a young girl, Rin, after she aces an empire-wide test to find the most talented youth for special training. As she is a dark-skinned peasant girl from the south, she is targeted for her differences and her unexpected presence at the training academy—no one thought a girl like her could pass the test, let alone ace it."
Inside Out by Demi Moore
Tinx told Literati subscribers, "While her memoir is totally engrossing, it's also hopeful and enlightening. Demi has had to start over so many times—and she's come through it resilient, poised, and still so fucking fabulous. Let's find out how she's done it and take those lessons to heart."