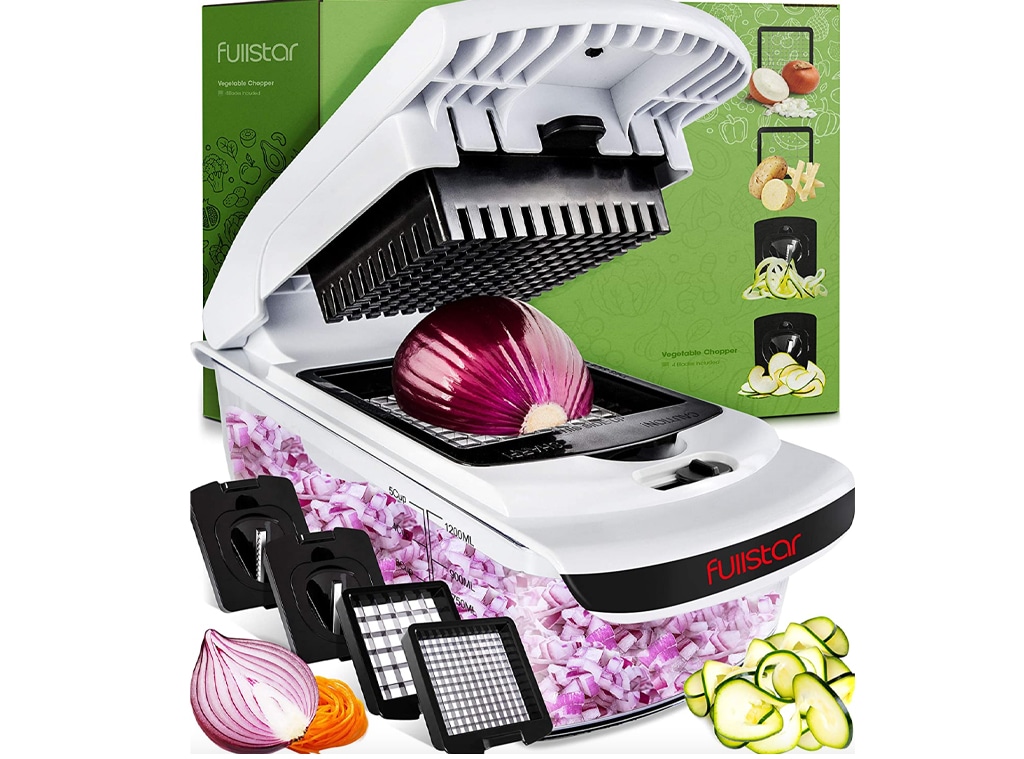 We independently selected these deals and products because we love them, and we think you might like them at these prices. E! has affiliate relationships, so we may get a commission if you purchase something through our links. Items are sold by the retailer, not E!. Prices are accurate as of publish time.
One of the best ways to start off the new year strong is to prioritize your health, whether it's spending more time in the ktichen cooking nutritious, whole foods or learning how to meal prep efficiently so you don't have to worry about what to eat every day of the week. You're already busy enough with all the amazing goals and resolutions you've set, and we're here to fully support those ambitions.
Speaking of busy schedules, who doesn't want to save some time in the kitchen? We are all looking for shortcuts that don't actually involve cutting any corners, right? If you loathe chopping vegetables or if you just want to get more done faster, you need to check out the Fullstar Vegetable Chopper. It has 40,000+ 5-star Amazon reviews, and it's basically multiple products in one because of the attachments that come with it.
You can use a small blade to dice soft fruits and vegetables or a large blade for hard fruits and vegetables. You can spiral vegetables with another attachment and you can use a ribbon blade for super thin slices. This product is incredibly easy to use, simple to clean, and it's on sale right now for just $35.
Fullstar Vegetable Chopper & Spiralizer
This chopper comes with four interchangeable blades that let you julienne, chop, spiral, and slice vegetables with ease.
If you need a little more convincing before you shop, check out some of the 40,000+ 5-star Amazon reviews. 
Someone said, "Omg omg omg. This thing is amazing. I hate chopping veggies. Hate. Hate. Hate. Saw this on a lightning deal so figured what the hey, I'll get it. People, people.... I just filled up 4 plates (10 in Dixie plates, to be exact) with veggies in less than 10 minutes. Seriously. I chopped an onion earlier to saute in 15 seconds. Yes, really. If chopping veggies keeps you buying the same frozen ones over and over like me, this is for you. It's a kitchen miracle."
"OUR BIGGEST HELPER IN MEAL PREP TIME," another person declared, adding, "Oh , do we like this chopper? YES WE DO! Definitely. We bought this a short time ago but ever since this is our biggest helper in the meal prep time. We buy a sack of potatoes, onions and bag of peppers and one of us peels them and cuts with this little magic maker. Oh it a breeze!"
An Amazon shopper said, "Makes life so much easier. I can't imagine chopping onions or bell peppers by hand anymore, and it does so much more. We used to have a prepworks chopper which was a similar idea, but you had to press so hard to chop, and it broke after not too long. This one requires very little effort to cut through the food and it has a generous container."
Another customer advised, "BUY THIS NOW! I cannot say enough good things about this. I used it yesterday for the first time. My potatoes and bell peppers were washed, diced, and in the oven within 10 minutes. BUY. IT. NOW. Buy it for your friends. Buy it for your boss. It's the best."
A fan of the shoppr explained, "Yes! BUY IT. Where has this thing been all my life. I like to make homemade salsa and ceviche. This thing cut everything in PERFECT small squares. I sliced the tomatoes and the jalapenos then diced them up in it. I scrunched up the cilantro and put it through it too. Whatever you put on there, cuts it perfectly. What normally takes me 1/2 hour to cut along with nipping the sides of my nails when I get close to the edge took me 3 minutes."
"As a person whom only has use of 1 hand, this chopper is a gem. Not only does it come with various blades, it also includes a cleaning utensil. The blades are razor sharp so it easily cuts through onions,bell pepper. With 1 attachment you can spiral a zucchini and the other attachment makes ribbons. And everything is collected directly after chopping into a measured container so you can easily determine the amount you have. I highly recommend this chopper. This one is actually better than my first original one," an Amazon shopper reviewed.
—First published on Apr 3, 2022, at 4:00 a.m. PT