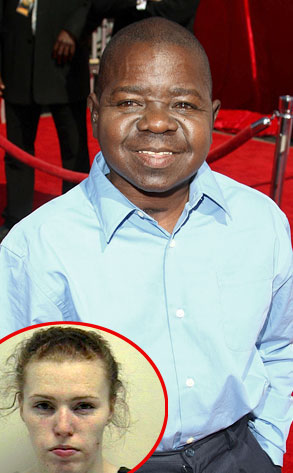 Jason Merritt/Getty Images; Utah County Sheriff
Now here's a diff'rent stroke that isn't right for anybody.
Gary Coleman's wife, Shannon Price, was arrested Wednesday in Santaquin, Utah, on suspicion of domestic violence and disorderly conduct, the Utah County Sheriff's Office confirms to E! News.
The duo have a home in Santaquin, but it's not known for sure whether Coleman was the target of the alleged attack.
Price has since been released on a $1,205 bond. A rep for Coleman has not yet commented on the bust.
The former child star quietly married Price in August 2007 but had started divorce proceedings—which included an appearance on Divorce Court—by April 2008.
Apparently reconciled since, Coleman got in a scuffle at a Utah bowling alley in December when a guy tried to snap cell phone pics of him and the missus. He ultimately pleaded no contest to disorderly conduct and reckless driving.