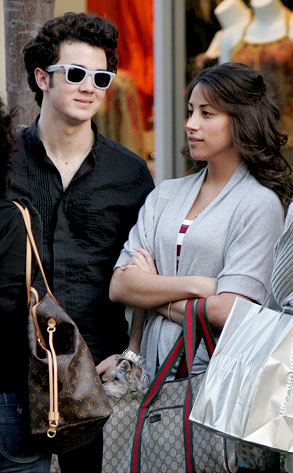 Juan Soliz , PacificCoastNews.com
There are only two Jonas Brothers left.
For girls to fantasize about marrying one day, that is!
Kevin Jonas, 21, has proposed to his girlfriend of two years, Danielle Deleasa, E! News confirmed Wednesday.
Deleasa, 22, met Kevin—the JoBro who has managed to have a private life—in May 2007 while their families were vacationing in the Bahamas.
"Our hearts are filled with joy today and we are happy to share with you that our son Kevin has asked Danielle for her hand in marriage," parents Denise and Kevin Jonas Sr. said in a statement. "Her answer was yes, and it is such a blessing that she will be joining our family. Kevin and Danielle have not yet set a date."
A rep for Kevin confirmed that he showed up at Deleasa's New Jersey home this morning with a ring he codesigned with Jacob & Co., and popped the question at her doorstep.