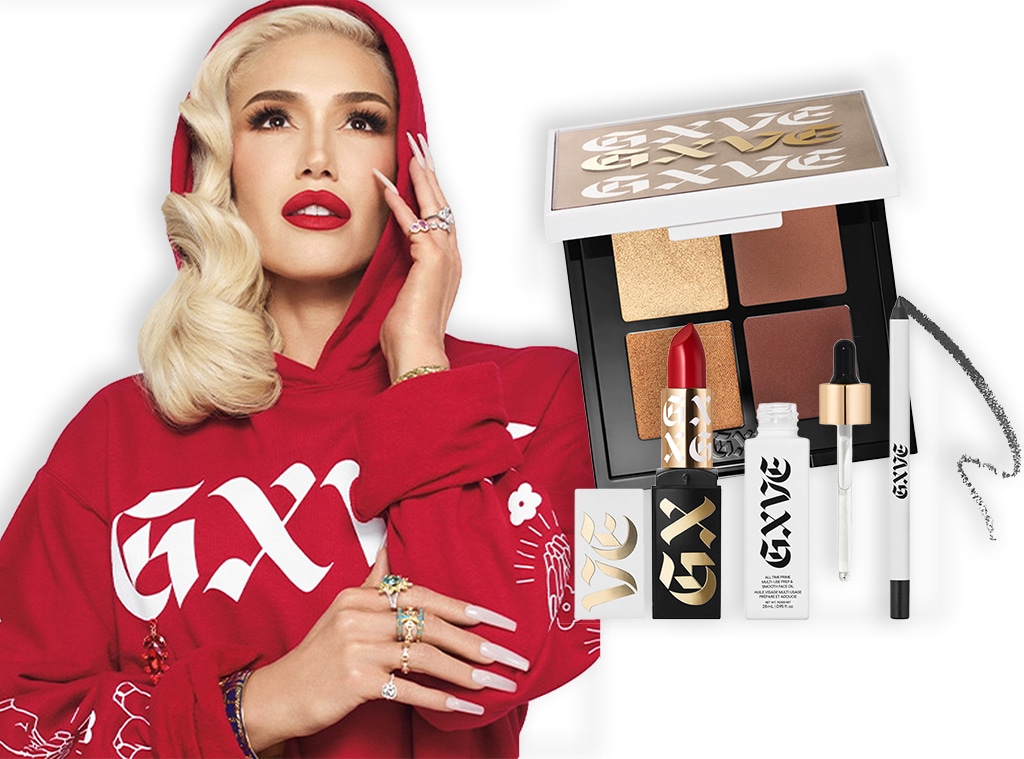 We independently selected these products because we love them, and we think you might like them at these prices. E! has affiliate relationships, so we may get a commission if you purchase something through our links. Items are sold by the retailer, not E!. Prices are accurate as of publish time.
There's no shortage of celebrity beauty brands. While some are great and have products that have made it into our beauty routines, others are kind of forgettable. Today, we're giving you all the info on the latest must-know celeb beauty brand, GXVE By Gwen Stefani. 
The Sephora-exclusive makeup line is Gwen's first ever and features eight products including eyeshadow palettes, eyeliner, brow pencils and all the red lipsticks. Because, obviously. In fact, they have three red lip products you can get to help you achieve Gwen's signature red lip. One is so popular, it's already sold out! GXVE is also clean, vegan and cruelty-free, and the products also come in recyclable packaging. 
GXVE By Gwen Stefani launched on online at Sephora on March 3rd, so many have had the chance to try the products out already. Since shopper reviews can help you decide whether a product is worth trying or not, we went through the reviews to see what people actually thought about GXVE. So here's a breakdown of all the products you can get and what reviewers are saying about them. 
GXVE By Gwen Stefani I'm Still Here Longwear Clean Matte Liquid Lipstick
The I'm Still Here Longwear Clean Matte Liquid Lipstick is a true red shade that's said to be lightweight, long-wearing and transfer-proof. It has a ton of perfect five-star reviews, and numerous Sephora shoppers say it does what it promises. 
One reviewer wrote, "It truly is a highly-pigmented matte red lipstick that's budge proof and stays on for hour and hours with no fading, feathering or transferring. This honestly is the perfect red lipstick and I believe to be universally flattering for everyone! I'll be reaching for this red lipstick all the time, and if you are looking for the perfect red lipstick this is for you no doubt!" Another "huge red lipstick fanatic" wrote that this liquid lipstick is like no other. "It goes on smooth and lasts all day. It is absolutely stunning."
Some reviewers who were more critical didn't like the scent, which one described as a "combo of coconut and vanilla" that ended up smelling like buttered popcorn. One even called the scent "intense." So if you're someone who's sensitive to strong smells, that's something you may want to be aware of before tying this. 
GXVE By Gwen Stefani Eye See in Color Clean Multidimensional Eyeshadow Palette
GXVE By Gwen Stefani currently has four multidimensional eye shadow palettes, with four eyeshadows each in a mix of matte and shimmery finishes. As a fun touch, each palette is named after No Doubt and Gwen Stefani songs including Simple Kind Of Life, which features four matte neutral shades, and the rose gold palette, Just A Girl.  
The reviews for these palettes are mixed, with some saying the colors don't look quite the same in person. Other reviewers said some shadows were powdery and the color payoff wasn't that great. Those who did like the palettes, however, said the mattes blended "like a dream" and the shimmers give the lids a nice glow. 
GXVE By Gwen Stefani Line It Up Clean 24-Hr Gel Pencil Waterproof Eyeliner
The Line It Up gel eyeliners are waterproof and come in two shades: Bathwater, a cobalt blue, and Spiderwebs, an intense black. According to the brand, the formula is long-lasting and will stay on for up to 24 hours. 
Unlike the eyeshadow palettes above, these eyeliners win all the points with a majority of reviewers. As one shopper wrote, "Such an amazing creamy gel eyeliner pencil! Glides on so well, very pigmented and stays put all day long without smudging. The fine tip makes it easy to create a cat eye as well. Now I definitely need to blue shade too!" One even described the eyeliner as "magic." 
More critical reviews said the packaging could be better. According to one reviewer, "The cap was VERY difficult to remove. I had to pull it off with my teeth!! I did it gently so it wouldn't break, but again like others, the tip was already broken off."
GXVE By Gwen Stefani Original Me Clean High-Performance Matte Lipstick
If you want to get red lips like Gwen but you're not a fan of liquid lipsticks, the Original Me Clean High-Performance Matte Lipstick is for you. It's a true red, luxurious, highly-pigmented lipstick with a velvety-matte finish. As Gwen is the queen of red lips, this lipstick came with a lot of high expectations. Lucky for us, it lives up to those expectations. In fact, it has over 100 reviews and 99% recommend it. 
As one Sephora reviewer wrote, "I am really in love with this red - very bright and pigmented! I also love the formula - doesn't feel too dry but creamy and lasts all day! The lipstick also has a sweet scent which I really like a lot. Loving everything I have tried from this brand so far!"
The lipstick is sold out on Sephora as of now, but you can still purchase this at Kohl's. Snag one while you still can! 
GXVE By Gwen Stefani Anaheim Shine Clean High-Performance Satin Lipstick
The Anaheim Shine Clean High-Performance Satin Lipstick is described as a "cushiony, high-performance lipstick" with high color payoff and a satin finish. It's a good option if you want to get a red lip like Gwen, but you're not into mattes. 
According to Sephora reviewers, the lipstick is gorgeous. As one shopper wrote, "I have received several compliments whenever I put it on. It has a smooth velvety texture that makes the lips look more vibrant. This glides easily on the lips, doesn't crack and lasts throughout the day. Overall, I loved it and would highly recommend this to everyone." Multiple reviewers even called this the perfect red. 
GXVE By Gwen Stefani Hella On Point Clean Ultra-Fine Brow Pencil
The Hella On Point brow pencil comes in seven shades ranging from neutral blonde to cool black. It was made to be long-wearing, sweat-proof and easy to use. According to a majority of the reviewers, this is another product from GXVE that works really well. 
As one wrote, "This eyebrow pencil is perfect! The product is super easy to work with and gives super sharp brows. I love how thin it is as well, it makes it very easy to get a nice hair like lines in the front! Creamy so it doesn't pull any hairs out!"
More critical reviews say it's good, but not anything spectacular. Regardless, 96% of reviewers would recommend this. 
GXVE By Gwen Stefani Most Def Clean Instant Definition Sculpting Eyebrow Pencil
GXVE By Gwen Stefani's Most Def Clean Instant Definition Sculpting Eyebrow Pencil is a chisel-tipped eyebrow pencil made to instantly define and sculpt the brows. Like the ultra-fine brow pencil above, there are seven shades ranging from neutral blonde to cool black. 
This eye pencil has nearly 100 five-star reviews and 98 percent would recommend it. As one reviewer wrote, "The biggest thing for me with this pencil is the shape. It's so unique. It has a curved tip but a sharper edge so it's perfect for creating natural strokes as well as super defined ones. It also has great pigment. I'm really loving this pencil!" Others raved over how long it stayed and many said it just glides right on. 
GXVE By Gwen Stefani All Time Prime Clean Hydrating Prep & Smooth Face Oil
Lastly, there's the All Time Prime Clean Hydrating Prep & Smooth Face Oil. It's a lightweight priming oil made with meadowfoam seed oil and aloe to soothe the skin. It's hydrating and non-comedogenic, which means it was formulated to not clog pores. The reviews for this are pretty good. 
As one reviewer wrote, "I LOVE priming oils especially during cold months! GXVE priming oil does have a soft sweet scent which I do like, not overpowering which is great since I'm sensitive to fragrances. I've used this on my face with and without makeup and it gives me so much moisture." 
More critical reviews say it's not that great for those with extra dry skin. As one wrote, "I have dry skin, so I'm no stranger to face oils. Unfortunately this one is just not hydrating enough for me. I still end up with dry patches, even using it post-moisturizer. Overall, this is not a winner for me, but may be better suited for people who don't have dry skin."