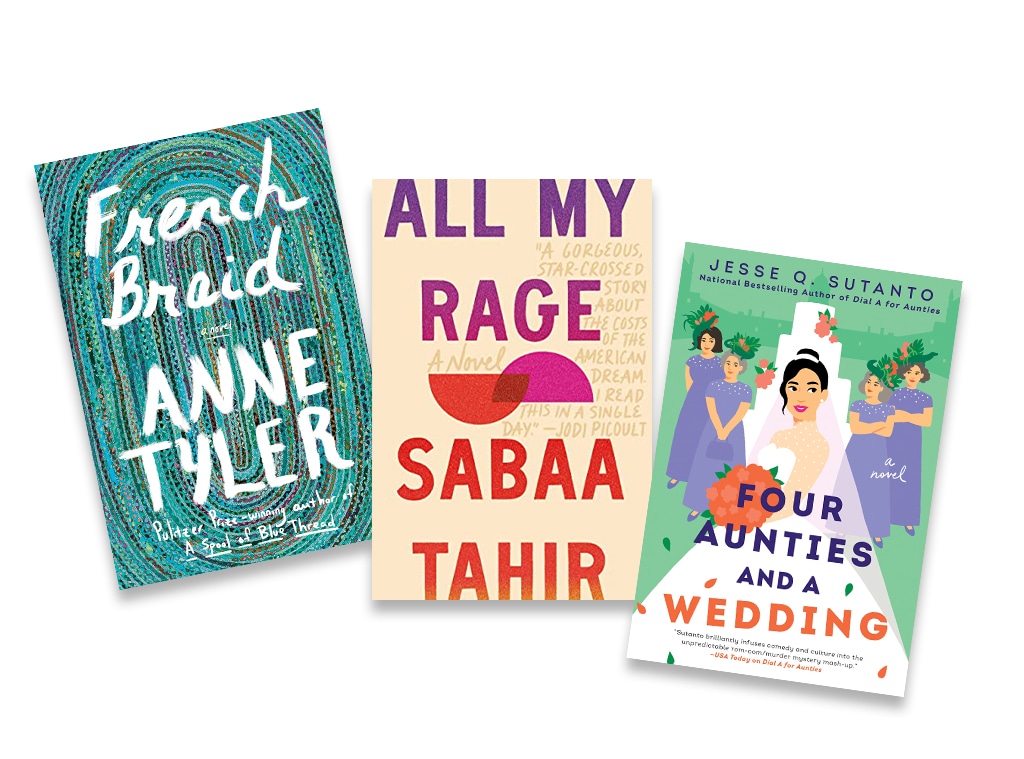 We love these products, and we hope you do too. E! has affiliate relationships, so we may get a small share of the revenue from your purchases. Items are sold by the retailer, not E!
Thirty-one days. Sixteen books. Now that is our idea of March Madness.
As we slowly head into the new season, we can't think of a better way to spend our days than getting lost in the pages of one of this month's best new reads. Yes, that means you have our full permission to put off your spring cleaning to do some reading instead. And whether you have a thing for twist-filled thrillers or could use a little romance in your life, there's something for everyone among March's releases.
So, while you are dreaming of warmer temps and days spent reading on the beach, you should definitely add a page-turner to the mix and start buying physical copies of our picks or—because, you know, technology—pulling them up on Kindle Unlimited or through a free trial of Audible.
Here are 16 new releases to add to your reading list this month...
The Night Shift by Alex Finlay
Every Last Fear became one of our favorite thrillers of 2021 and Finlay's new release about a pair of small-town murders 15 years apart that may be connected is every bit as electrifying. Add in some Y2K nostalgia—R.I.P. Blockbuster!— an exploration of lasting trauma and a final twist you won't see coming, and it's safe to say Finlay is one of the genre's most exciting voices. (March 1)
One Italian Summer by Rebecca Serle
We wouldn't usually recommend packing tissues for a trip to the Amalfi coast, but you will definitely be needing them while reading this tearjerker about the powerful bond between a mother and daughter. After the devastating loss of her mom, Katy decides to go on a solo adventure to Positano, where her parents met. But when she gets there, she makes an unexpected new friend: Her mother, Carol, who's alive, healthy and 30 years old. The two women spend one improbable and unforgettable summer together and, as we said, there will be tears! (March 1)
All My Rage by Sabaa Tahir
In a sweeping story that alternated between Lahora, Pakistan, in the past and Juniper, Calif., in the present, the best-selling young adult author tells the heart-wrenching tale of two Muslim Pakistani-American teens who navigate all the joys and perils of coming-of-age as outsiders in a desert town. (March 1)
The Love of My Life by Rosie Walsh
Emma has the perfect life, complete with a loving husband, an adorable daughter, a gorgeous home and even a great dog. She would do anything for her family, except tell them the truth about who she really is. But Emma's façade begins to crumble when her spouse, who is an obituary writer, begins to research her life, only to discover everything he knows about her, including her name, is a lie. So yeah, the next piece he writes may just be a eulogy for their love story. (March 1)
Hook, Line, and Sinker by Tessa Bailey
Prepare for another irresistible rom-com in this charming follow-up to last year's It Happened One Summer. Fisherman and town Casanova Fox Thornton meets his match in Hannah Bellinger, the one woman who seems impervious to his charm, so they instead become close friends. But when she temporarily moves in with Fox and asks for his help in catching her co-worker's eye, both parties begin to realize they are falling for each other, hook, line, and, well, you get the idea. (March 1)
The Unsinkable Greta James by Jennifer E. Smith
After the sudden death of her mother, indie musician Great James has a very public breakdown on stage, with the footage from her concert going viral. With her career in jeopardy, Greta reluctantly agrees to go with her father on the Alaskan cruise her parents had booked to celebrate their anniversary. Adrift—literally and metaphorically—Greta begins to reconnect with her disapproving dad, while also possibly falling for Ben Wilder, a charming historian. (March 1)
The Golden Couple by Greer Hendricks and Sarah Pekkanen
The duo behind The Wife Between Us are back with another pulse-pounding page-turner about a wealthy Washington suburbanite couple who seem to have it all. Key phrase: seem to. And when the pair seek help from a therapist who has lost her license, a dangerous game of cat-and-mouse begins in this psychological thriller that might just have you canceling your plans to finish it. (March 8)
Nine Lives by Peter Swanson
Final Destination meets Agatha Christie when nine strangers receive a cryptic list with their names on it in the mail. While they initially dismiss it as junk, bad things begin to happen, such as one man drowning while a father is shot while running in his neighborhood. As a pattern begins to emerge, FBI agent Jessica Winslow, who is on the list herself, is determined to find out how the nine people are connected and who sent the list before it's too late. (March 15)
How Do I Un-Remember This? by Danny Pellegrino
Fans of Pellegrino's hit podcast Everything Iconic know he often goes off on personal tangents, teasing hilarious and heartfelt moments from his childhood and about his family and friends. Now, those "unfortunately true stories" are finally being told in full, with the comedian and Bravo super-fan mentioning it all in this laugh-out-loud collection of stories. While we might be glad they didn't happen to us, we are so happy they happened to him. Sorry not sorry!
(March 8)
The Book of Cold Cases by Simone St. James
Have you listened to every episode of Morbid and can't get enough Dateline in your life? This is the book for you. True crime blogger and kidnapping survivor Shea Collins is surprised when Beth, a reclusive woman who was acquitted of two cold case slayings, agrees to do an interview with her. As the two continue to meet at Beth's mansion and grow closer, Shea begins to wonder if she is becoming best friends with a murderer. Yeah, we just felt a chill go up our spine, too. (March 15)
In a New York Minute by Kate Spencer
A meet-cute gone viral, banter that will give you goose bumps and the captivating magic that is the Big Apple all come together in this hilarious and heartfelt romantic comedy in the vein of Nora Ephron. After Franny Doyle's dress catches in the train door, a dashing stranger comes to her rescue with his Gucci jacket. But when their quick exchange is posted on social media, the Internet begins shipping the #SubwayQTs. The only problem? She can't stand her knight-in-shining-couture Hayes Montgomery III, though fate keeps trying to push them together. Um, any streaming service, we are going to need the movie adaptation ASAP, please and thank you! (March 15)
The Next Thing You Know by Jessica Strawser
The powerful bond forged between a musician with a debilitating condition facing the untimely end of his career and a care-free end-of-life doula is only half the story in this cross between Me and You and A Star Is Born. Told in two timelines, the twists keep coming in Strawser's deft exploration of connection, death and grief. (March 22)
French Braid by Anne Tyler
The Pulitzer Prize–winning author explores the complexities that make up a tight-knit family across decades, spanning from their first and only vacation in 1959 to the present, pandemic included. Tyler unearths the magic and mayhem of daily life and examines the beauty of the bonds between relatives that can sometimes feel like shackles. (March 22)
The Wedding Veil by Kristy Woodson Harvey
The author of the Peachtree Bluff series brings her signature warmth and Southern charm to this story about four women across generations that are bound by a beautiful wedding veil and a connection to the famous Vanderbilt family. Like sweet tea, Woodson Harvey's writing coats your soul with heart. (March 29)
The Long Weekend by Gilly Macmillan
Three women travel to the most remote place in England for a weekend escape, arriving one day earlier than their spouses. But what was supposed to be a relaxing retreat turns into the worst girls' night ever when the group find a devastating note claiming one of their husbands will be murdered. With no cell service and no connection to the outside world, the situation spirals out of control when secrets are spilled and friendships are betrayed. (March 29)
Four Aunties and a Wedding by Jesse Q. Sutanto
In the delightful sequel to Dial A for Aunties, Meddy's quartet of aunts and her ma are back and fiercer than ever. This time, they must step in to help save Meddy's big day from turning into a murder scene when the family-run company she hired to plan her wedding end up being the mafia. And you thought planning your nuptials was stressful. (March 29)
We love these products, and we hope you do too. E! has affiliate relationships, so we may get a small share of the revenue from your purchases. Items are sold by the retailer, not E!.