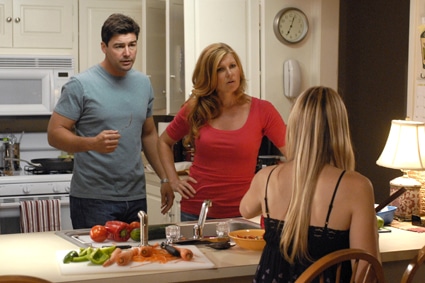 Bill Records / NBC
For the fans who worked really hard to keep Friday Night Lights on the air, don't fret. The announcement of the series ending after two more seasons isn't necessarily set in stone.
Although FNL star Connie Britton recently said the original two-season pickup would likely be the end of the show, she told us, "You never know—if it does do really, really well, maybe they would go on for more seasons."
So what do the possible final seasons hold for the Taylors and the rest of Dillon?
So where would Connie want to see the Taylors end up if they must say goodbye in season five? Connie told us: "Julie would've graduated, so I'd love to see her off somewhere fantastic. I think it would be interesting to see [Coach and Tami] end up at the same school again, back to being on top a little bit, but even as I'm saying that I'm thinking, what if we end up moving away out of Dillon? That could be really interesting, too."
Finally, with Emmy nominations just a few short weeks away, Connie isn't stressing too much over it. "I'm so used to not being nominated that if I get nominated I'm really going to freak out," she joked. "But it would be awesome. It would be so great."
We second that. Regardless of an Emmy nom or not, Connie's extremely pleased with the fan support that brought Friday Night Lights back from within an inch of death. "Our fans are so awesome. People who are watching this show are just so amazingly invested and passionate. It's just a joy. Anytime I run into someone who watches this show, the investment is like a dream. It's incredible. [It's] just so satisfying to work on something that people feel that strongly about, it's the best."
How do you feel about Friday Night Lights ending in two seasons? Do we need to start campaigning for the show now?