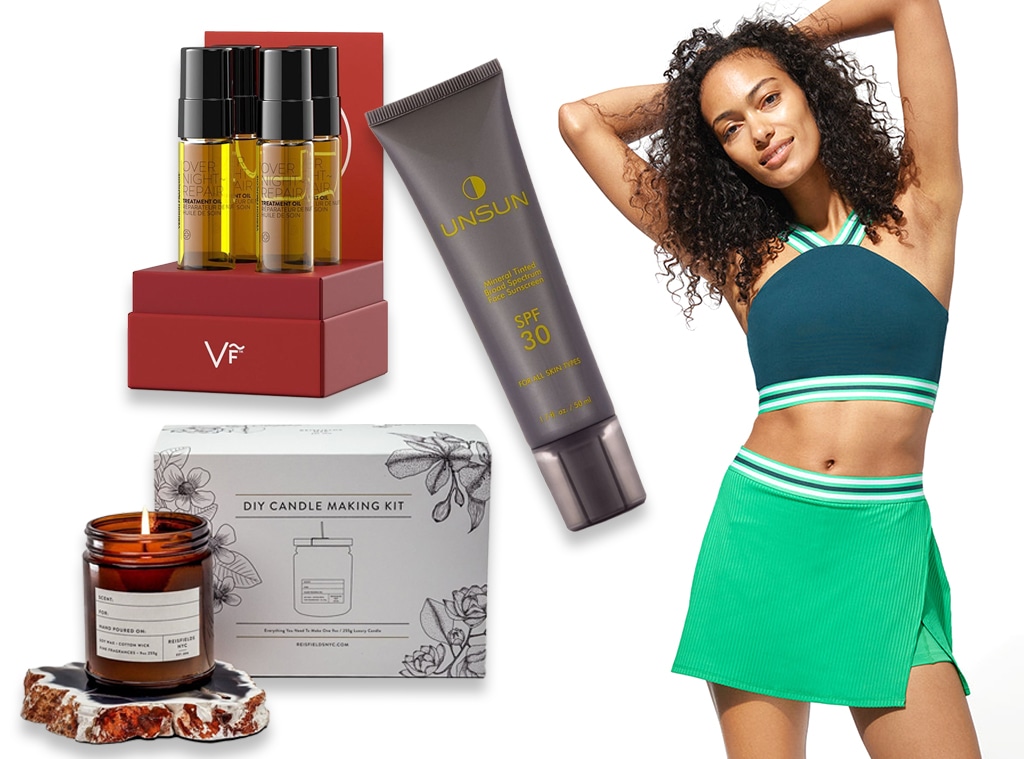 E! makes a commission on purchases. The brands featured are partners of NBCUniversal Checkout. We created this content and selected these products because we love them and hope you do too. Prices are accurate as of publish time.
We love discovering products that will make a difference in your life in some way, whether that be cleaning supplies or affordable beauty finds. It's even better when these products come from brands that don't always get the attention they deserve. Because of this, we've rounded up some must-have items from Black-owned businesses that should be on your radar.
Whether you struggle to find clean sunscreen that matches your skin tone or cleaning products that are safe to use in your home, we've got something you're guaranteed to love. We even found some fab fashion finds like matching workout sets and a playful tee and tote that you'll want to add to your wardrobe ASAP. 
We've rounded up some Black-owned brands that you should know and some products you should definitely have on your radar. Check those out below. 
Reisfields NYC DIY Candle Making Kit
Reisfields NYC
Reisfields NYC was founded by Reis Chester in 2016, and is a black and queer cultural and lifestyle design lab that offers handcrafted and curated items like candles, crystals, botanical soaks, crystal intention sets and more. This DIY candle making it come with everything you need to make your very own luxe candle. You can even choose between three premium scent oil blends.
Vernon Francois Over Night Repair Oils
Vernon Francois
Vernon François is a celebrity stylist, educator and entrepreneur who's been a consultant and advisor for brands like Redken and Kérastase. Vernon created Vernon François to create haircare that will "leave the world in a better place than how we found it and improve lives, while creating outstanding products with the emphasis on curly and afro hair textures." This set of overnight repair treatment oils is said to leave hair looking and feeling softer, stronger and shinier. One reviewer said it smells "sensational" while another said it's a new party essential for them. "Makes me feel fabulous and fits perfectly in my handbag. Winning," they wrote. 
Unsun Cosmetics Unsun Face and Body Highlighter
Unsun Cosmetics
Unsun Cosmetics was founded by Katonya Breaux in 2016 after "much frustration" by the lack of clean sunscreen for women of color. The Angel Face and Body Highlighter not only contains SPF, it will also give you a nice natural glow. These come in two shades: Golden Angel and Bronze Goddess. 
EleVen by Venus We Stand Proud Leggings
EleVen by Venus
EleVen by Venus Williams was created to give women high-quality activewear that allows them to look good, feel good and perform better. The We Stand Proud leggings in Bonnie Blue Gingham is so cute and features four-way stretch, moisture-wicking material. Plus the v-front waistband makes it super flattering. Sizes range from XS to XL. 
EleVen by Venus We Stand Proud Sports Bra
EleVen by Venus
Since the Bonnie Blue Gingham pattern on the leggings above looks so good, you definitely need the matching bra. It's a medium to high impact sports bra that features a cute overlap detail in the front. You'll want to make this your go-to workout set. 
EleVen by Venus Champs Leggings
EleVen by Venus
These classic high-waisted flare leggings from EleVen by Venus are perfect for yoga, a walk around the neighborhood or lounging around at home. It even has a credit card pocket for your convenience. There's even a matching sports bra!
EleVen by Venus Champs Halter Sports Bra
EleVen by Venus
If you love the look of the yoga pants above, you'll want to get the matching sports bra. It's a fully lined, low impact halter sports bra that comes in two colors. EleVen by Venus really delivers on their cute, fashion-forward activewear! 
Yo Soy AfroLatina The &&& Tee
Yo Soy AfroLatina
Sold By
Yo Soy AfroLatina
Yo Soy AfroLatina was founded by Bianca Kea, who wanted to create a brand that celebrates, honors and empowers Black women within the Latina community. As she wrote on their website, "My goal is to shed light on the beauty and the magnitude of Afro Latinas, to create a space where we are acknowledged, and to celebrate our beautiful, diverse culture. We've been here and we're not going anywhere. This is our time to shine." This exclusive tee was made as a nod to both Black and Latina culture by highlighting some of their favorite products, shows, and artists. Sizes range from S to 3XL. 
Yo Soy AfroLatina MIJA Tote
Yo Soy AfroLatina
Sold By
Yo Soy AfroLatina
This classic tote from Yo Soy AfroLatina is both playful and practical. So cute! It's a bag that's guaranteed to get all the compliments. 
Kiki Kreme Body Butter
Kiki Kreme
Kiki Kreme was founded by Destinée Graham. She was pregnant at the time and wanted to create a product that would prevent stretch marks in the most natural way possible. She used her knowledge from working in the beauty industry and combined that with some Jamaican family secrets to create her first batch of body butter. From there, the rest is history. Kiki Kreme was made "from belly, to baby and beyond." It's very gentle, lightweight and made with natural butters and oils. According to reviewers, it smells really good and melts right into the skin. 
Unsun Cosmetics Mineral Tinted Face Sunscreen
Unsun Cosmetics
Unsun Cosmetics was created because the founder was frustrated with the clean sunscreen options available for women of color. Naturally, the Mineral Tinted Face sunscreen is their best-seller. It's a two-in-one mineral sunscreen primer and color corrector that covers a range of skin tones without leaving a "ghostly residue." According to one rave review, this sunscreen is "heaven" on the face. "It is just the right amount of tint, goes on smoothly, feels super light AND gives my skin the perfect glow! Will definitely buy again AND try more products." If you haven't discovered Unsun Cosmetics yet, this is the product to try. 
Onyi Home Essentials Luxury Candle
Onyi Home Essentials
Sold By
Onyi Home Essentials
Onyi Home Essentials was created by Real Housewives of Potomac's Dr. Wendy Osefo, who wanted to create a home and lifestyle brand that features timeless, luxe home essentials for the "everyday person designing on a budget." This luxury candle features their signature fragrance and has notes of white tea, earthy cedar and vanilla. 
PUR Home 16 oz Multi-Surface Cleaner
PUR Home
PUR Home was founded in 2017 by Angela Richardson and Michelle Richardson. Angela became passionate about natural products and wanted to create cleaning products that were both safe to use at home and effective. The multi-surface cleaner can clean and disinfect everything from toilets to countertops to toys. It require no rinsing, doesn't leave residue and can get rid of grease soap scum, hard water stains and more.