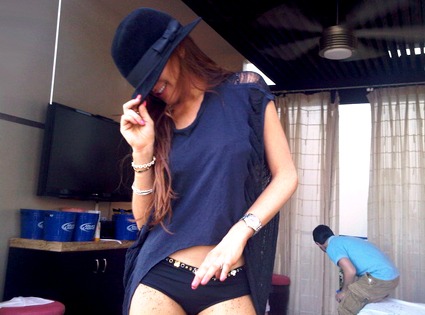 twitpic.com/photos/sevinnyne6126
• Lindsay Lohan paid tribute the King of Pop the only way she knows how: twittering a poolside, bikini-clad picture of herself posing like Michael Jackson. Narcissistic much? No, tweets the Lohan: "M.J. was playing when this was taken, I'm not that much of narcissist"
• Travolta family update courtesy of Miley Cyrus: "Kelly Preston is my hero. She is so wonderful and has healed so beautifully. That family is such a blessing." Miley and Kelly are currently working together on the Last Song.
• John Mayer spent last night pondering how the Internet would have reacted to Thriller. He thinks it would have been along the lines of: "Message board: I don't know, maybe I'm just used to the demo of 'Billie Jean' that leaked, but the final version seems 'off' to me." Or: "So far, after my first listen, 'Thriller' is my least favorite song on the album. It just seems, I don't know, overproduced."
• Vibe magazine announced it's shutting down today, and Usher's soon-to-be-ex-wife Tameka Raymond is upset: "Im sad abt the Vibe Magazine closing (they featured me in an issue) September...I think?" Now what magazine will feature her?
• And play us out with a joke, Stephen Colbert: "good news. agreed to do 2 years for madoff, will get huge payoff 2 years later"
Hit us up on Twitter @eonline where we have all the celebrity news with fewer words!