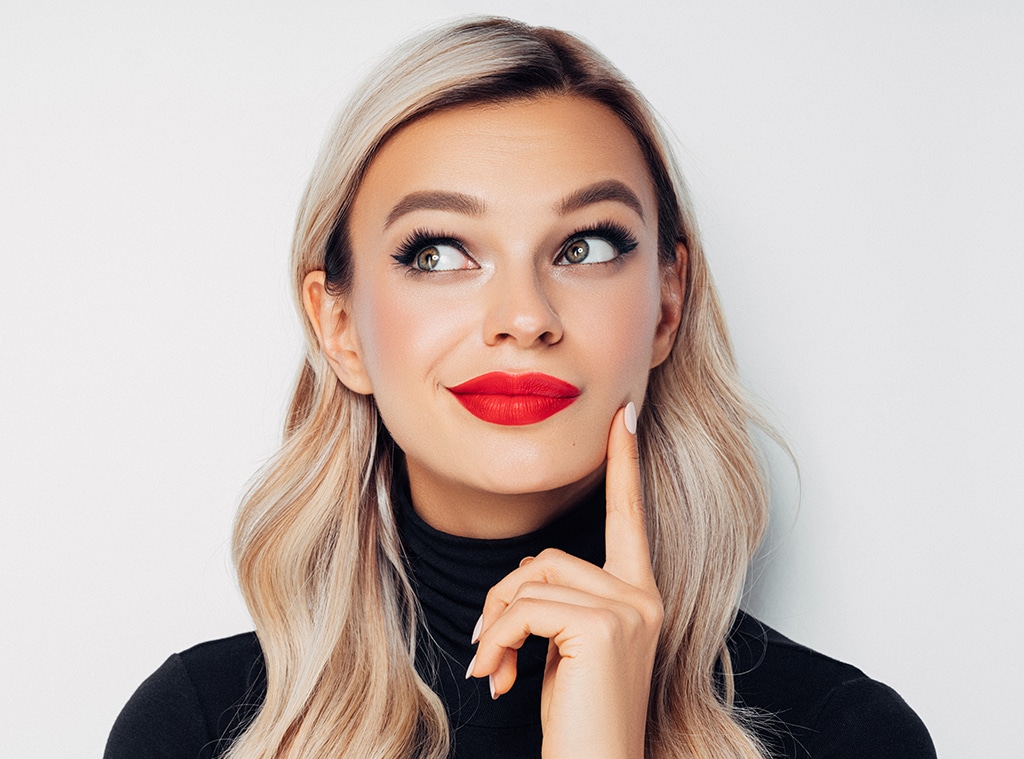 Getty Images
We independently selected these products because we love them, and we think you might like them at these prices. E! has affiliate relationships, so we may get a commission if you purchase something through our links. Items are sold by the retailer, not E!. Prices are accurate as of publish time.
I am always, eating, drinking, and talking. If I want a lipstick that lasts through all that, liquid lipstick is the way to go because it stays put without any worry. If you want color that stays on your lips instead of transferring, liquid lipstick is definitely the right choice. If you're a huge fan of PDA, then liquid lipstick is what you need to keep your glam intact post-makeout.
If you're not sure which liquid lipsticks to buy, then you're in the right place. After trying out so many of them for years, I put together the ultimate guide with answers to your questions and options for different price points and preferences; i.e. if you prefer a matte look, a glossy shine, or a cream texture. 
TL;DR: I broke down my recommendations into seven categories:
Before getting into the products, let's go through some frequently asked questions about liquid lipsticks.
What is a liquid lipstick?
It's exactly as the same suggests, a lipstick in liquid form (not a stick, like a conventional lipstick).
Why should I use a liquid lipstick?
A good liquid lipstick is long-lasting and transfer-proof. If you don't want to re-apply your lip color throughout the day, use a liquid formula instead.
What's the difference between a liquid lipstick and a lip gloss?
Lip gloss transfers very easily; i.e. you often have to reapply throughout the day. There are lip glosses that are just as pigmented as lip stains and there are lip stains with a shiny finish like a lip gloss. The primary difference is that liquid lipsticks typically last longer and do not transfer when you eat, drink, and kiss.
Liquid lipsticks are known for being long-lasting, but is there anything I can do to further elongate that effect?
Applying a complementary lip liner prior to liquid lipstick is a great way to increase that staying power.
Best Overall Liquid Lipstick
Kylie Cosmetics Liquid Lip Kits (Set Includes Lipstick & Lip Liner)
My Take: These 2-piece lip kits are the best combination for a long-lasting look. The lip liner and liquid lipstick combo lasts through talking, eating, drinking, kissing, and wearing a face mask. And, the best part is that these don't dry out my lips. I've been hooked on these lip kits since Kylie Jenner dropped her three original shades. These have far exceeded the hype. Each set lasts for months, even if you wear the same color every day. The color doesn't flake or bleed outside of your lips.
I fill in my whole lip with the liner, which acts like a primer, then I apply the liquid lipstick, for long-lasting results that are kiss-proof, mask-proof, and drink-proof. These lip kits deliver a matte finish that doesn't dry out your lips or flake. 
5-Star Reviews: 2,200+ 5-Star Reviews. 
What Other Shoppers Have To Say: 
"I absolutely love the Kylie lip kits. The colors are fab and the pencil and lip color are both incredibly long lasting."
"Best matte lip liner and lip color. It's my go to for years since she came out I haven't used another brand except for Kylie's! I highly recommend to every girl!"
"NO LONGER STRUGGLING TO FIND THE PERFECT LIPSTICK. Fantastic product lasts nearly all day. No staining or smudging. Very impressed."
"Best long wearing lipstick out there Best long wearing, non transferring matte lipstick I have tried. It doesn't flake off and really lasts." 
"Vibrant color...glides on and feels weightless. Beautiful color."
Best Bargain Liquid Lipstick
Maybelline New York SuperStay Matte Ink Liquid Lipstick
My Take: The phrase "you get what you pay for" doesn't apply here. These lipsticks last for up to 16 hours and hold up under a face mask, after a meal, post-drinks, and even after a makeout. These have a beautiful matte finish and there are 35+ shades to choose from. Another thing that's cool about this is that the applicator has a precise tip, which makes it easy to apply lipstick in those places that are easy to smudge, like the corners of your mouth.
Also, pro tip: You can easily remove this with the Maybelline SuperStay Eraser Lip Color Remover, which is such a game-changer after a long day.
5-Star Reviews: 53,800+ 5-Star Amazon Reviews.
What Other Shoppers Have To Say: 
"These are my absolute favorite lipsticks of all time. They stay on all day, last through meals, stay on all night when I go to bed forgetting to take it off, and they're super affordable."
"I guess it's safe (and sad) to say that I am ADDICTED to this matte lip ink/lipstick! I LOVE IT. I put it on the morning and if I don't take it off before I go to bed, which I always do, it will still be there in the morning."
Best Multi-Pack Liquid Lipsticks
BestLand Matte Liquid Lipstick Makeup Set- 6 Lipsticks
My Take: I am obsessed with this set. The colors are beautiful. The formula dries quickly and the color is long-lasting, no matter what you do. The color payoff is very buildable. If you want lighter coverage, that's easy, but if you want more of a pigmented look, you can apply another layer. Plus, you really cannot beat this price, which comes out to be $2 per lipstick. 
There are three different 6-piece sets to choose from. Set A has darker colors, Set B has lighter hues, and Set C has a mix of both. You will love these long-lasting, non-drying liquid lipsticks. You might end up buying more than one set. The lipsticks are such a high quality that no one will know about the bargain price tag. And even if they did, they'll just be thankful for the high-quality lipsticks. 
5-Star Reviews: 14,300+ 5-Star Amazon Reviews.
What Other Shoppers Have To Say: 
"These are great! I ended up ordering both sets after I ended up liking the first one so much. I was looking for lipstick that would last all day without smudging and these really do without being overly dry and the colors are beautiful."
"Everyone NEEDS TO KNOW!!! I am never one to write a review letter alone post pics for a review, but I am so absolutely impressed with this long lasting Liquid Lipstick combo pack! The colors are absolutely beautiful, with unbelievable lasting wear!"
Best Cream Finish Liquid Lipstick
Rare Beauty by Selena Gomez Lip Soufflé Matte Cream Lipstick
My Take: If you want something in between a gloss finish and a matte feeling, a cream liquid lipstick is a great in-between option. The Rare Beauty by Selena Gomez Lip Soufflé Matte Cream Lipstick gives that matte look, but with a creamy, soft feeling on the lips. It feels super light and it's actually hydrating on the lips. Selena Gomez's go-to shade is Inspire, which is a beautiful bright red, but there are so many beautiful options, ranging from bright to neutral. 
Reviews: 171.7K+ "loves" from Sephora shoppers.
What Other Shoppers Have To Say: 
"Not only is the color vibrant, but the lipstick feels so cushiony and velvety, I actually forgot I was wearing lipstick! Definitely the most comfortable lipstick I've ever worn."
"The best matte liquid lip I have ever used! It does not leave my lips dry at all and still gives me the matte look I love so much! I really recommend this for people who get dry lips but still love matte lip products!"
Fenty Beauty by Rihanna Stunna Lip Paint Longwear Fluid Lip Color in Uncensored
My Take: Finding the right red lipstick is a whole other ball game. You can find a lipstick formula that works for you, but what about in a shade of red? Red lipsticks tend to bleed and feather more than other colors. Plus, you need to get the right shade of red. The Fenty Beauty by Rihanna Stunna Lip Paint Longwear Fluid Lip Color in the shade Uncensored is a red that lasts long, doesn't bleed, and flatters a wide variety of skin tones.
Reviews: This lipstick has 459.4K+ "loves" from Sephora shoppers.
What Other Shoppers Have To Say: 
"This is by far one of the best matte lipsticks I have tried to date. I applied the lipstick around 9:45 am and I am writing this review at 6:42 pm and it still looks AMAZING. This was my first Fenty purchase, but I am now a fan."
"The red you need. This is the best red matte lipstick ever. period. It is literally the best red you can find. The matte finish is beautiful and you don't even feel it on your lips and it doesn't make them look dry. Beautiful, stunning. Definitely recommend!"
Best Nude Liquid Lipsticks for a Wide Range of Skin Tones
Ofra Cosmetics Long Lasting Liquid Lipstick
My Take: There isn't one shade of "nude." What's nude for my skin tone isn't the same nude that works for yours. Unfortunately, finding a nude lipstick that works for you is quite the challenge, especially if you're partial to the liquid lipstick formula. Ofra Cosmetics has so many different shades that could be a "nude" for a wide range of skin tones. This one delivers a matte finish that actually feels comfortable on your lips. It's highly pigmented and it lasts for up to five hours.
What Other Shoppers Have To Say: 
"Since I tried Ofra liquid lipsticks 3 years ago I do not use any other lipsticks!! They are simply the best!"
"Best Liquid I've Tried. In terms of quality this is an amazing lipstick. It's very pigmented, only need one swipe and feels amazing in the lips. It's not hard to get off which is a plus. Very lightweight and breathable."
"These are some of the best liquid lipsticks I have ever tried! They feel comfortable on the lips and do not dry out your lips like some other ones do."
Best Splurge Liquid Lipstick
Dior Rouge Dior Forever Liquid Transfer-Proof Lipstick
My Take: If you're willing to spend a little more, this liquid lipstick is absolutely worth it. It's truly transfer-proof. No matter what you do, it will not smudge and the color will stay vibrant with a gorgeous, full coverage finish that lasts for 12 hours without feeling heavy.
Reviews: This lipstick has 83.8K+ "loves" from Sephora shoppers.
What Other Shoppers Have To Say: 
"HOLY. GRAIL. PRODUCT. I never write reviews unless I have come across a new holy grail product AND SO HERE I AM. I've always wanted to be a lipstick person but am also v lazy and don't want the hassle of having to constantly be checking and re-applying it. So, it's always been chapstick... To truly test it's long-lasting claims, I put it on almost as soon as I got up this morning. I then put it through a 90 minute Peloton workout, shower, and breakfast and it still looks good as new. Granted I haven't eaten anything greasy yet but the last five hours have been sufficient enough proof of it's stay-ability that I've already thrown out all my other lipsticks and have two more of these in different colors waiting in my cart. I am a changed woman. Buy this now." 
"These are hands down the best matte lipsticks out there!!! These shades do not transfer, bleed, smudge or make a mess once applied. I love how beautiful these colors are and last for hours!! I will continue to repurchase these because I have owned so many other brands but these hands down are a must have!!!! Highly recommend even though the price is a little bit more expensive. Quality over quantity!!"
—Originally published February 17, 2022 at 1:09 PM PT.